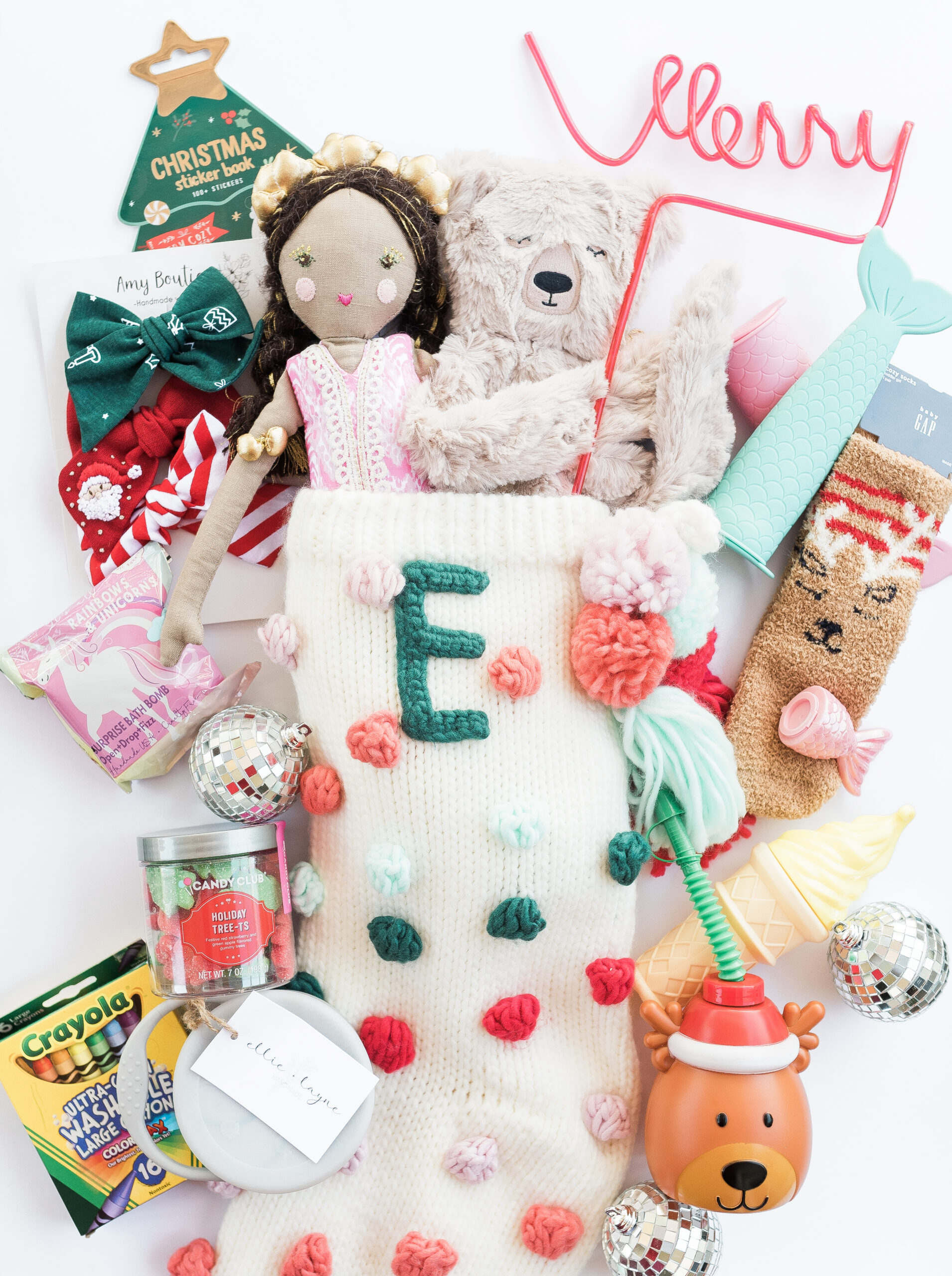 Gift Guide: The Ultimate Toddler Stocking Stuffers
Can you believe Christmas time is here?!! It's one of my favorite times of the year. Now that we have a little one, the holidays are even more exciting! I'm starting to enjoy the thrill of finding stocking stuffers over actual gifts. This year I went a little crazy with the stocking stuffers and sadly, some of the items you see pictured are already sold out. Cue the sad eyes. But don't fear because I have so many awesome ideas for you!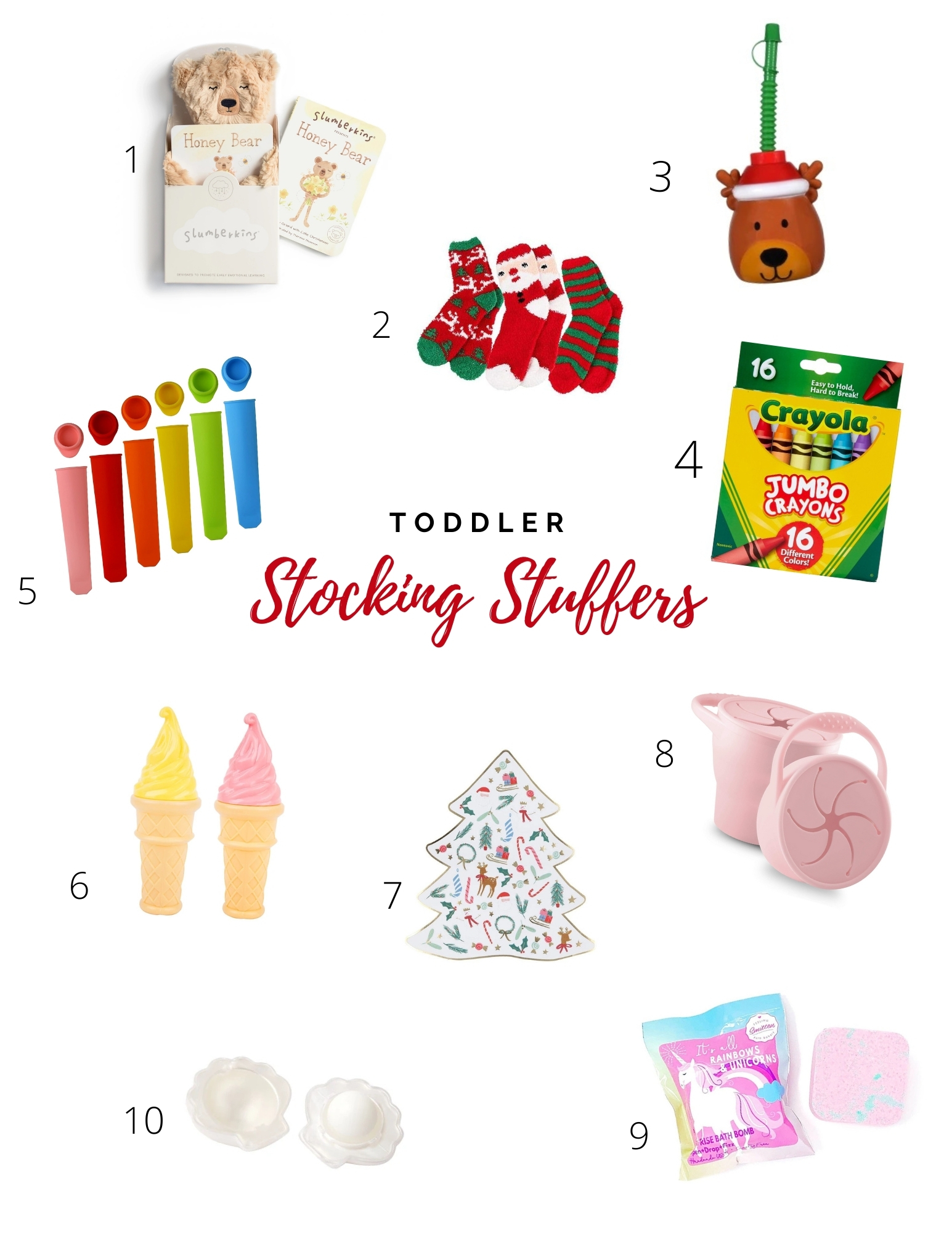 First, let me tell you what I found that is now sold out. Be sure to check in-store or frequently online incase there's a restock! The Lilly Pulitzer mermaid was purchased in-store at Pottery Barn Kids. Since Black Friday, I have not been able to find it online. The mermaid tail ice pop molds are also sold out. I purchased them online from Anthropologie. I have searched for other retailers and have come up empty handed. I did find a similar alternative that I've included in the gift guide. The handmade bows can be purchased any time from Amy Boutique. I've been buying her bows since Eleanor was 3 months old. They're my absolute favorite and I always love the holiday bows she releases. So please be sure to check her out if you have any little girls in your life. The Merry straw was purchased in-store from Hobby Lobby, so be sure to check your local stores.
Alright now for the other goodies.
Slumberkins: These are on the pricier side, but they make a great stocking stuffer. Eleanor has so many of these and she loves sleeping with them. Each snuggler and kin include a book.
Fuzzy Socks: I found the reindeer socks at Gap. They come in several different characters and they tend to be half off on sale.
Cup: I always find the cutest cups at Dollar Tree. They have 4 different characters and they are such a fun addition to any stocking.
Crayons: I can't forget crayons! Especially for a toddler who's always breaking and losing them.
Ice Pop Molds: Here is your alternative to the mermaid ones I found. They aren't as fun, but they're much cheaper. Eleanor loves popsicles, so I thought these would be the perfect addition to her stocking.
Bubbles: Ellie & Piper does it again! You can actually find so many great stocking stuffers and party decor all in one spot. These next few items are all from Ellie & Piper. The bubbles are currently on sale.
Stickers: Again these are Ellie & Piper. They have so many sticker and tattoo options for kids. Eleanor may waste stickers, but at least they keep her busy!
Snack Cup: As Eleanor is getting older, I try not to carry such a big diaper bag and use more of a regular purse. So I was super excited to find these collapsable snack cups. They're perfect for on the go!
Bath Bomb: I thought this would be something fun for Eleanor to try. This bath bomb includes a surprise inside, so I think it will be a real hit with her.
Lip Balm: I couldn't leave out lip balm this year. She's definitely starting to get into all of the little girl things.
That pretty much wraps up our stocking stuffers this year. I hope that I was able to give you some ideas! I'd love to hear what you've found to be a great stocking stuffer!
*This post contains affiliate links*
*This post contains affiliate links meaning at no additional cost to you, I earn a commission if you click through and make a purchase.*