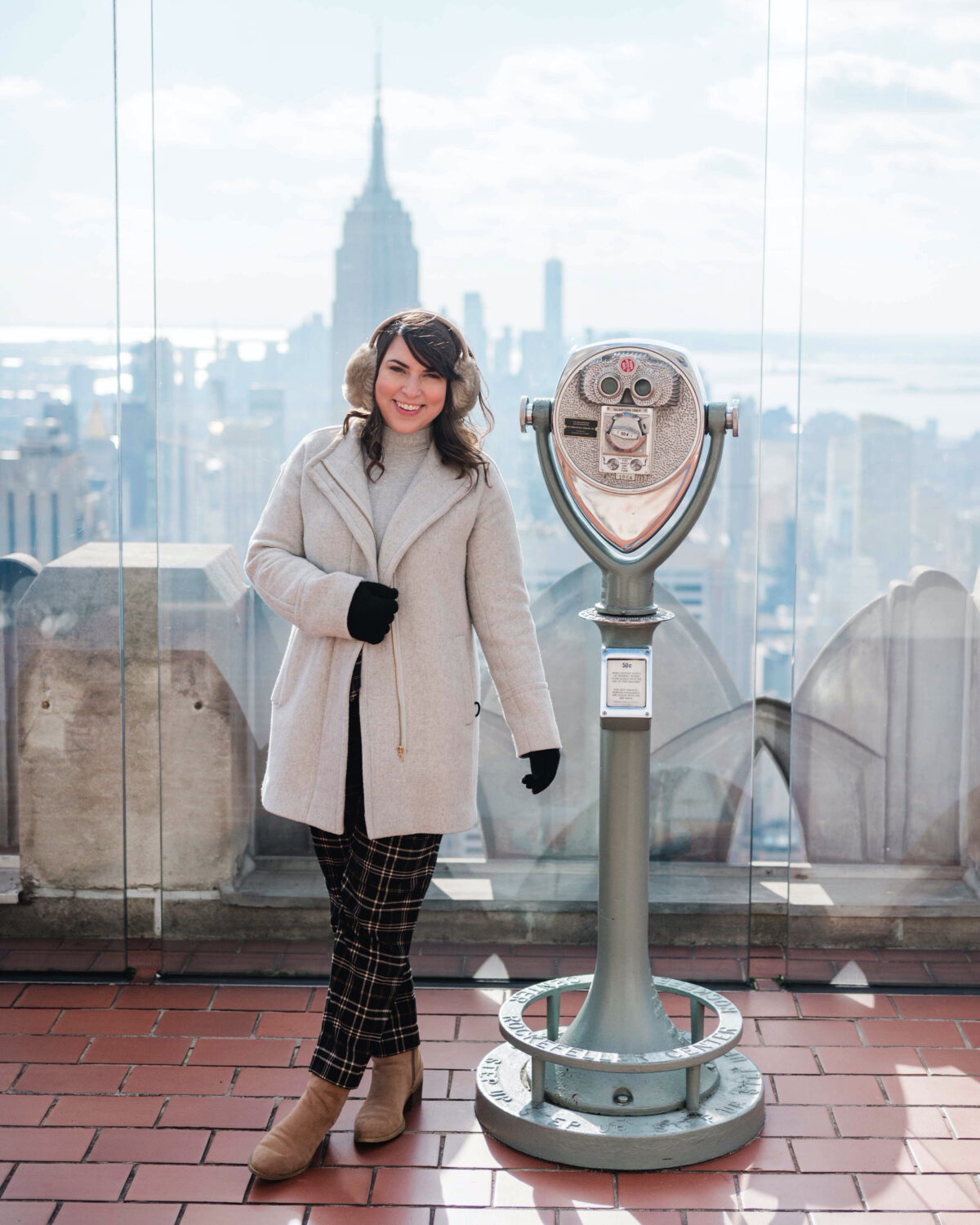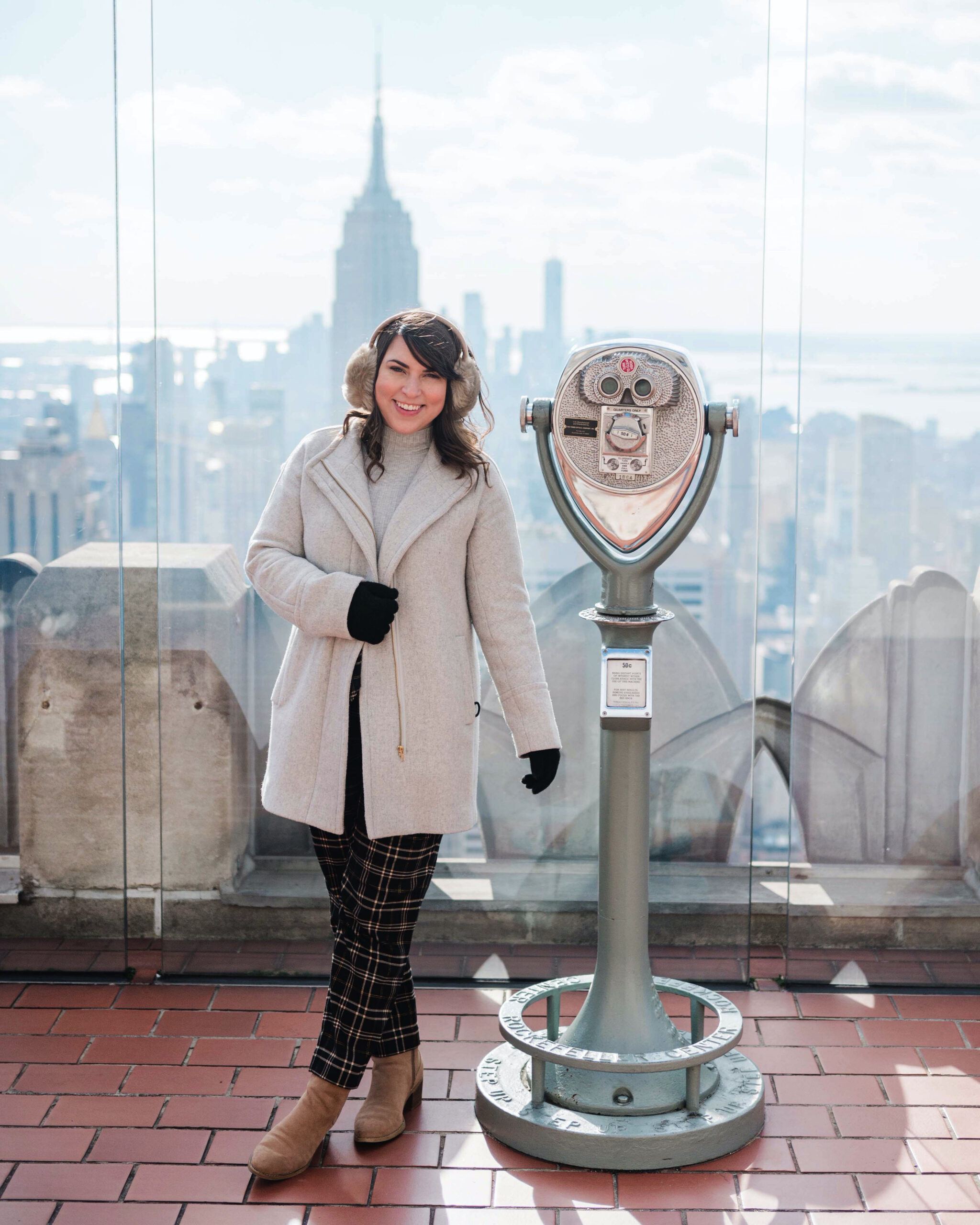 2 Spectacular Days in NYC as First-Timers at Christmastime
Who doesn't love a a quick getaway? Back in October, John got some tough news regarding a new business adventure (same business, just a new location), so how did I cope? I booked us tickets to New York City! We had accumulated air miles with Southwest and because of the current sale they were having we were able to book our flights for only $10/person. To be honest, I didn't know much about New York City. The only thing I knew was that I wanted to go ice skating because after all, it would be Christmastime in the city! Here's how we spent 2 days in NYC as first-timers…
Itinerary for NYC as First-Timers
Arrival Day
We flew in on a Wednesday and flew out on Saturday, so essentially we were there 2.5 days and I made sure we did as many touristy things as possible since we were visiting NYC as first-timers.
We landed at noon, picked up our luggage, and then took an Uber to our hotel. By the time we got to our hotel is was almost 2:00pm. We happened to arrive on a rainy cold day, so I knew we needed to do something indoors. We grabbed a quick bite to eat at the largest Chick-fil-A, located on Fulton Street, and then made it to the 9/11 Museum. The last entry is 3:30pm and I'm so glad we were able to make it.
As a fifth grader on 9/11/2001, it was hard to fathom what was actually occurring in our country that day. It still amazes me that our teachers allowed us to watch everything unfold live on television. Being at the site where everything took place 21 years later was very surreal. As I walked the streets or even looked out our hotel window, I just envisioned how it must have been that morning to witness those planes crash into the twin towers.
The 9/11 Museum was so well done and absolutely moving. We spent almost 2 hours in the museum walking and reading every word. Outside the museum is the 9/11 memorial. The 9/11 Memorial is a tribute of remembrance, honoring the 2,977 people killed in the terror attacks of September 11, 2001 at the World Trade Center site, near Shanksville, Pennsylvania, and at the Pentagon, as well as the six people killed in the World Trade Center bombing on February 26, 1993. The Memorial's twin reflecting pools are each nearly an acre in size and feature the largest man-made waterfalls in North America.
After spending time at the museum and memorial, we headed back to our hotel to relax and charge up for our next two days.
Day One
You guessed it! The first thing we did on our first full day was go ice skating at Bryant Park! As much as I would have loved to skate at Rockefeller, it was completely booked. Nonetheless, we still went ice skating in NYC at Christmastime! I reserved our time online which includes skate rental and one hour on the rink. I hadn't iced skated in over 10 years, so I was a little nervous. But, I didn't fall! I did, however, stop skating after 40 minutes because one of my skates wasn't fitting right.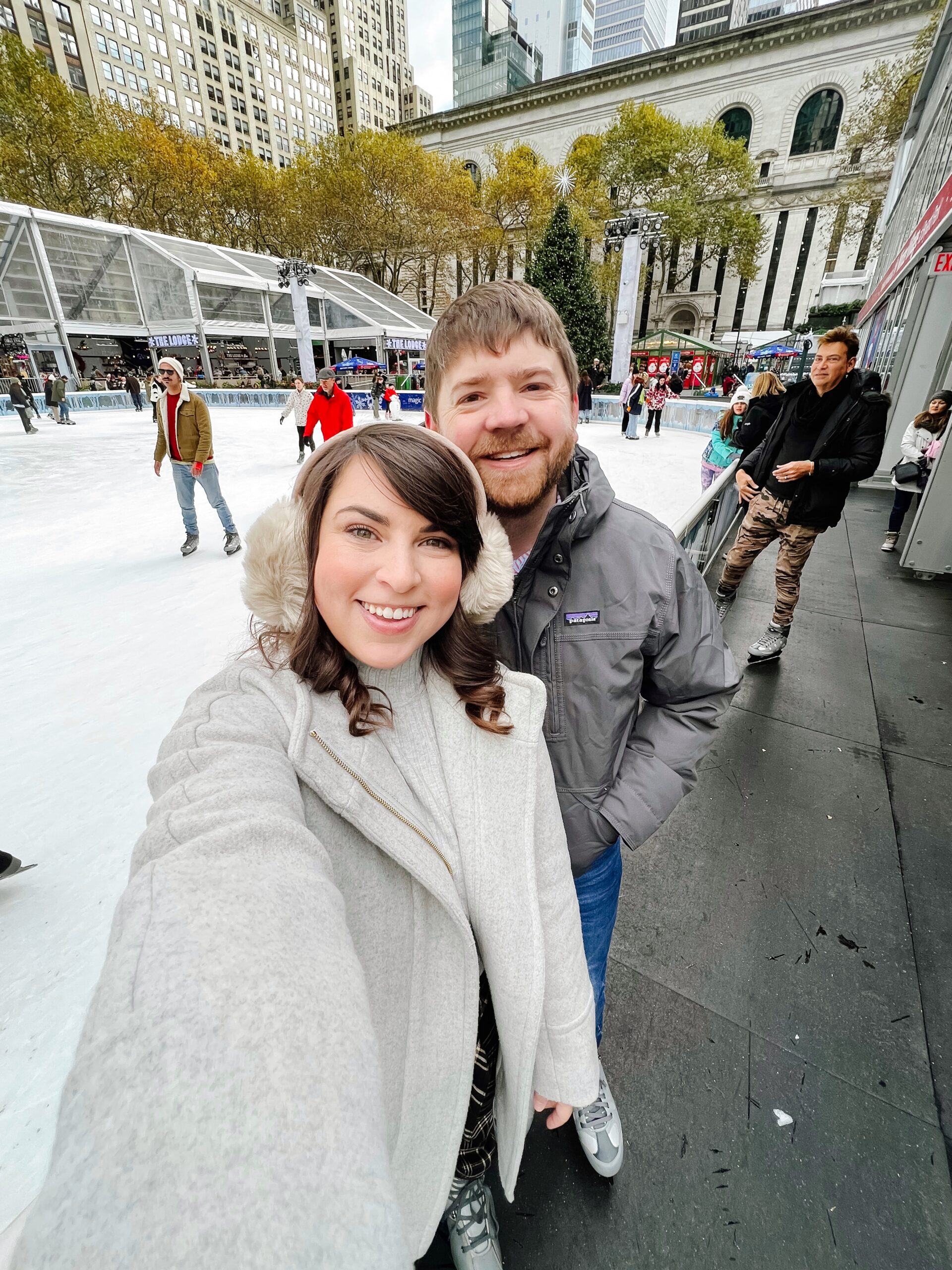 We worked up an appetite, so after skating we headed to Joe's Pizza, which came highly recommended! We arrived a little after 11 and I think we made it just before the lunch rush. I got a pepperoni slice and John got supreme. It was a 10/10 and it's a MUST visit for visiting NYC as first-timers.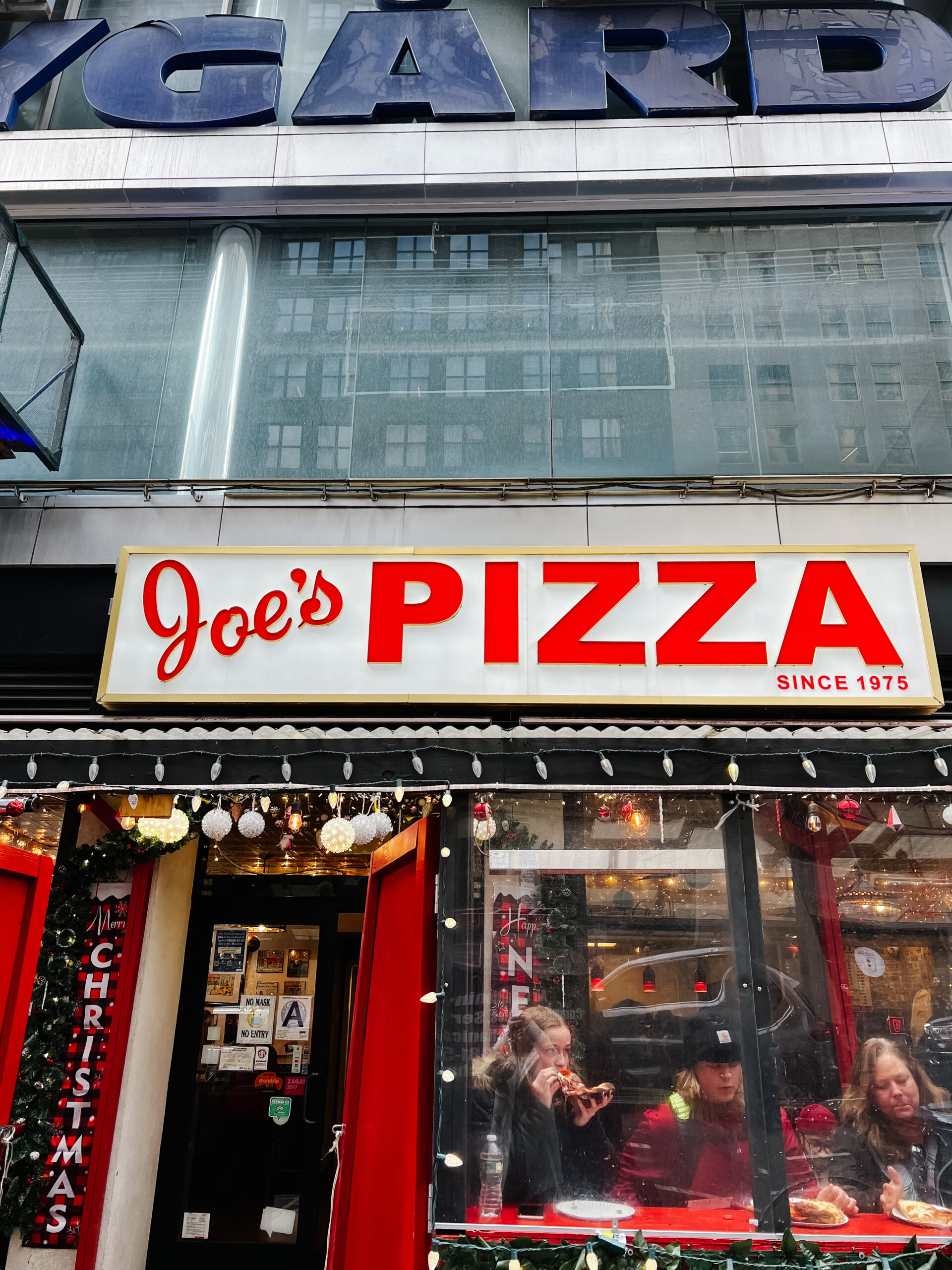 From Joe's we walked through Time Square and I made reservations for "Top of the Rock" at the Rockefeller Plaza.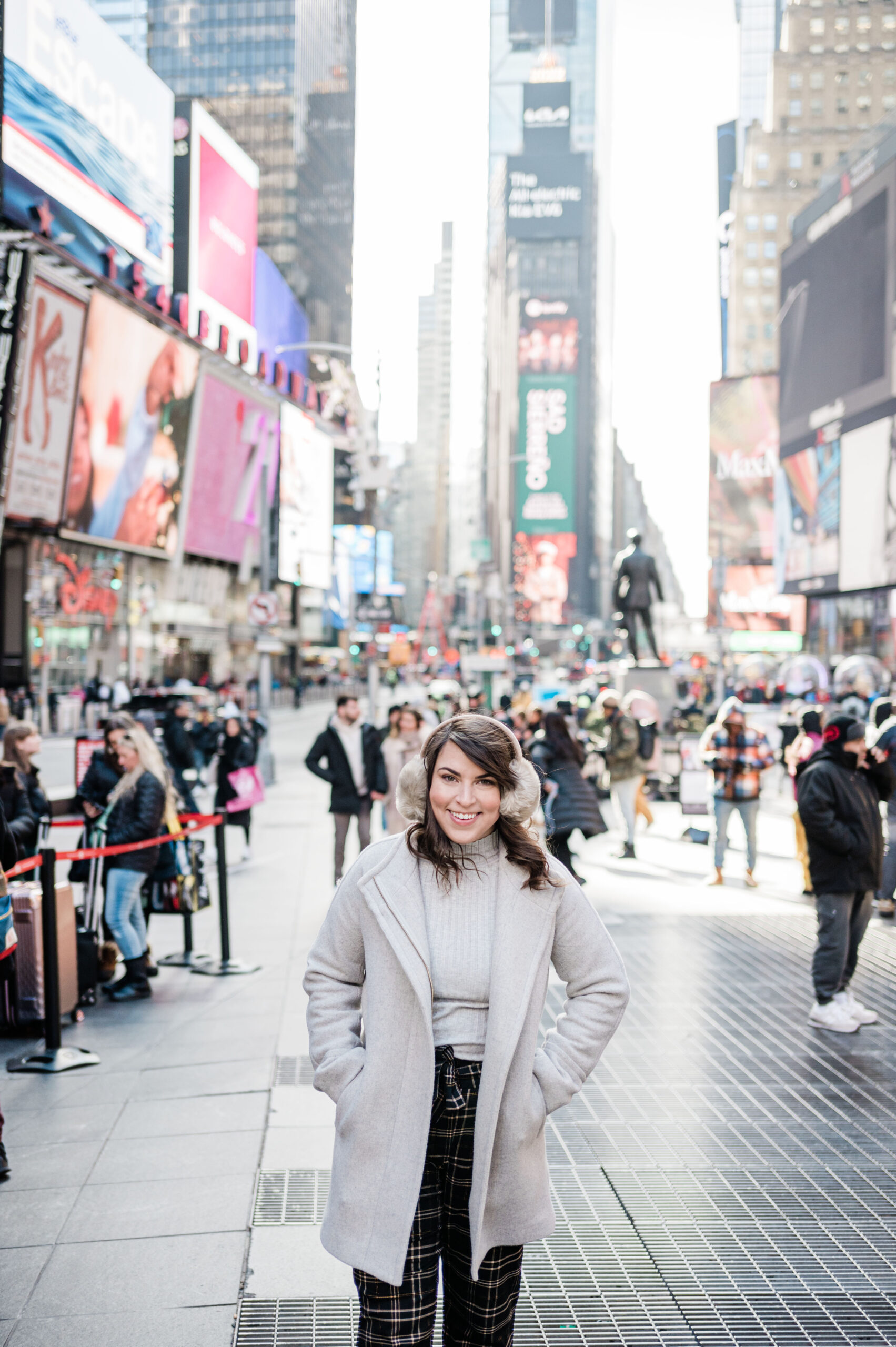 If you didn't know, even with your reservation to "Top of the Rock," you'll still likely be waiting. Once you are let in, you go up some stairs, then they'll take your photo in front of a green screen. From there you'll join a group of other people to watch various videos about Rockefeller Plaza. Then they will gradually let each group through the set of doors where you then wait for the elevator.
I'd say the process probably took 30 minutes. Once you get off the elevator, you can either stay on that observation deck or continue around and hop on the escalator to another viewing area which I found to be less crowded. There's no time limit once you're at the top, but you will have to wait in line to catch an elevator down. I think we probably waited in that line for 30 minutes too.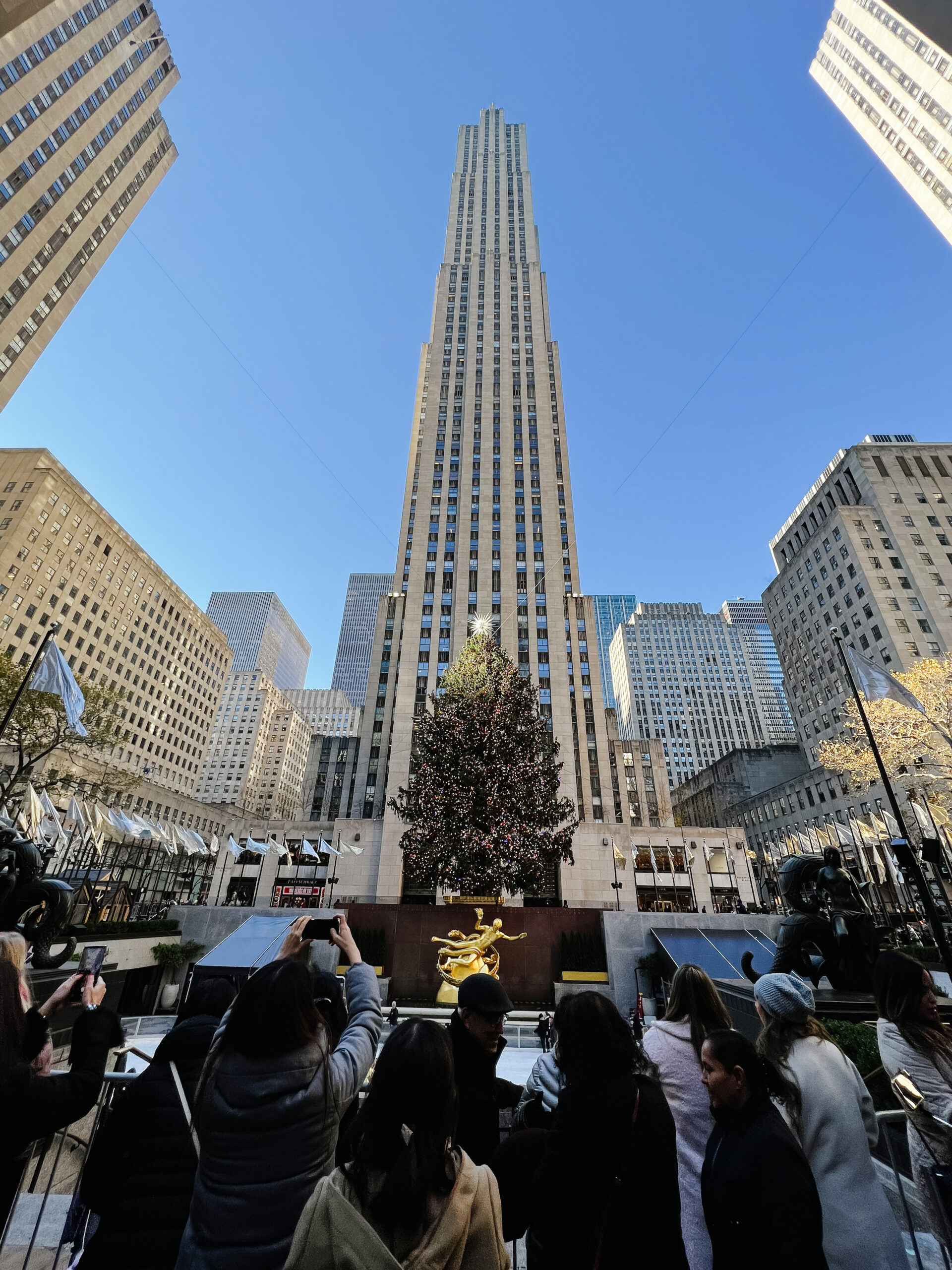 They say the view from "Top of the Rock" is best because you can see the Empire State building amongst all of the other sky scrapers in New York City. This was definitely another must visit for exploring NYC as first-timers.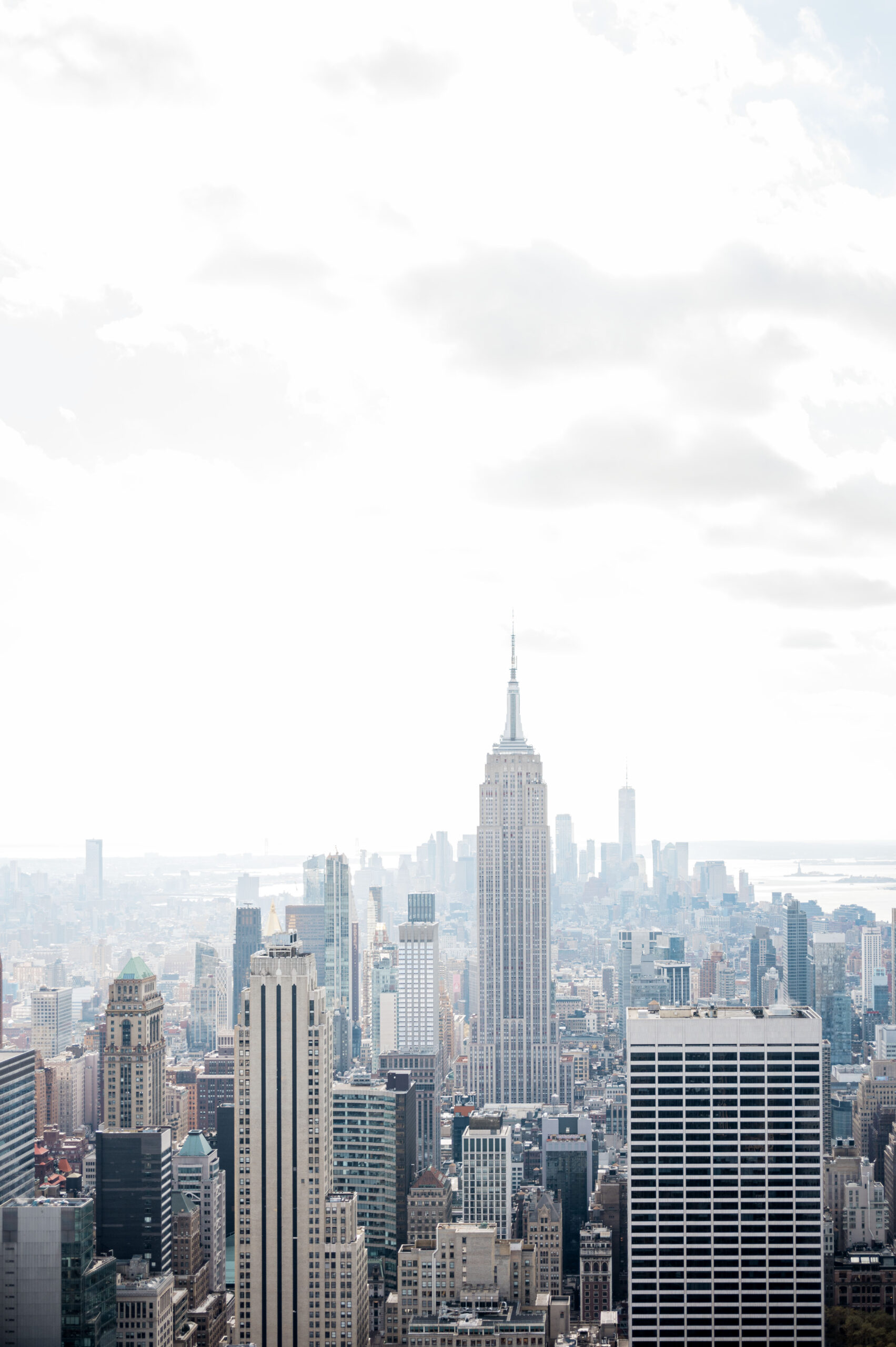 Once we finally made it down, we did some shopping, saw the infamous Christmas tree, and the we headed over to Junior's with the intent to only grab cheesecake, but I was feeling the need for something salty too.
I was also feeling spontaneous at the time and wanted to book tickets to a Broadway show that night too. However, John wasn't a fan of that plan–so we ate and called it a night. I had the BLT which was very heavy on the bacon, otherwise it was a good sandwich. The cheesecake, which we were told was the best, didn't live up to it's expectations, but it was good.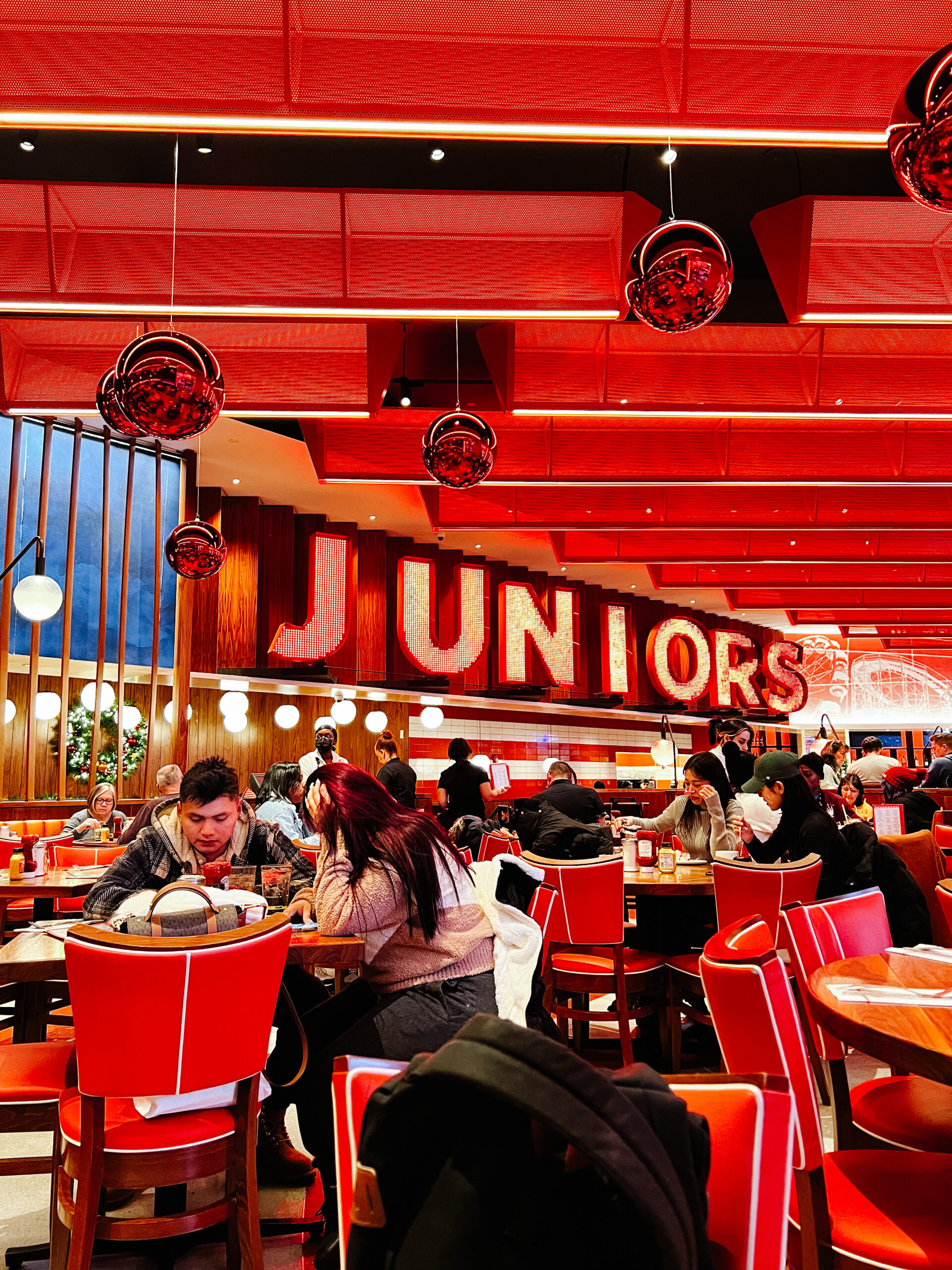 Day Two
On our next day, we took the subway to the Staten Island Ferry (which is free). The purpose of taking the ferry was to see the Statue of Liberty. It's also a great way to see the city scape with One World Trade Center. This is another great tip for visiting NYC as first-timers and not having to pay money to see iconic monuments.
The ferry ride is about 15 minutes. Unfortunately, we had to get off the ferry and wait to get back on again. I'm not sure if this is always the case, but since we opted not to do anything on Staten Island it did eat up some of our time. If you end up taking the ferry, I would suggest grabbing a spot on the back of the ferry as it wasn't as crowded as the side.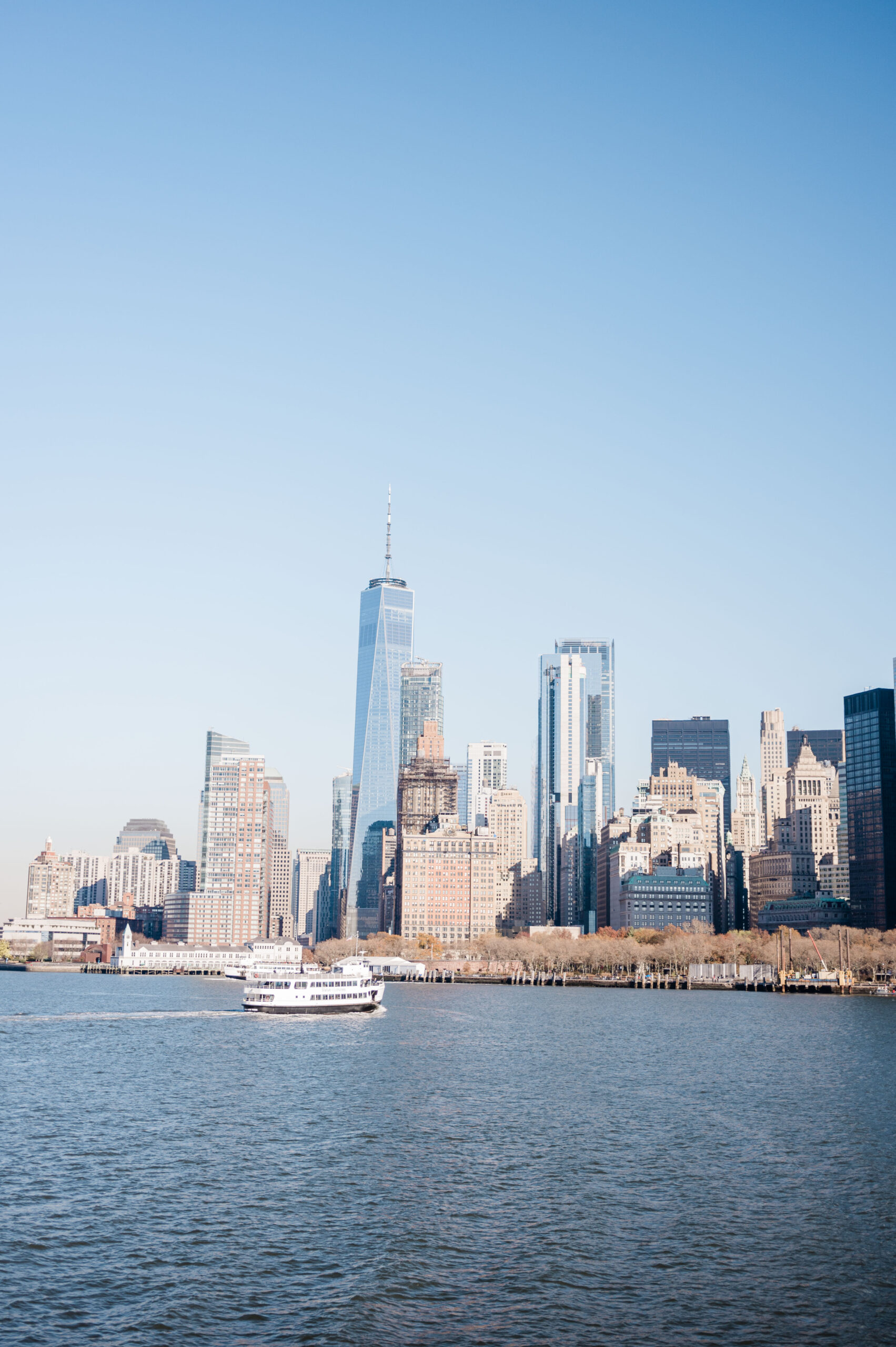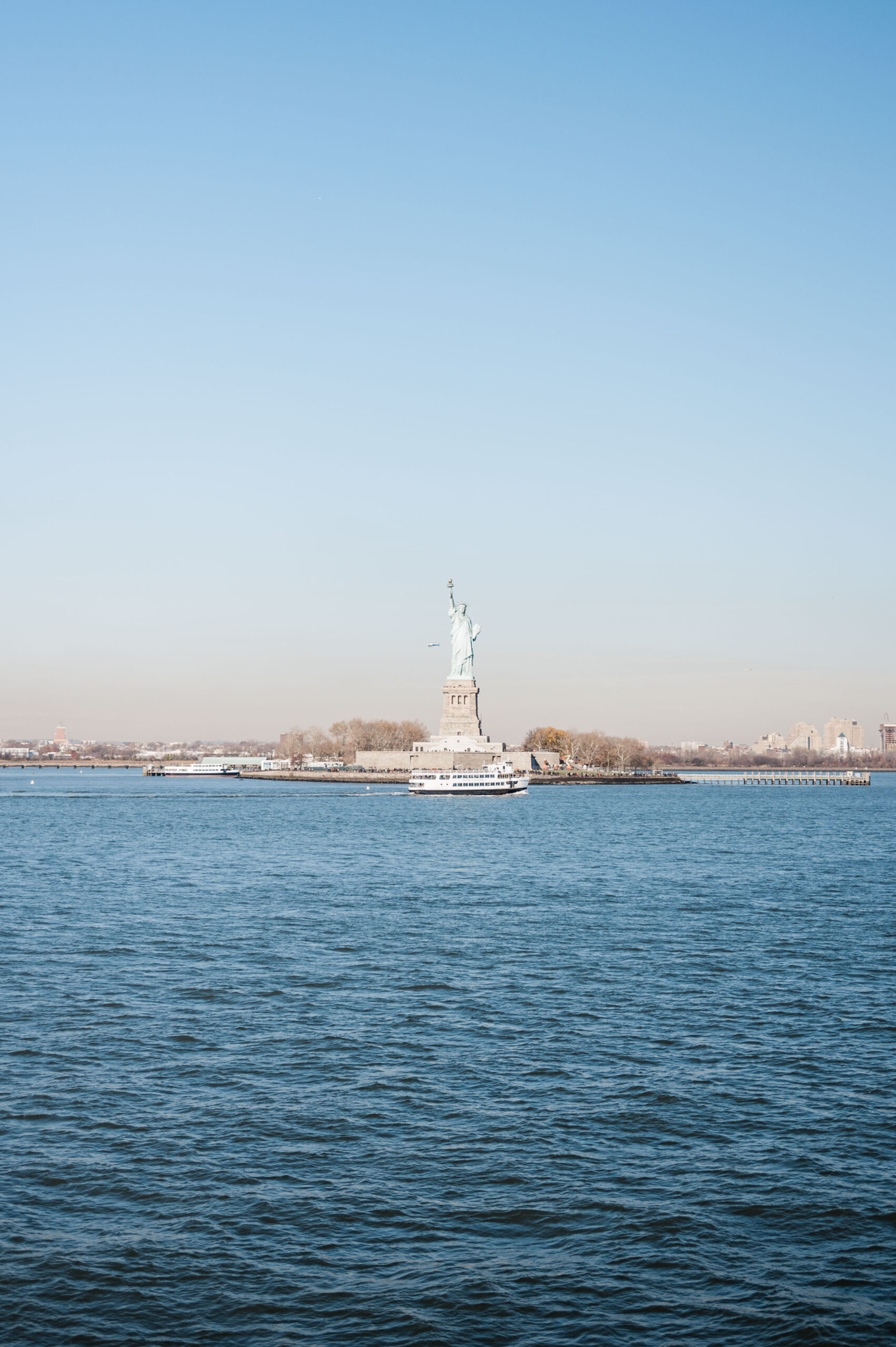 Once we got back, we walked up to Battery Park where I convinced John to ride the Seaglass Carousel. I believe it was $5.50/person, but the ride itself was fairly long.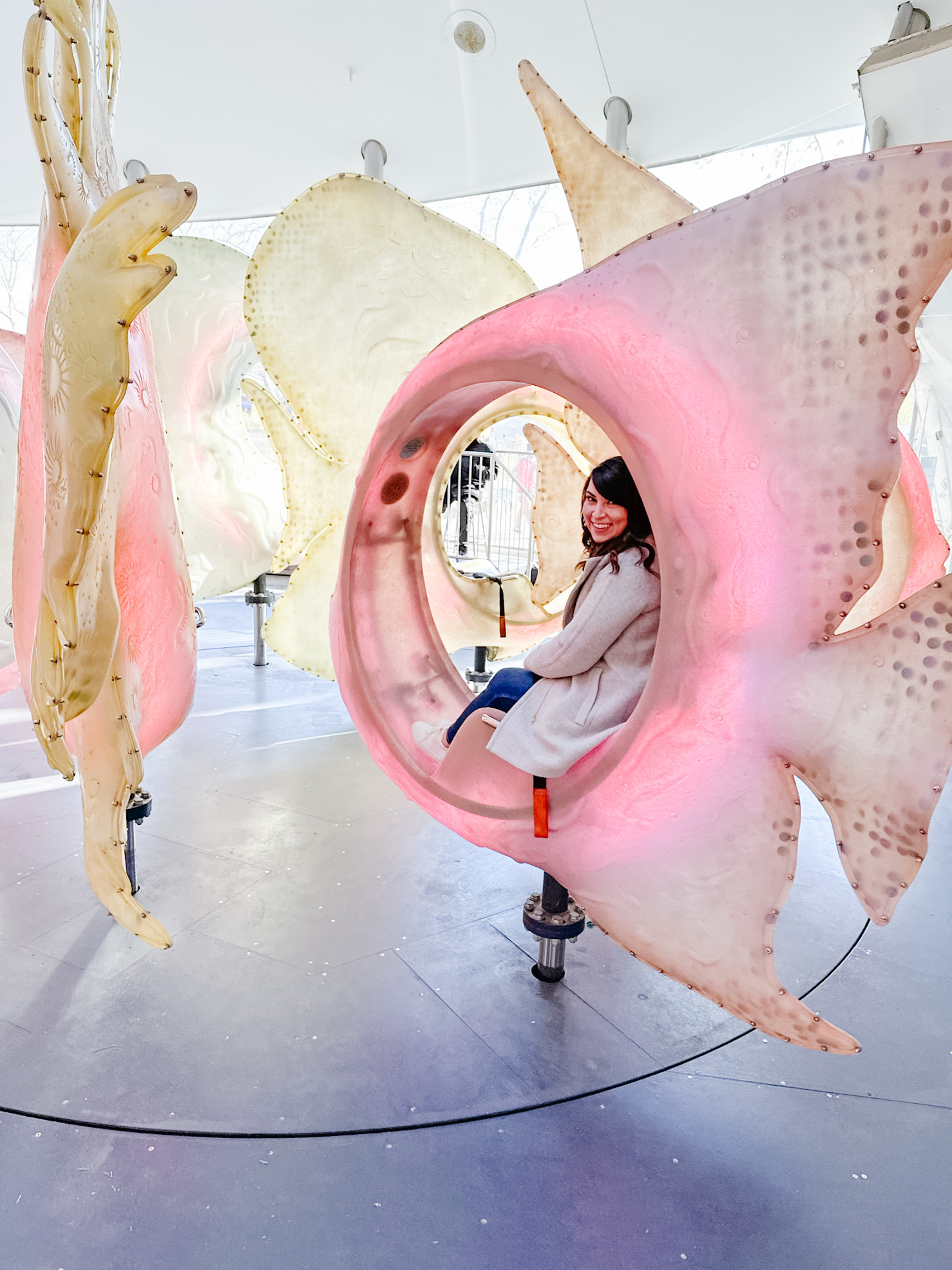 From there, we hopped back onto the subway for a few stops and had lunch at Burger & Lobster. The food was good, as well as, the ambiance of the restaurant.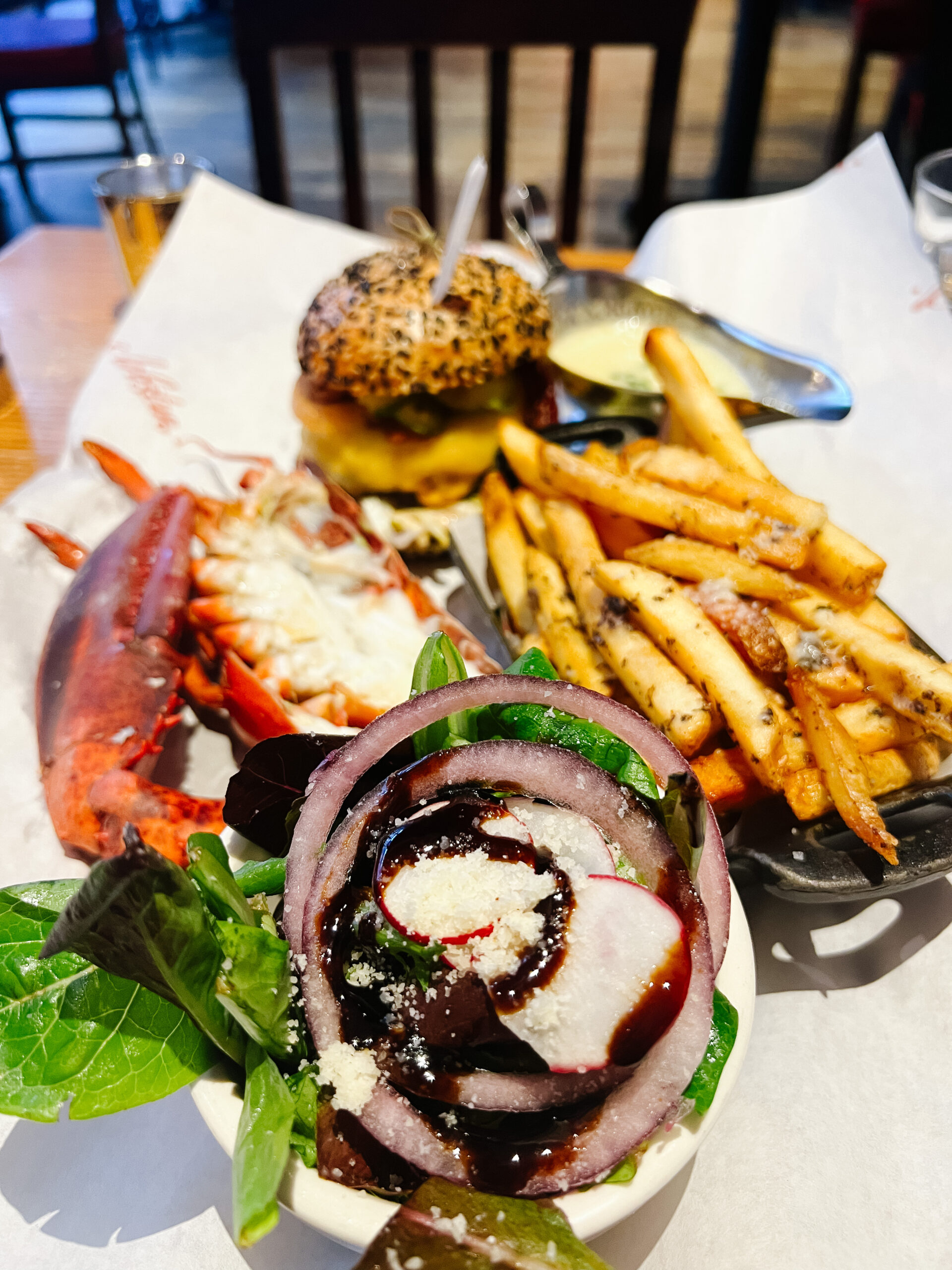 After lunch, we walked to a few shops and made our way to the Flat Iron Building. We were met with disappointment as the building was surrounded by scaffolding for refurbishment. After a quick photo, we walked back to the hotel for a little break to pack and rest out feet.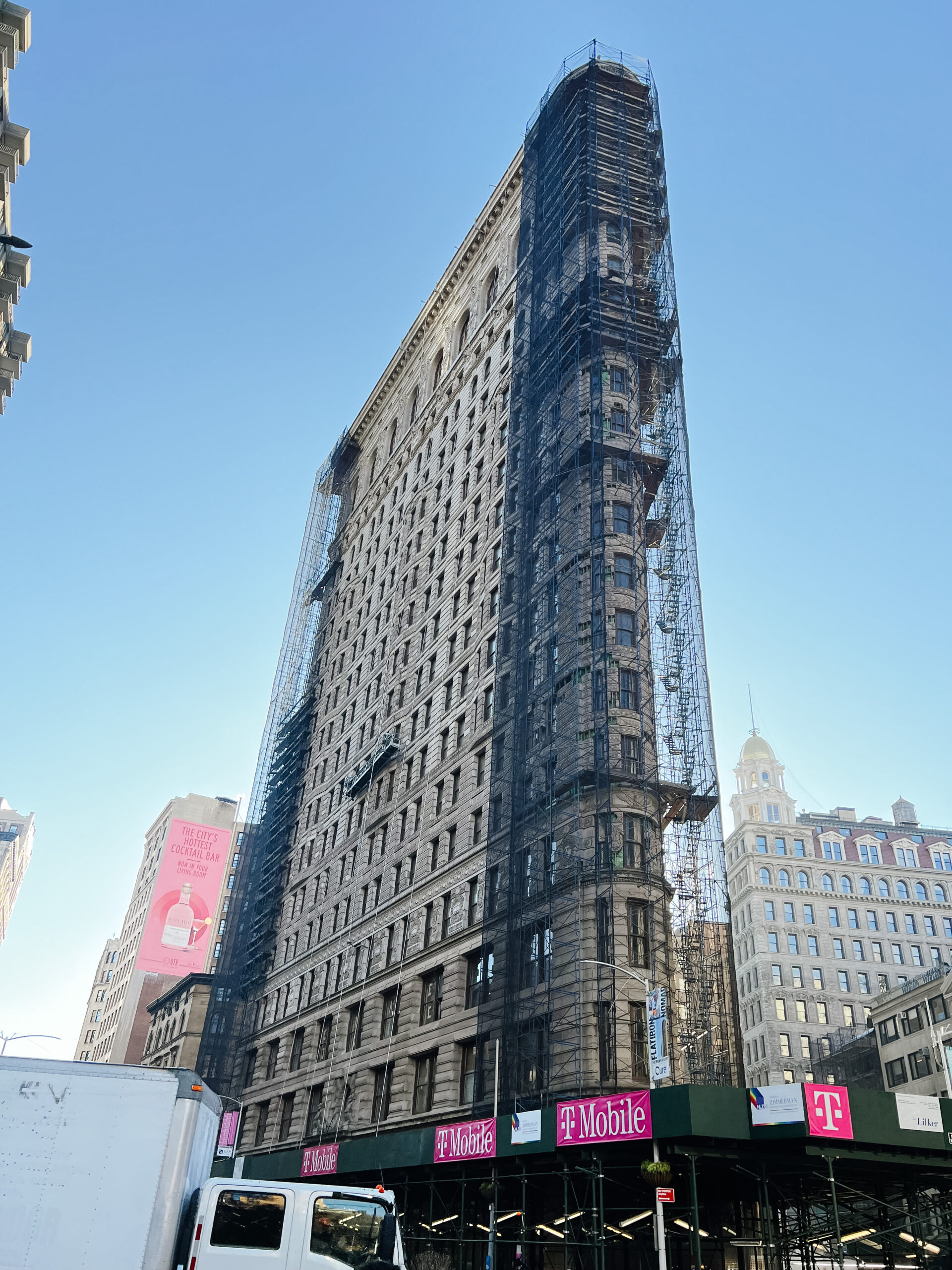 While at the hotel, I finally booked tickets for that night to see Aladdin on Broadway. If you don't purchase tickets way in advance, you can view tickets on TodayTix, TicketMaster, or even try your luck at the box office. Sometimes you can get great deals in their effort to fill up the theatre. Before heading to the theatre, we checked out Washington Square Arch.
We happened to also walk by Cornelia Street for my Taylor Swift fans. After a little sight seeing, we made our way to dinner at Los Tacos No 1. This was another recommendation given to us and it did not disappoint! It can be crowded and most likely you'll be standing to eat your taco, but so, so good. Another MUST for you visit to NYC as first-timers.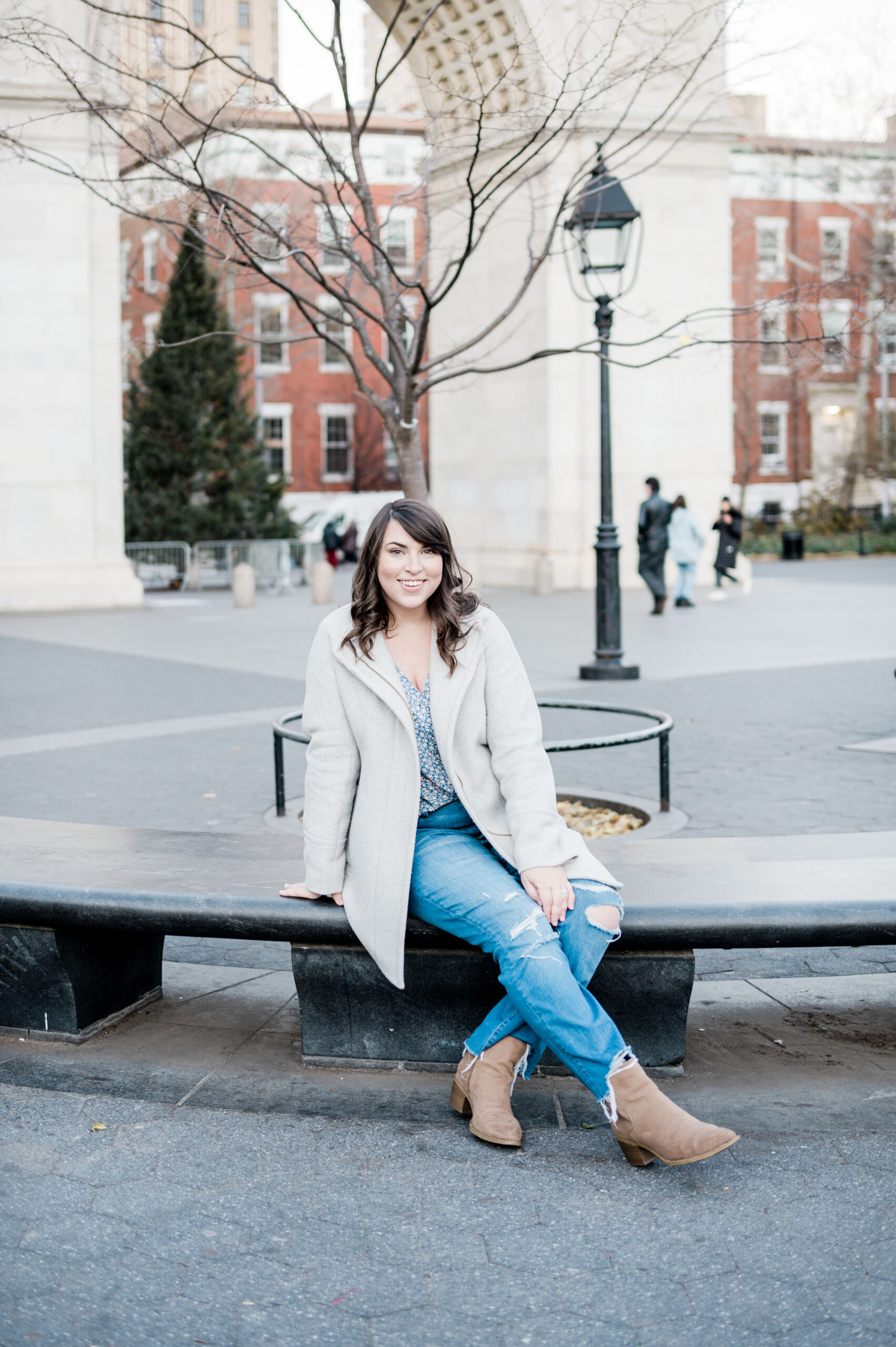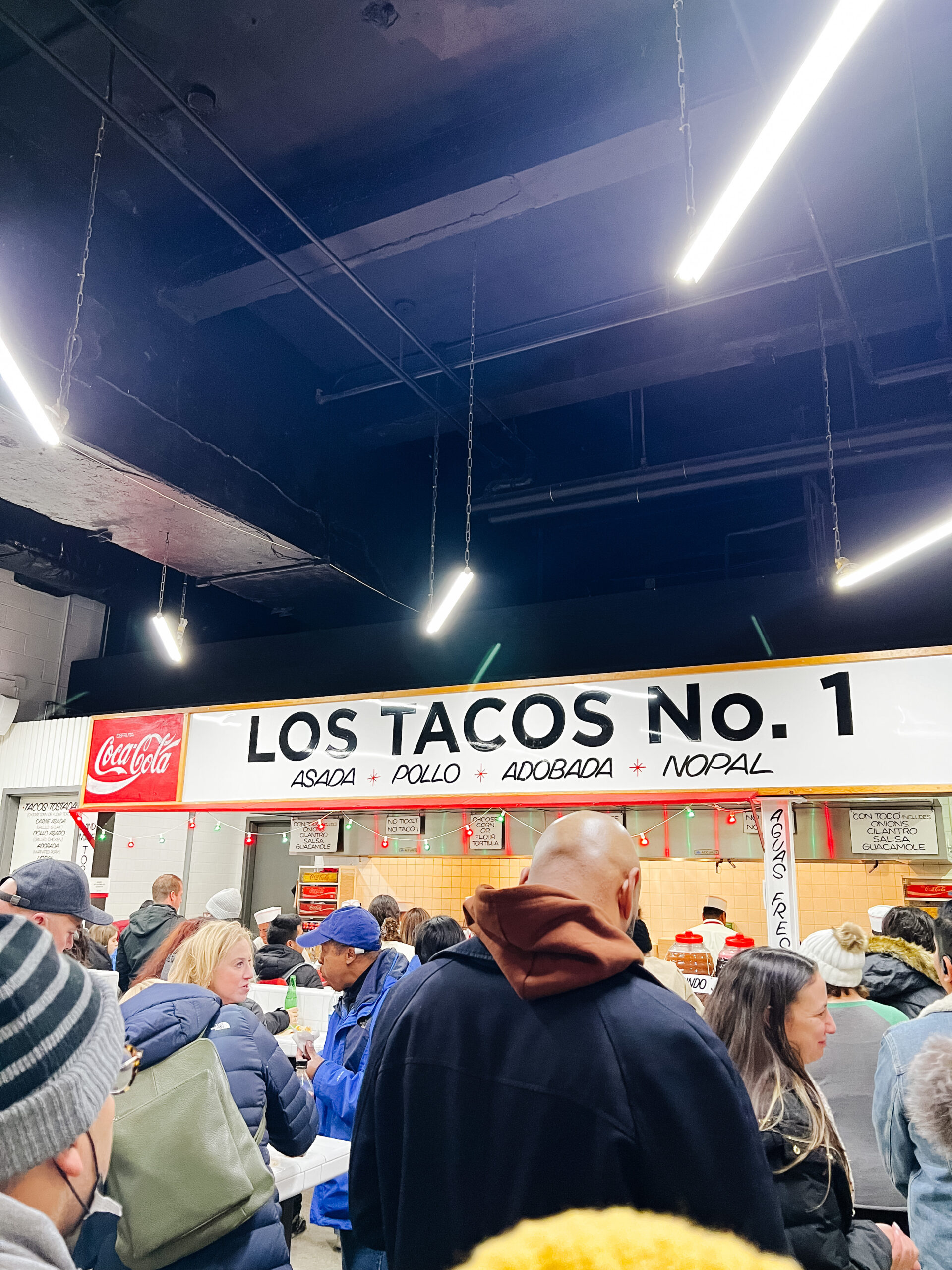 Next, we walked around Time Square again and did a little souvenir shopping before waiting to enter The New Amsterdam Theatre! We ended up with front row seats on the second balcony which worked out great for us. The show was ABSOLUTELY PHENOMENAL! It was so, so good and definitely a great choice if you're in the city with kids.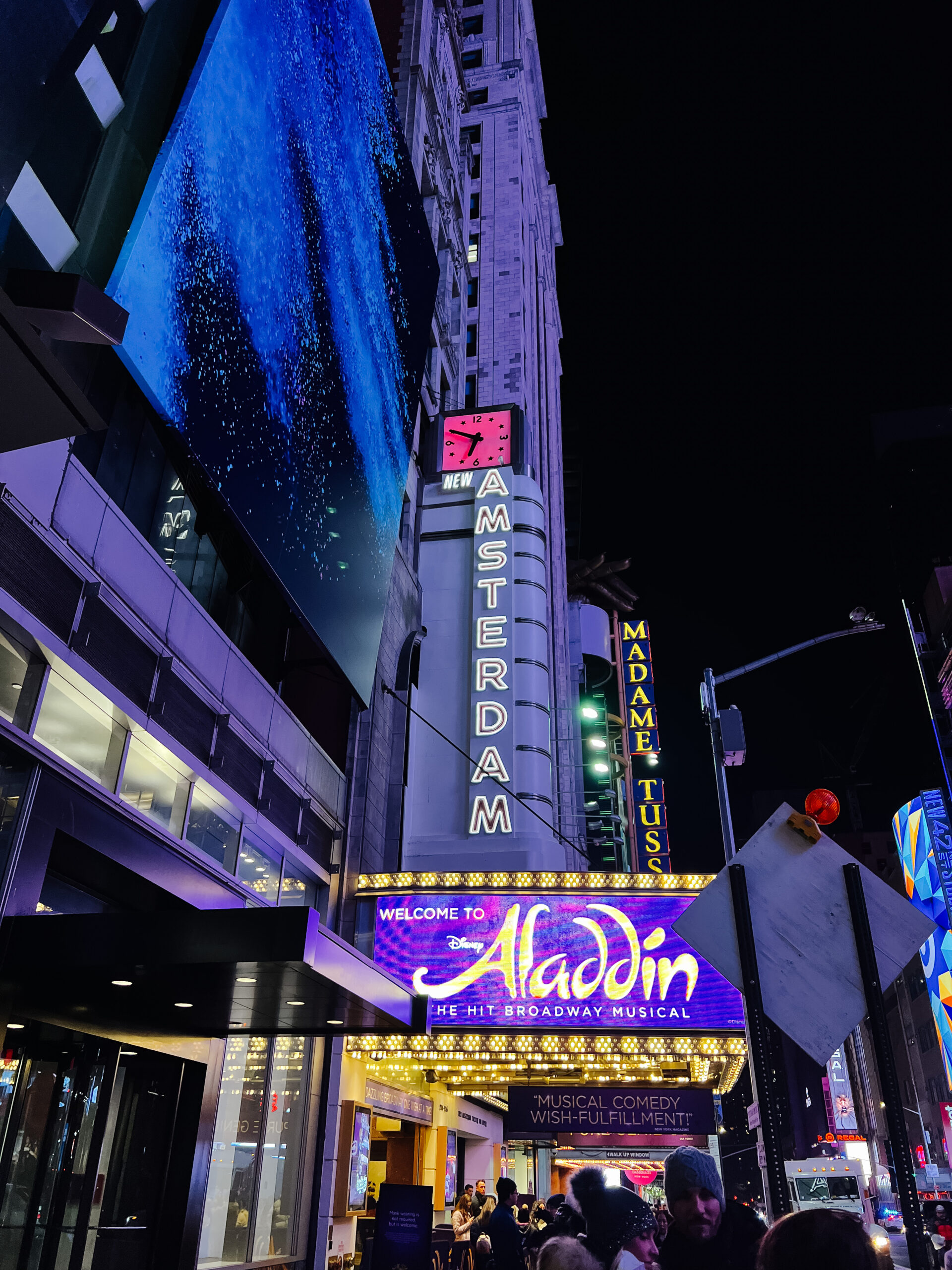 The theatre was right next to a subway station, so we were able to get back to our hotel within 10 minutes, which was so great. We had wrapped up our two days in New York City and it was such a fun experience. While we didn't get to do everything on our list, we were able to see so much. New York City in December is truly magical.
Save 2 Days in NYC as First-Timers During Christmastime on Pinterest!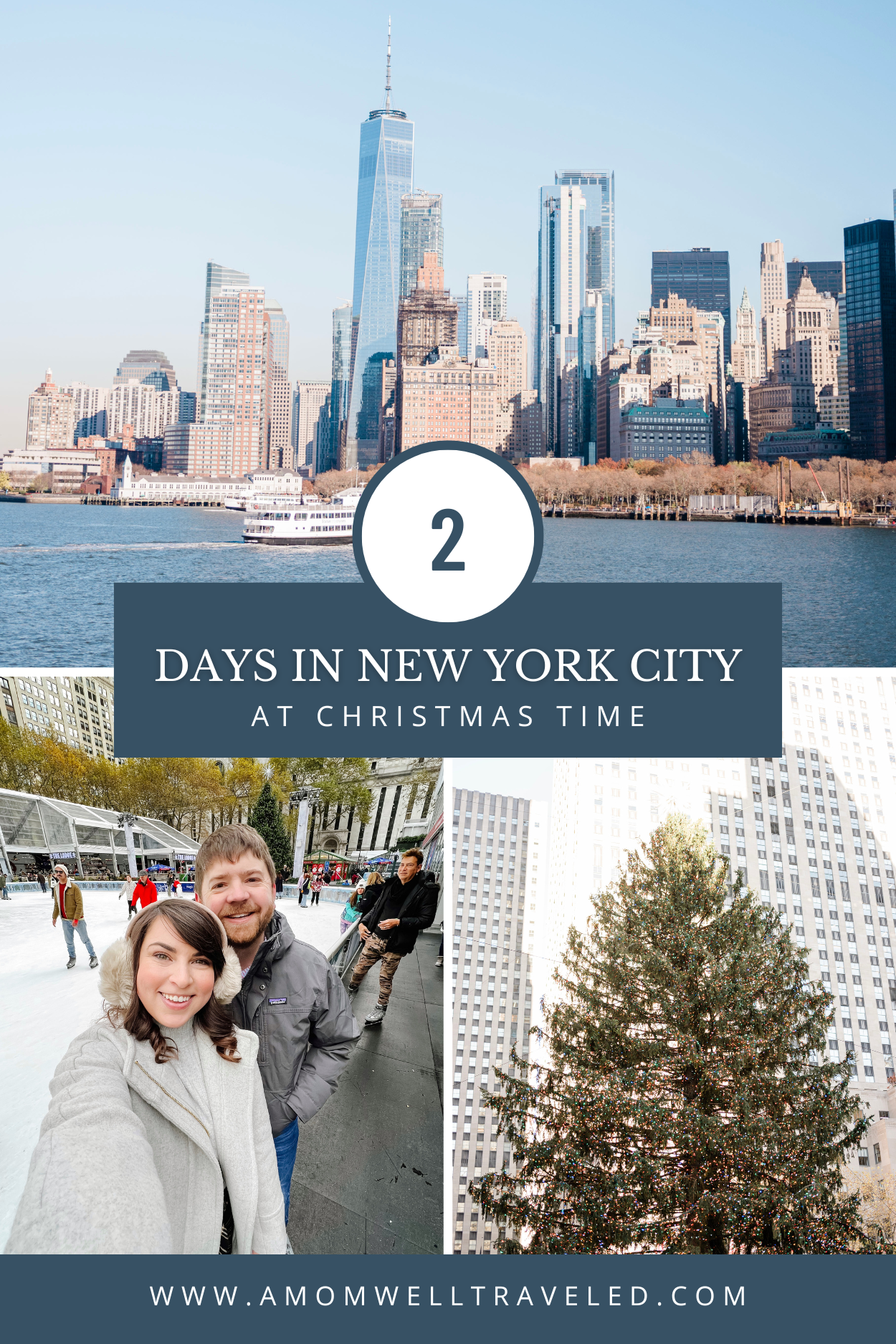 *This post contains affiliate links meaning at no additional cost to you, I earn a commission if you click through and make a purchase.*