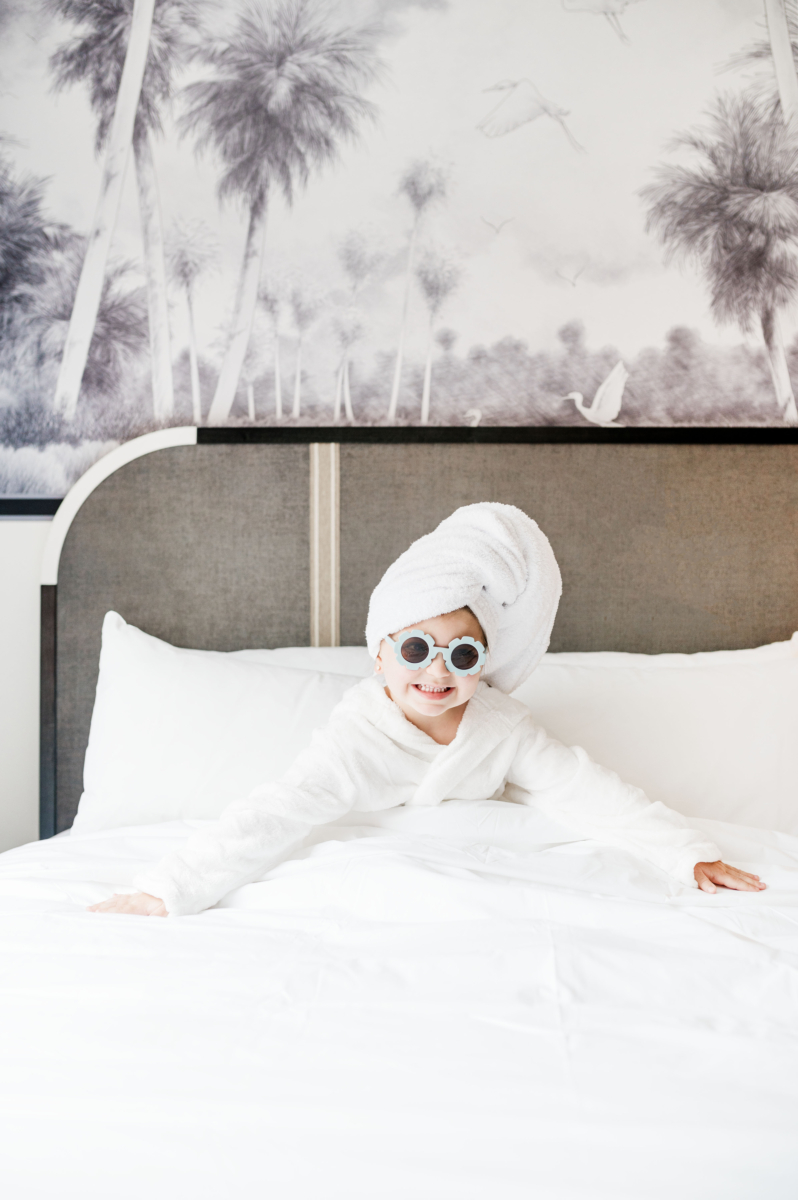 Staying at Caribe Royale in Orlando: What You Need to Know
Welcome to Caribe Royale in Orlando, your gateway to an unforgettable and luxurious stay! Nestled in the heart of the city, this tropical paradise offers a blend of sophistication and relaxation, making it the perfect destination for couples and families alike.
At Caribe Royale, enjoy an array of luxurious amenities and services that are sure to exceed your expectations. From spacious and elegantly suites to world-class dining options, you'll find everything you need for a truly memorable stay. Unwind by the beautiful pools or pamper yourself with a rejuvenating spa treatment – the choice is yours.
Conveniently located near Orlando's top attractions, including Walt Disney World and Universal Orlando, Caribe Royale provides easy access to the magic and excitement of the city. With complimentary shuttle services, your adventure awaits just a short drive away.
At Caribe Royale in Orlando, you're destined to experience luxury and relaxation!
First Impressions of Caribe Royale in Orlando
The moment we arrived, we were met with a gorgeous exterior that appeared to pull us into a world of tropical elegance. The gorgeous scenery, complete with palm-lined pathways, quickly set the tone for our stay. It was exactly the type of welcoming we had been expecting.
The check-in process was a breeze, thanks to the efficient and friendly staff. From the moment we stepped foot onto the property, it was abundantly clear that Caribe Royale Orlando was dedicated to providing a memorable and seamless experience.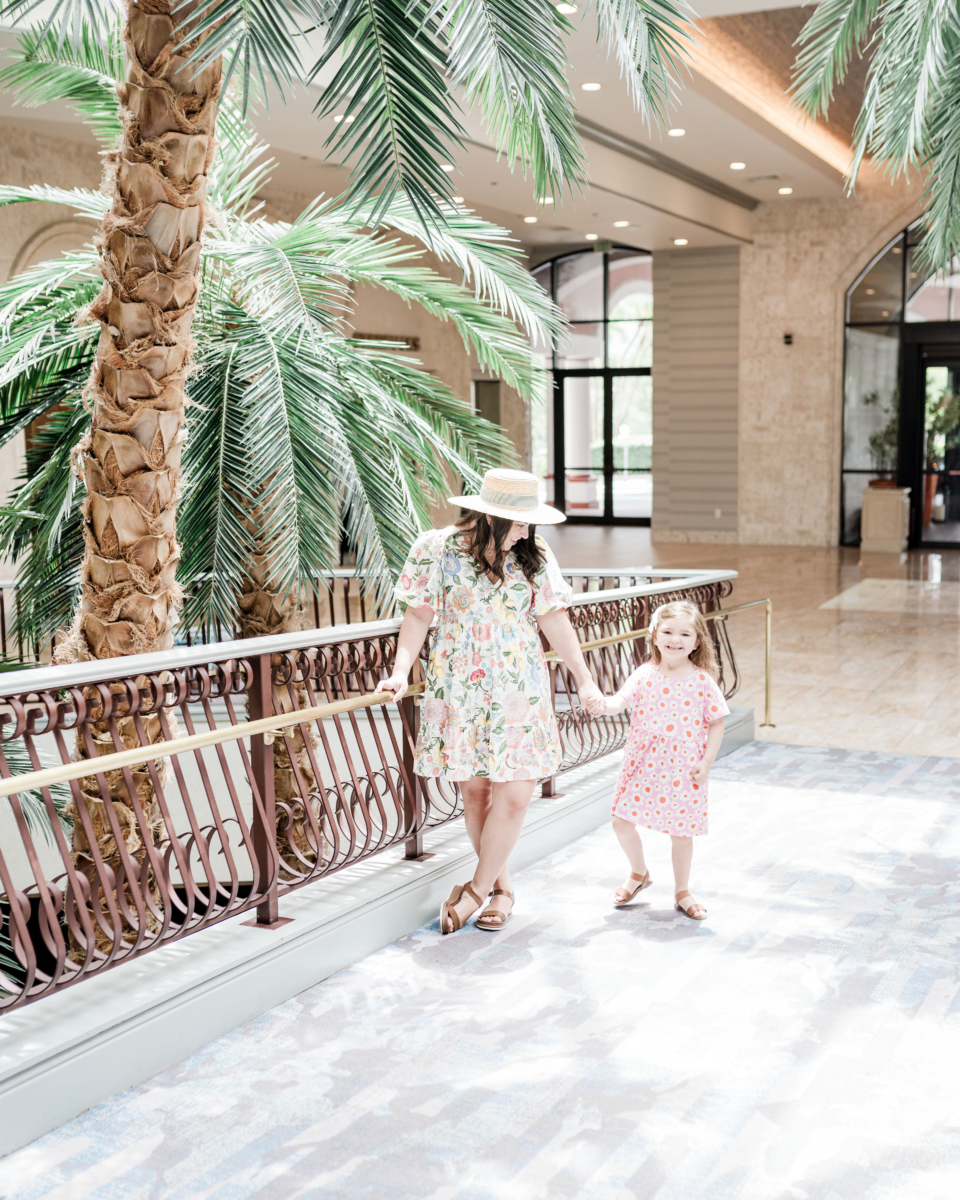 Accommodations at Caribe Royale
Next, families are in for a treat when it comes to the accommodations at Caribe Royale in Orlando. This resort is all about spacious, family-friendly suites, and our stay in a 1-bedroom suite was nothing short of fantastic.
The fact that Caribe Royale only provides suites, sets it apart from other hotels and gives families like ours plenty of room and comfort while we're onsite. Families of various sizes will find it convenient to pick between 1, 2, or 3 bedroom suites, which is an excellent perk. In our case, the one-bedroom suite was perfect for our family of three.
Dining at Caribe Royale
Of course, with any resort stay, we're always looking for great dining options, especially during staycations. The less we have to leave the resort, the better! Caribe Royale has 3 restaurants, Starbucks, and in-room dining.
Tropicale: Begin your day with plenty of energy by stopping by Tropicale for a classic American breakfast menu made up of hearty individual plates, as well as a full buffet option.
The Venetian Chop House: For a more upscale dining experience, you can dine at The Venetian Chop House. The menu showcases an impressive selection of prime steaks and seafood, expertly prepared to perfection. Enjoy a memorable dining experience that highlights the resort's commitment to culinary excellence.
Calypso's Pool Bar & Grille: Dining poolside is always a treat and Caribe Royale's Calypso's Pool Bar and Grille provides a relaxed atmosphere with a menu that features everything from burgers to salads. It's the perfect spot for a leisurely lunch or dinner while enjoying the Florida sun.
Guests can also enjoy the Rum Bar which offers cocktails and drinks nightly. This is a great spot to watch a few games or just enjoy time together.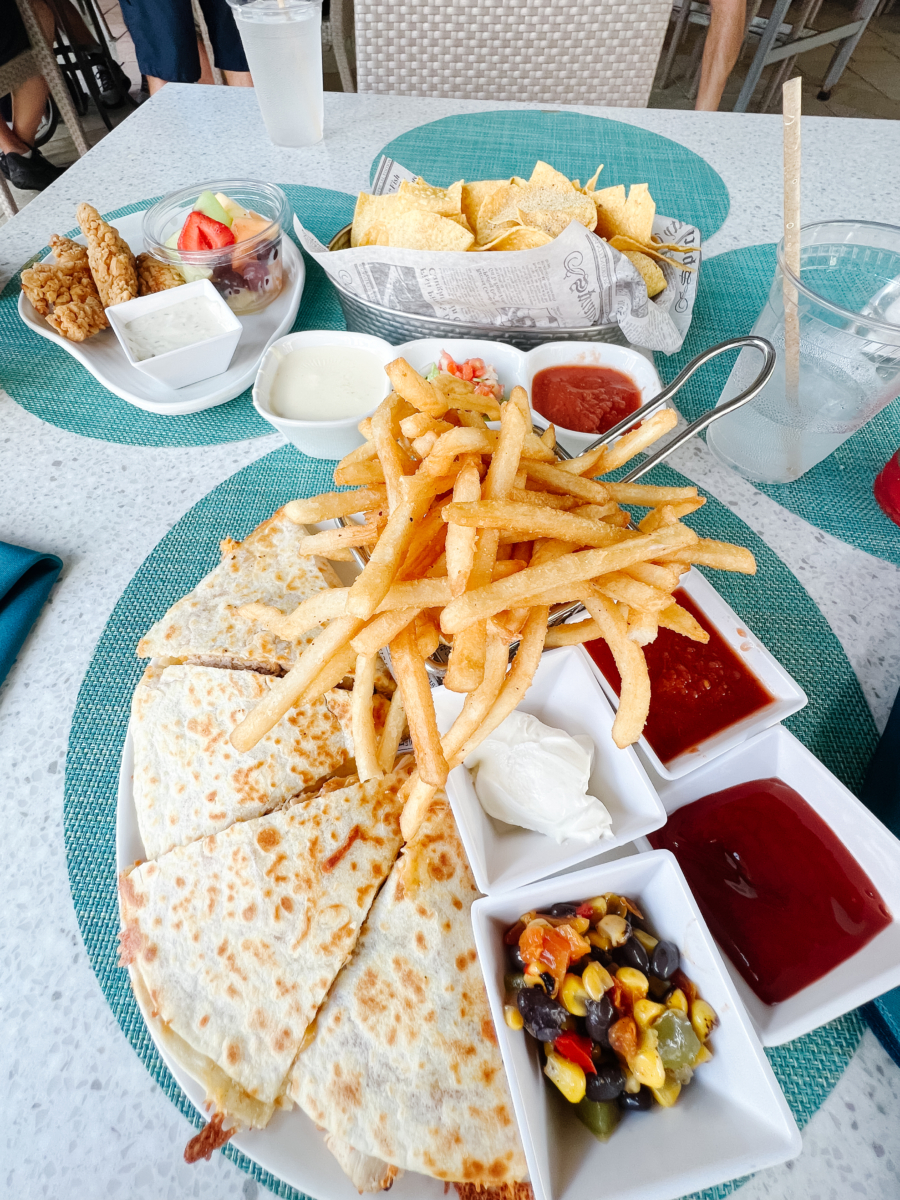 Poolside Paradise
One of the standout features of our stay at Caribe Royale was the incredible pool that catered to families in the most delightful way.
The heart of the resort is undoubtedly the spectacular pool oasis. The main pool was an oasis with plenty of lounge chairs and umbrellas. This made it easy for our family to relax and soak up the Florida sun.
The water slide was a hit with Eleanor, as she spent hours sliding down. For smaller children, there is a nearby splash pad with ample seating for families, as well.
Hungry swimmers can enjoy the nearby Calypso's Pool Bar and Grille for food and refreshments, which offers an array of menu items.
Lastly, on weekends families can enjoy a movie under the stars for an experience unlike any other.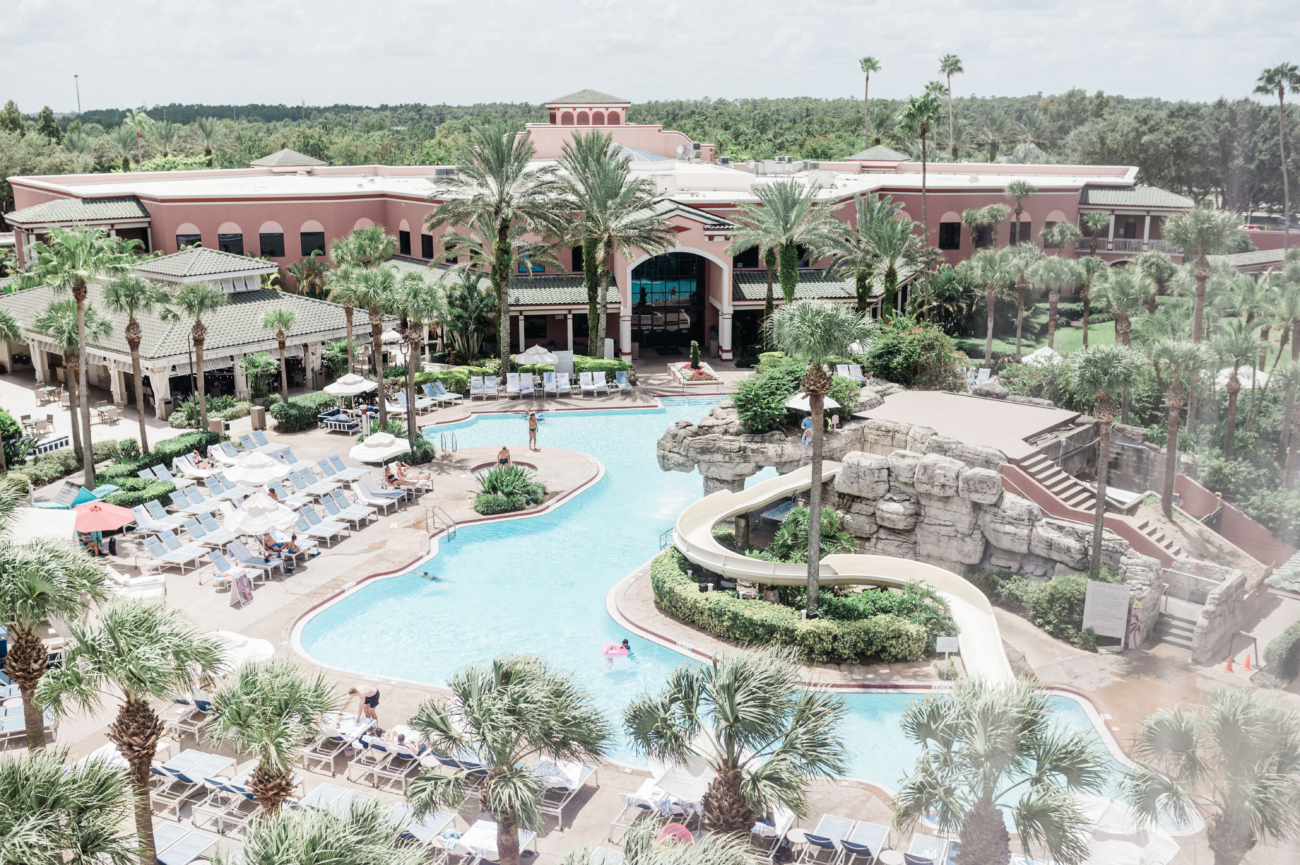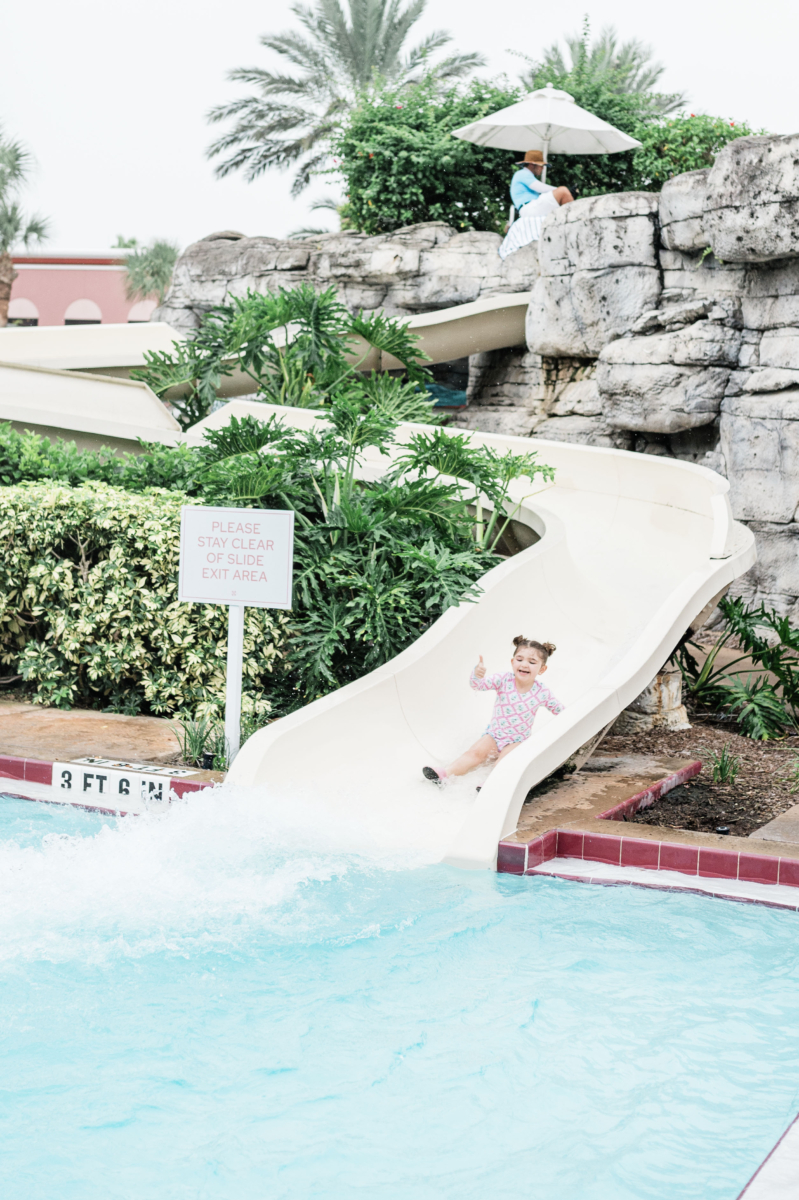 The Perfect Location in Orlando
Families who want to experience all of the magic and excitement that this city has to offer will greatly benefit from Caribe Royale's central Orlando location.
Caribe Royale also offers transportation options to Magic Kingdom and Disney Springs for those looking to visit the parks without the hassle of driving and parking.
Beyond the parks, Caribe Royale is conveniently located near a wide array of dining and shopping options. Whether you're in the mood for a family-friendly meal or are seeking retail therapy, you'll find it all in the vicinity.
Service and Staff at Caribe Royale
From the moment we arrived, the staff at Caribe Royale made us feel like valued guests. The check-in process was smooth and efficient, and the reception team went out of their way to answer our questions. It's the kind of welcome that sets the tone for an entire stay.
Throughout our stay, we encountered friendly and attentive staff members at every turn. Whether we were dining at one of the resort's restaurants, seeking assistance by the pool, or even just passing by in the hallways, the staff consistently greeted us with smiles and eagerness to help.
The staff's knowledge of the resort and their willingness to accommodate our needs made our stay even more enjoyable. In addition, their passion for ensuring guests have a memorable experience was evident throughout our stay.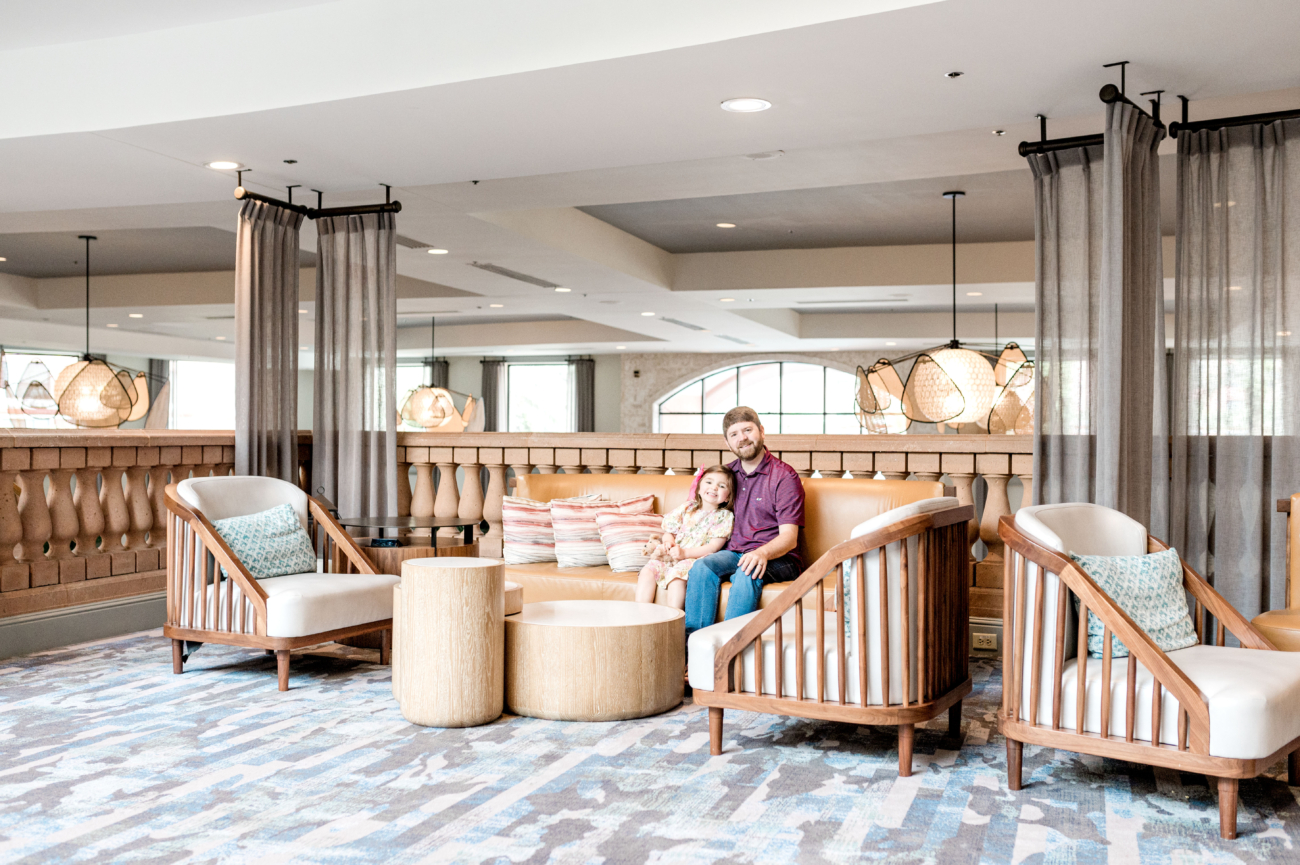 Overall Experience at Caribe Royale in Orlando
As our family staycation at Caribe Royale Orlando comes to a close, it's clear that this resort has set a high standard for luxury family-friendly getaways. From the moment we arrived, the resort exceeded our expectations in numerous ways.
The spacious 1-bedroom suite provided the perfect setting for our family, with a separate space for our daughter to sleep comfortably. The resort's diverse dining options, from casual to upscale, offered something for everyone. We relished the opportunity to explore different flavors each day.
Finally, Caribe Royale in Orlando proved to be more than just a resort; it was an experience. It combined luxury, family-friendliness, and outstanding service to create a staycation that our family will cherish for years to come. If you're seeking a magical family getaway in Orlando, I wholeheartedly recommend Caribe Royale Orlando.
Feel free to check out another great Orlando area resort, Gaylord Palms, which equally offers an extraordinary experience.
Save Caribe Royale in Orlando on Pinterest!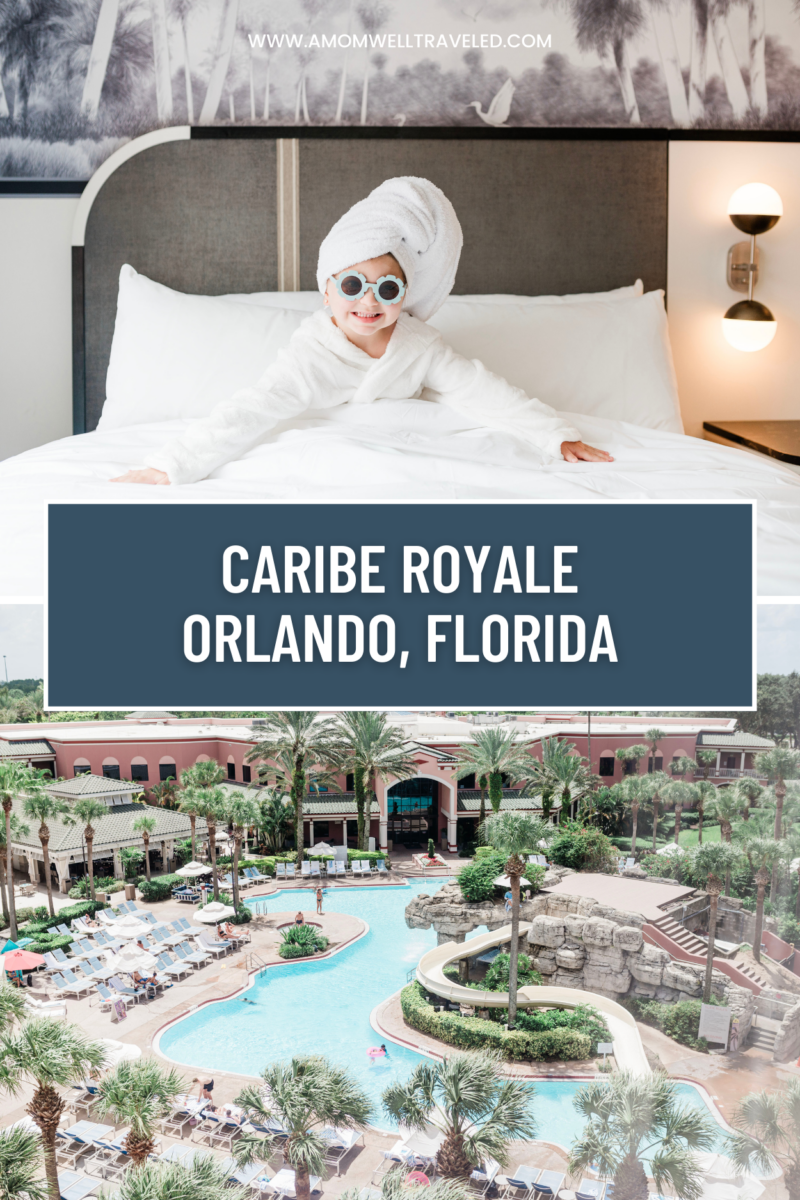 *This post contains affiliate links meaning at no additional cost to you, I earn a commission if you click through and make a purchase.*