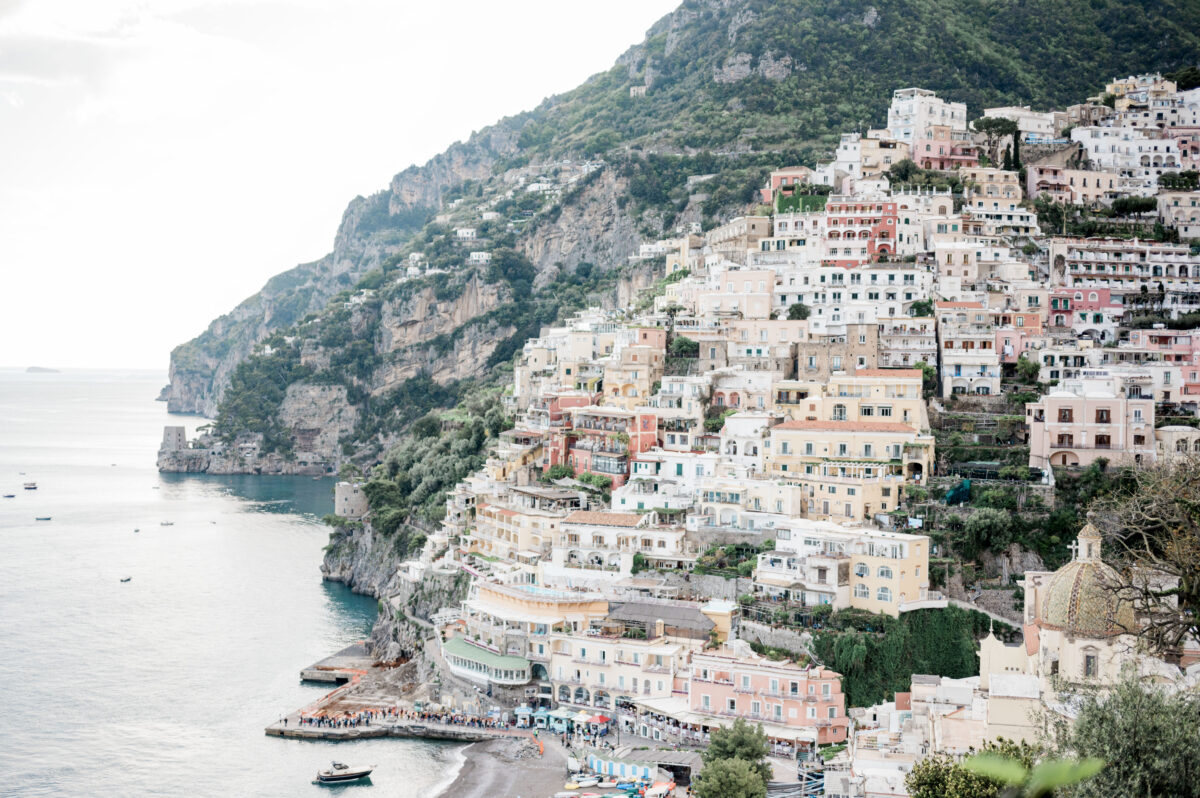 Discover the 5 Best Places to Eat in Positano
To be honest, you'll likely not have a bad meal in Positano, but I wanted to share the 5 best places to eat during your visit. Each of these restaurants not only serve delicious meals that will make you wanting more, but they also have great views.
I recommend making reservations for all of your dining in Positano, even if you're visiting during shoulder seasons. You can easily make reservations on most restaurant websites or reach out via their email, social media, or phone.
Related Posts:
Our 10 Day Italy Itinerary as First Timers
An Unforgettable Private Boat Tour from Positano
A Remarkable Stay at Hotel Poseidon in Positano
1. Il Tridente
Il Tridente is an excellent choice for a romantic dinner or a special occasion. This restaurant offers incredible views of the sea from its outdoor terrace. The menu comprises a range of seafood dishes, including fresh fish, calamari, and prawns. One of the standout dishes is the delicious homemade pasta with clams and cherry tomatoes. The chefs at Il Tridente have a true passion for using locally sourced ingredients, and this is reflected in the taste and quality of their dishes. The wine list is impressive, with an extensive selection of both local and international wines to complement your meal. For those with a sweet tooth, the homemade desserts like the lemon sorbet and tiramisu are not to be missed.
Even though it was rainy and we weren't able to sit on the outdoor terrace, we really enjoyed the experience at Il Tridente. John had the slow cooked beef cheek in red wine, while I had the mezzi paccheri pasta with lobster. Both meals were perfection!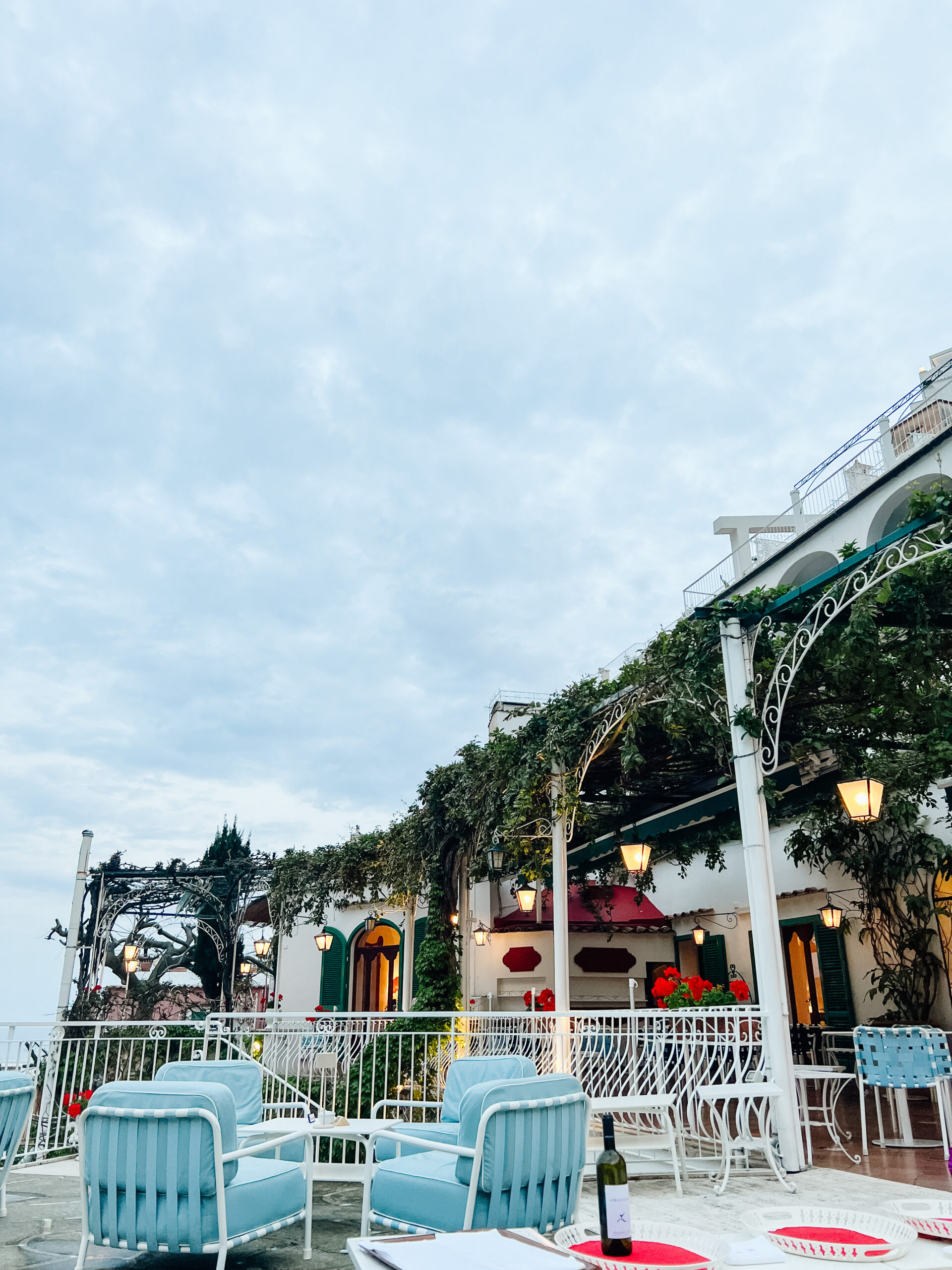 2. Rifugio dei Mele
Nestled high in the hills of Positano, Rifugio di Mele provides a scenic escape from the bustling coastal town below. This charming and intimate restaurant offers sweeping views of the Tyrrhenian Sea and the breathtaking Amalfi Coastline. The menu is a delightful fusion of Mediterranean and traditional Italian cuisine, featuring fresh, local ingredients. The knowledgeable and personable staff are happy to make recommendations and guide guests through the menu.
Rifugio dei Mele was a last minute reservation for us. It came highly recommended by our hotel. It did not disappoint. They offer a free shuttle service to and from Positano. The dining experience was absolutely incredible, plus the views were breathtaking. I chose to have the chicken, while John had the catch of the day. Then we selected the black forest for dessert.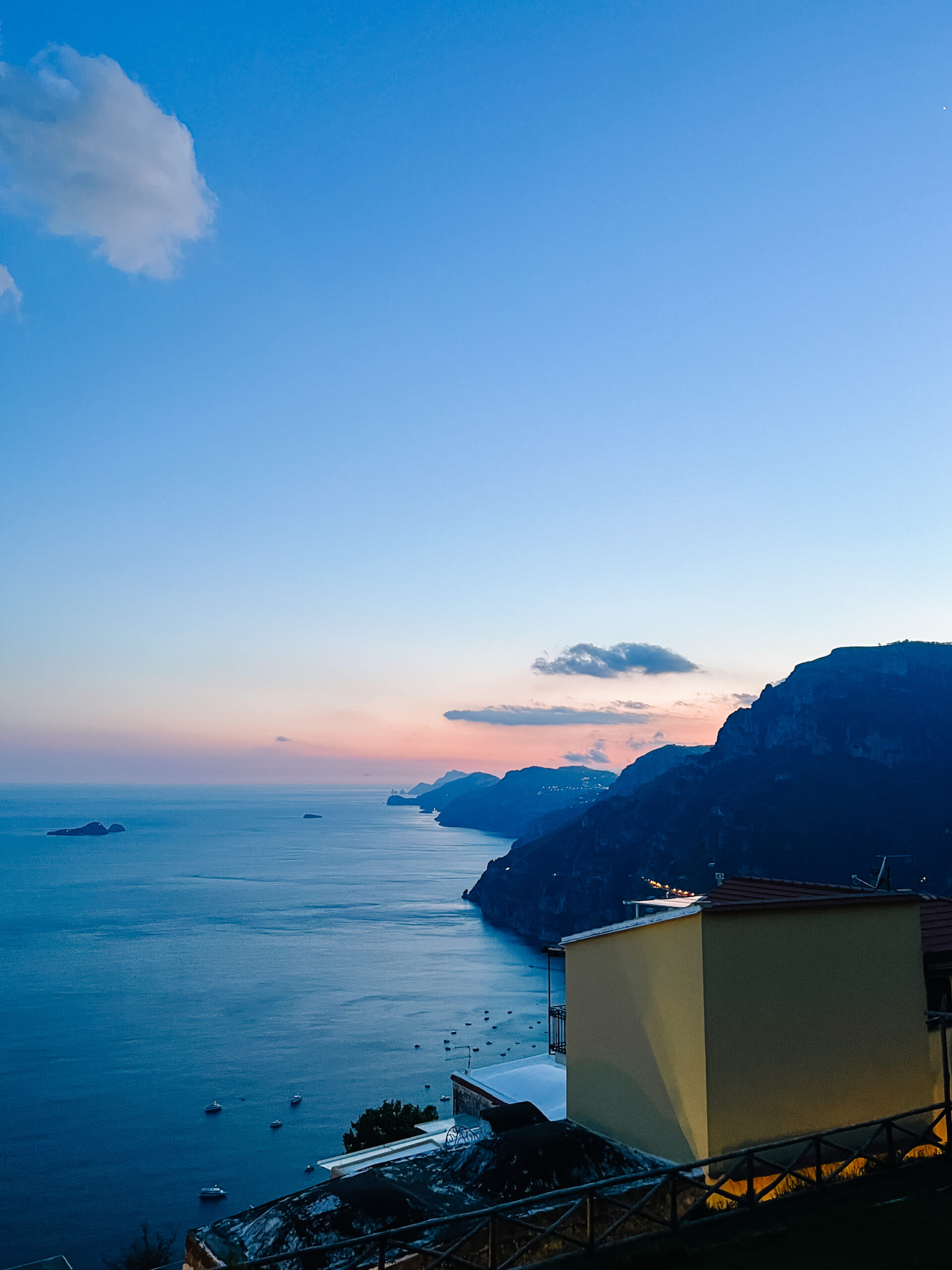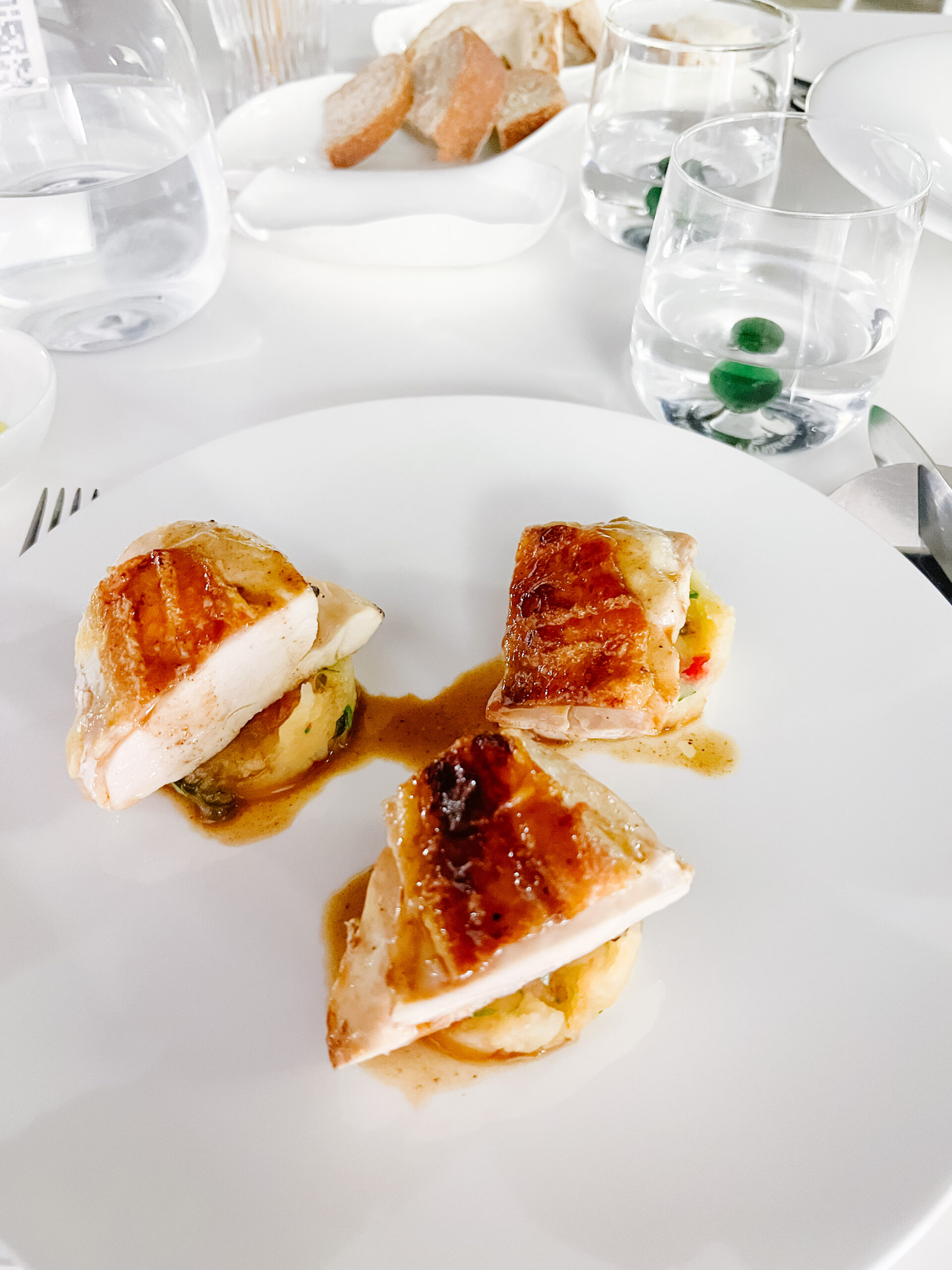 3.Ristorante Bruno Positano
The elegant and sophisticated atmosphere, paired with stunning views of the coast, make for a memorable dining experience. Bruno's menu features traditional Italian dishes with a twist, such as the perfectly cooked spaghetti Carbonara. The restaurant also offers an extensive wine list, with many local favorites and international options. The attentive staff provides impeccable service, adding to the overall experience.
The views of Positano from Ristorante Bruno are magical and it's a great place to catch the sunset. Once again, John had the fish of the day, while I had the spaghetti saracena. We also couldn't help but have tiramisu for dessert.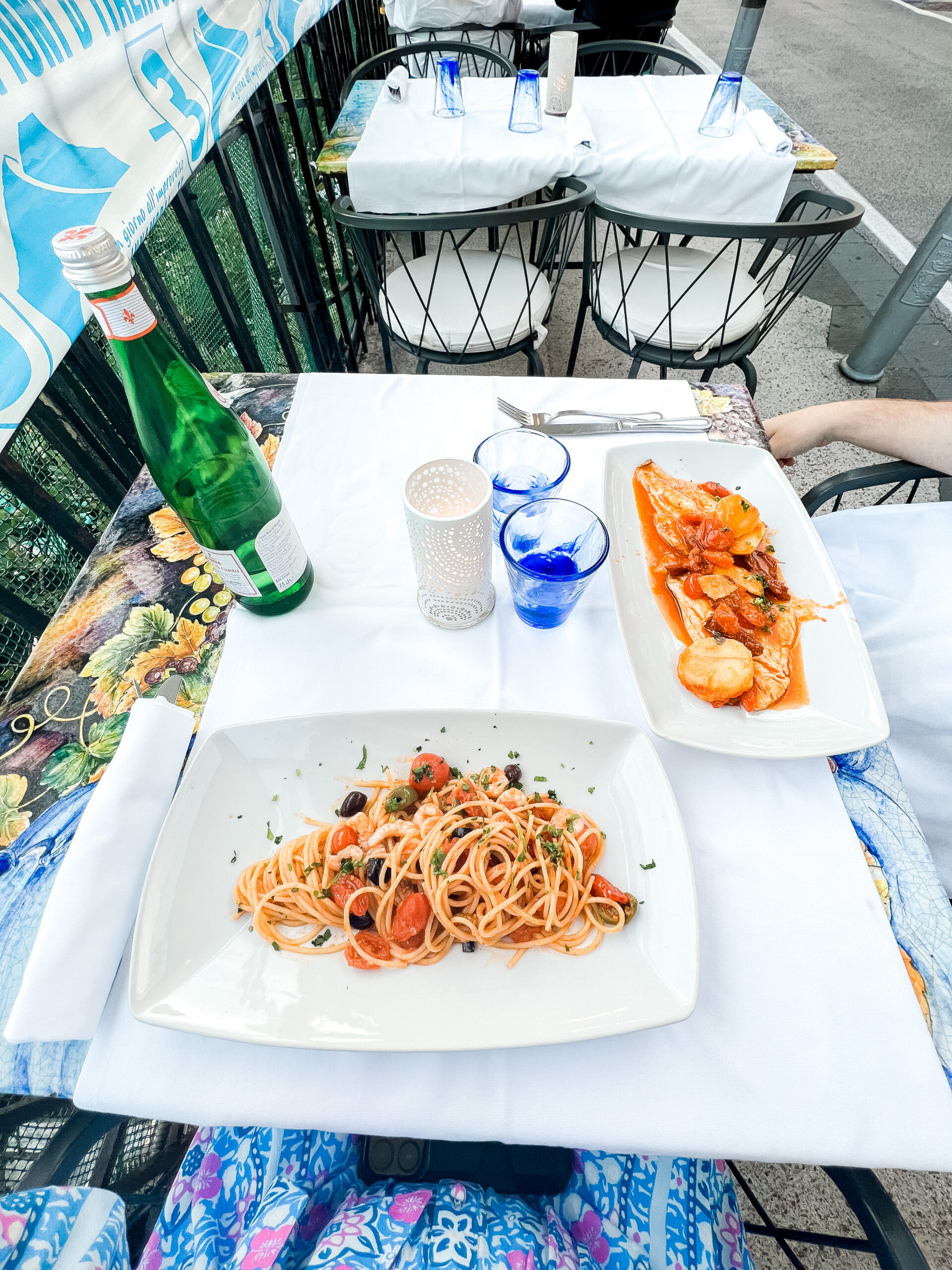 4. Lo Guarracino
Tucked away in the winding streets of the town, this intimate and cozy restaurant offers a romantic ambiance for an unforgettable dining experience.
The seafood at Lo Guarracino is particularly noteworthy, with the octopus cooked to perfection and the grilled sea bass with lemon and capers providing a delightful burst of flavors. Whether you're looking for a cozy lunch spot or romantic dinner, make sure to add Lo Guarracino to your list of must-visit restaurants in Positano.
I had the fried prawn and calamari and John enjoyed a spicy salami pizza (he couldn't get enough pizza in Italy). We loved hearing the ocean waves as we devoured our meals.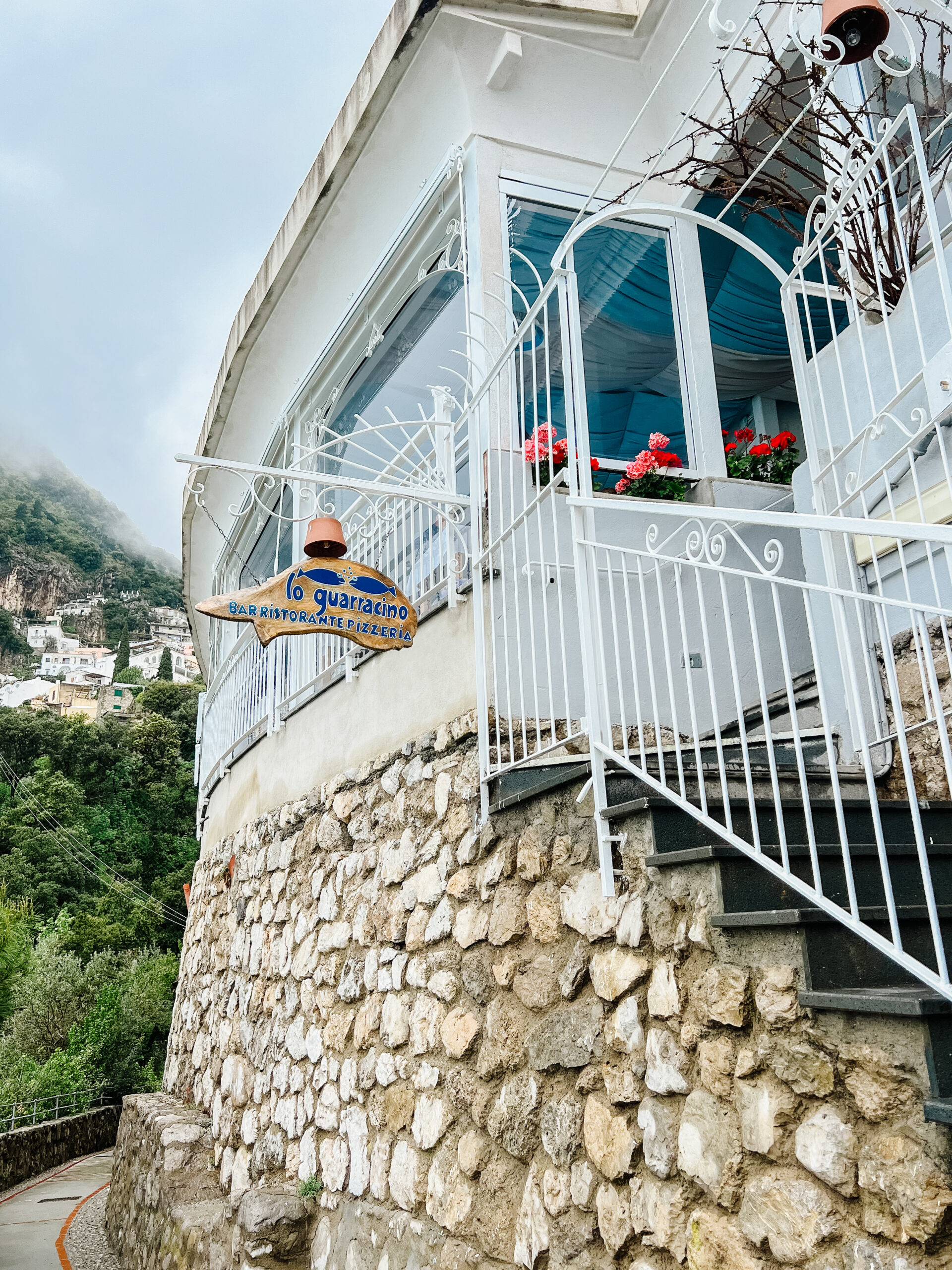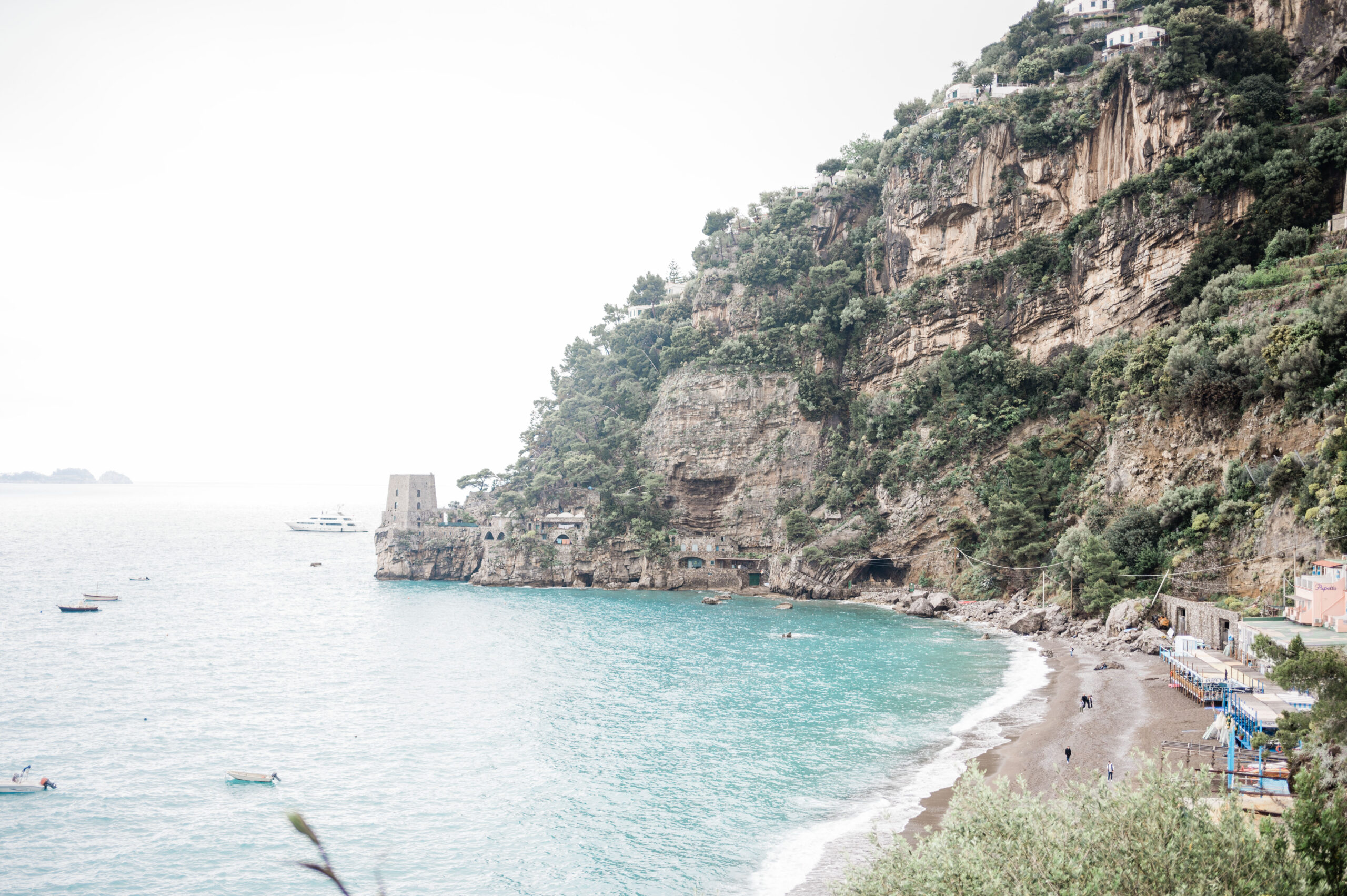 5. Chez Black
Chez Black has been a staple in Positano since the 1950s and continues to attract locals and tourists alike. The restaurant is known for its seafood, with local fish and shellfish taking center stage on the menu. The spaghetti with clams is a standout dish, brimming with fresh, plump clams and a garlic-infused broth that's perfect for sopping up with a crusty slice of bread.
While the seafood steals the show, Chez Black also offers a range of other dishes, including classic Neapolitan pizzas and homemade pasta. The atmosphere is lively and fun, with the restaurant's outdoor patio providing the perfect spot for people-watching while you dine.
One thing we learned in Italy is that if you're splitting a pizza, it's going to arrive precut for you! We opted to share a pizza for lunch at Chez Black as we were planning a big dinner that evening. Chez Black is also the perfect place to enjoy an Aperol Spritz!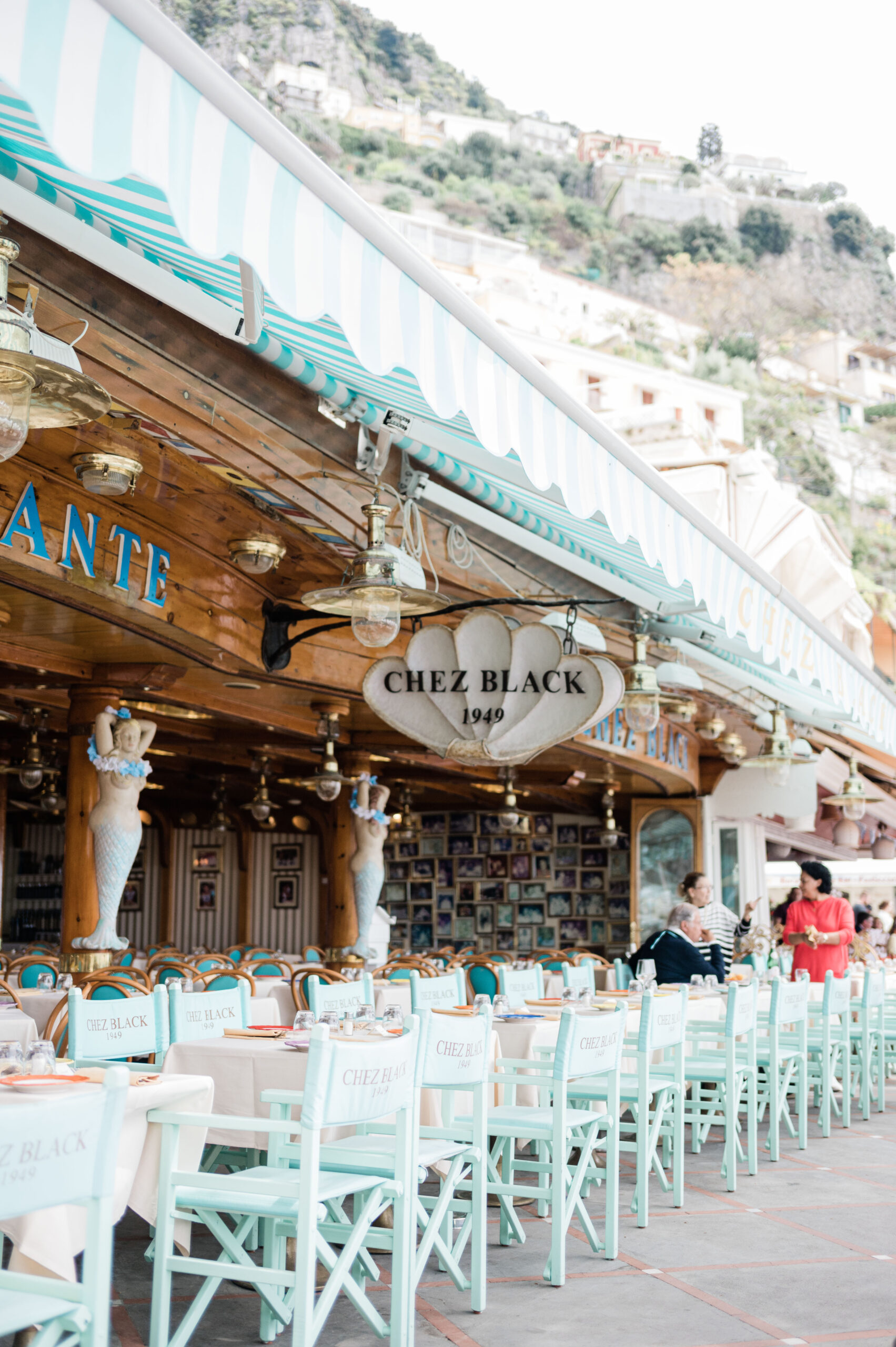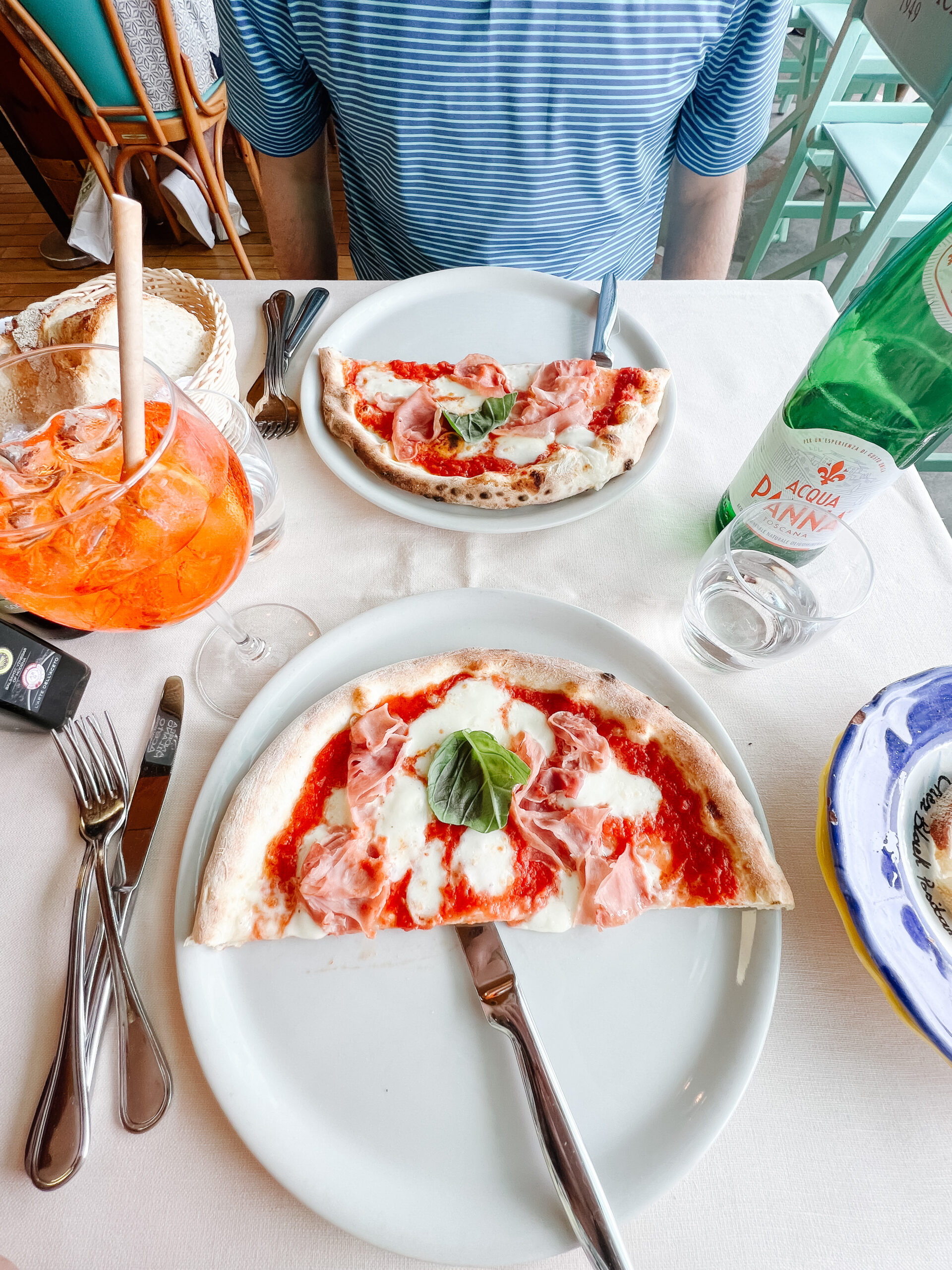 Other Restaurants to Consider in Positano
La Tagliata
La Sponda
Casa e Bottega
Franco's Bar (for drinks and great sunset views)
Conclusion
In conclusion, Positano's culinary scene is a must-see for any foodie or traveler looking for a one-of-a-kind experience. Between Il Tridente's expertly prepared seafood, Rifugio die Mele's stunning views, Ristorante Bruno Positano's cozy atmosphere, Lo Guarracino's traditional cuisine, and Chez Black's trendy vibe, there's something for everyone. Don't miss the chance to indulge in the authentic flavors of southern Italy's coast. As the saying goes, "when in Positano, eat like the Italians do." So, add these five must-try restaurants to your list and let your taste buds take you on an unforgettable journey.
Like this post? Pin it!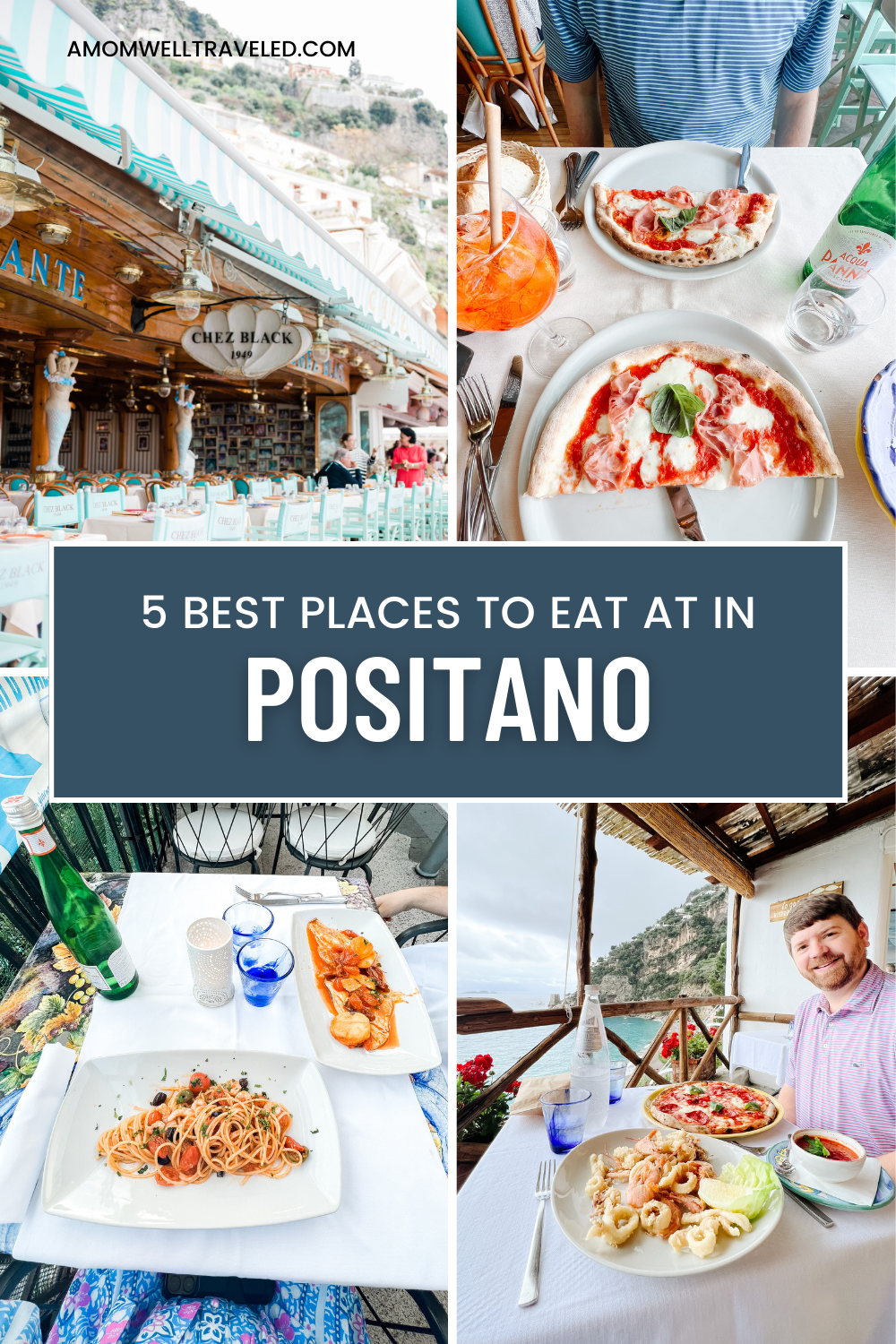 Have you been to any of these restaurants in Positano? I would love to hear what you thought or share another restaurant to try!