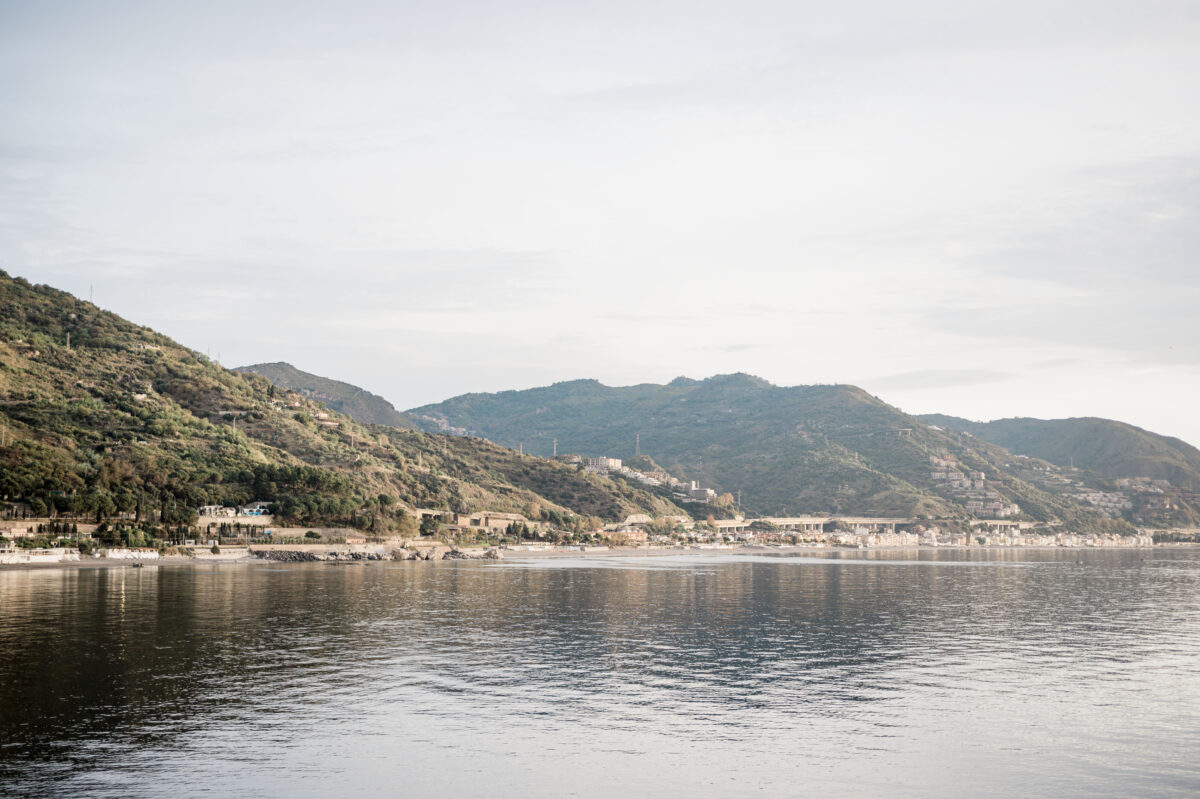 Taormina, Sicily: Everything You Need to Know
Are you prepared to find a secret paradise in Italy? Taormina, Sicily is a dream location for discovering Italian culture and cuisine because of its breathtaking Mount Etna views and quaint cobblestone alleyways. Taormina offers both family-friendly and romantic getaways, so there's something for everyone. This article will give you a thorough overview of Taormina. You'll discover the top sights to see in the area and how to make the most of your time in this enchanting Medieval city. So let's get started and discover the beauty of Sicily.
Related Posts:
Our 10 Day Italy Itinerary
How to get to Taormina, Sicily?
Taormina is a hilltop town on the east coast of Sicily. The nearest airport is Catania Airport (CTA). From there, you can take a private taxi to Taormina (about 45 min away) or the train. We paid 80€ for our transfer from the airport to our hotel.
Where to stay in Taormina, Sicily?
Located on the northeast coast of the beautiful Italian island of Sicily, Atlantis Bay Taormina offers a luxurious getaway with stunning views of the Mediterranean. This paradise is brimming with up-to-date comforts and activities like swimming pools, spas, and watersports that will no doubt make your vacation fantasies come true. There is something to satisfy every preference, whether you like to unwind on the beach or explore the neighboring sights. Indulge in a delectable dinner at one of the many restaurants or go on a luxurious shopping spree at the neighborhood boutiques. Atlantis Bay Taormina is the ideal location for your upcoming luxury vacation because of its unmatched temperature, first-rate service, and stunning scenery.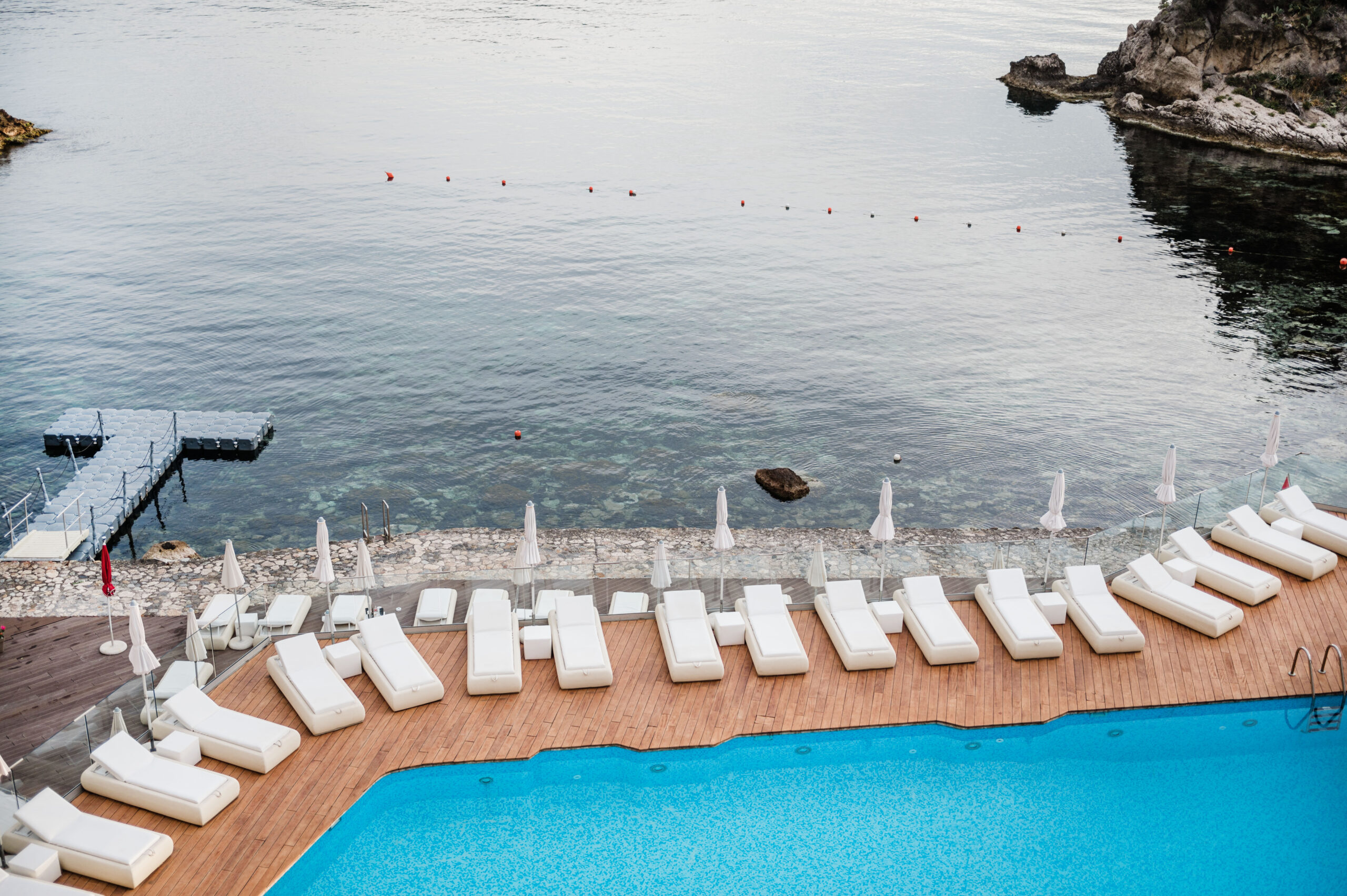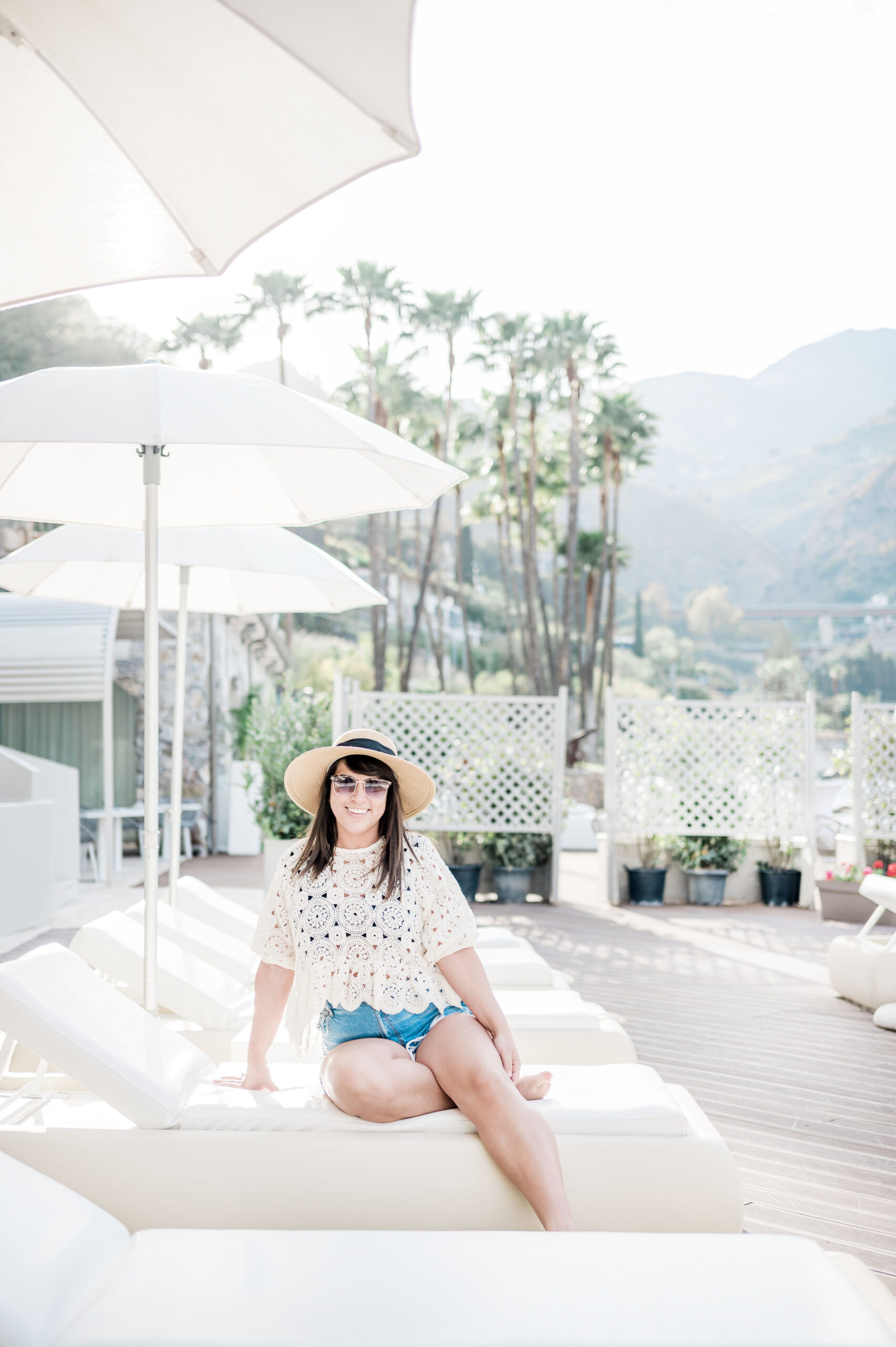 Things to do in Taormina, Sicily
While, it was rainy for most of our stay and we weren't able to do many of these things, I still wanted to share all that Taormina has to offer. Whether you're looking for some outdoor adventure or interested in unraveling the town's rich history, Taormina has something for everyone. Pack your bags, grab your snorkeling gear, and join me as we unravel Taormina's secrets.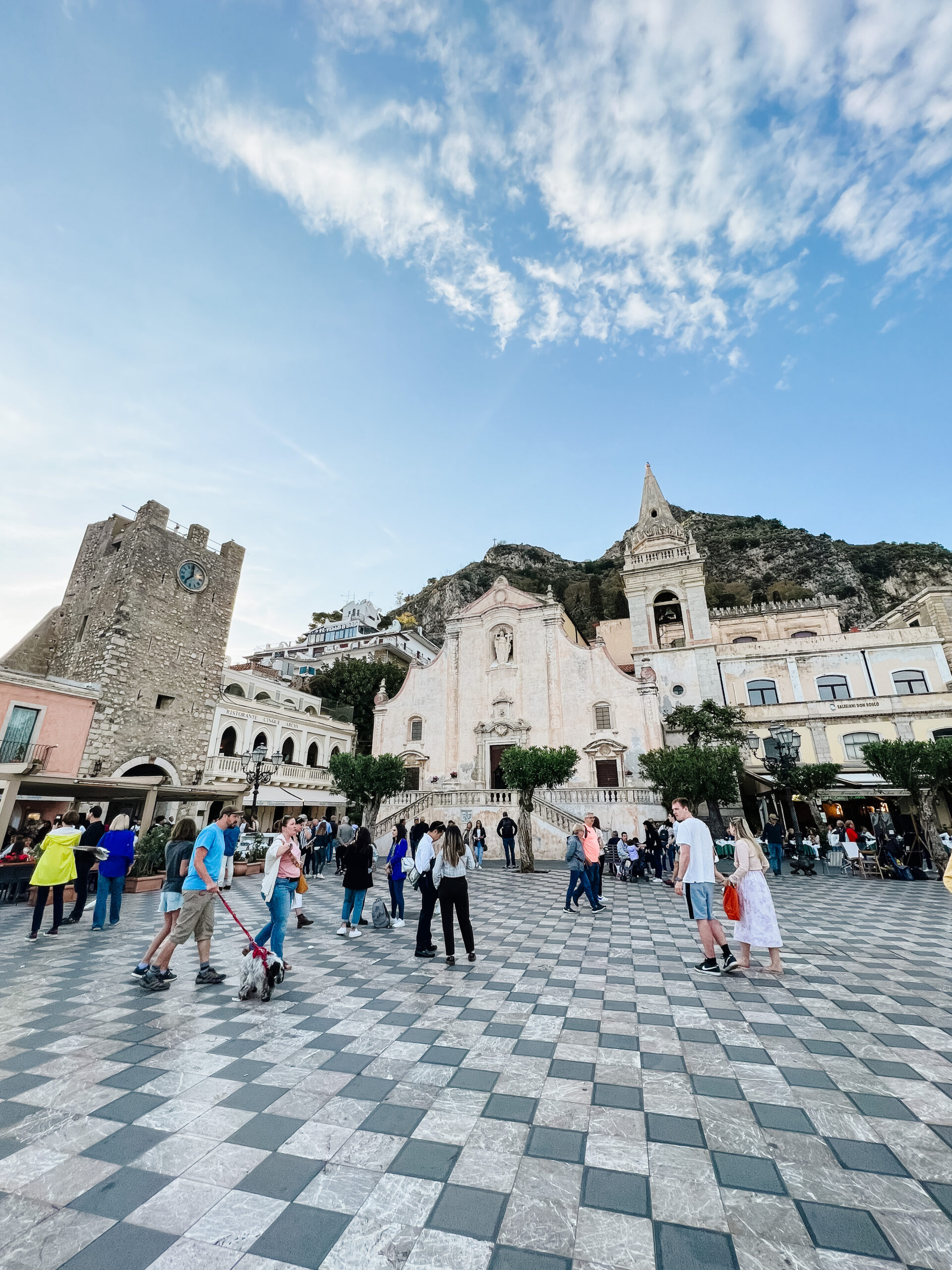 Mt. Etna
Discover Mount Etna's natural splendors, one of Sicily's most recognizable sights. This active volcano's summit rises over 10,000 feet above sea level and provides stunning views of the surroundings. There are several ways to discover Mount Etna's rugged landscape, whether you choose to hike or go on an excursion. You'll come across unusual flora and animals, volcanic caves, and old lava fields that provide a window into the island's fiery past as you travel.
If you're feeling adventurous, consider taking a Jeep tour to the summit, where you can take in the sweeping views of the Ionian Sea and the Calabrian coastline. And for the truly daring, there are even opportunities to explore the volcano's craters and lava tunnels with a guide.
After a day of exploring Mount Etna's natural wonders, head back to Taormina to discover the ancient ruins that dot the town's landscape. From the impressive Greek Theater to the charming medieval streets, there's no shortage of historical sites to explore in this charming Sicilian town. So pack your camera and get ready for a day of adventure!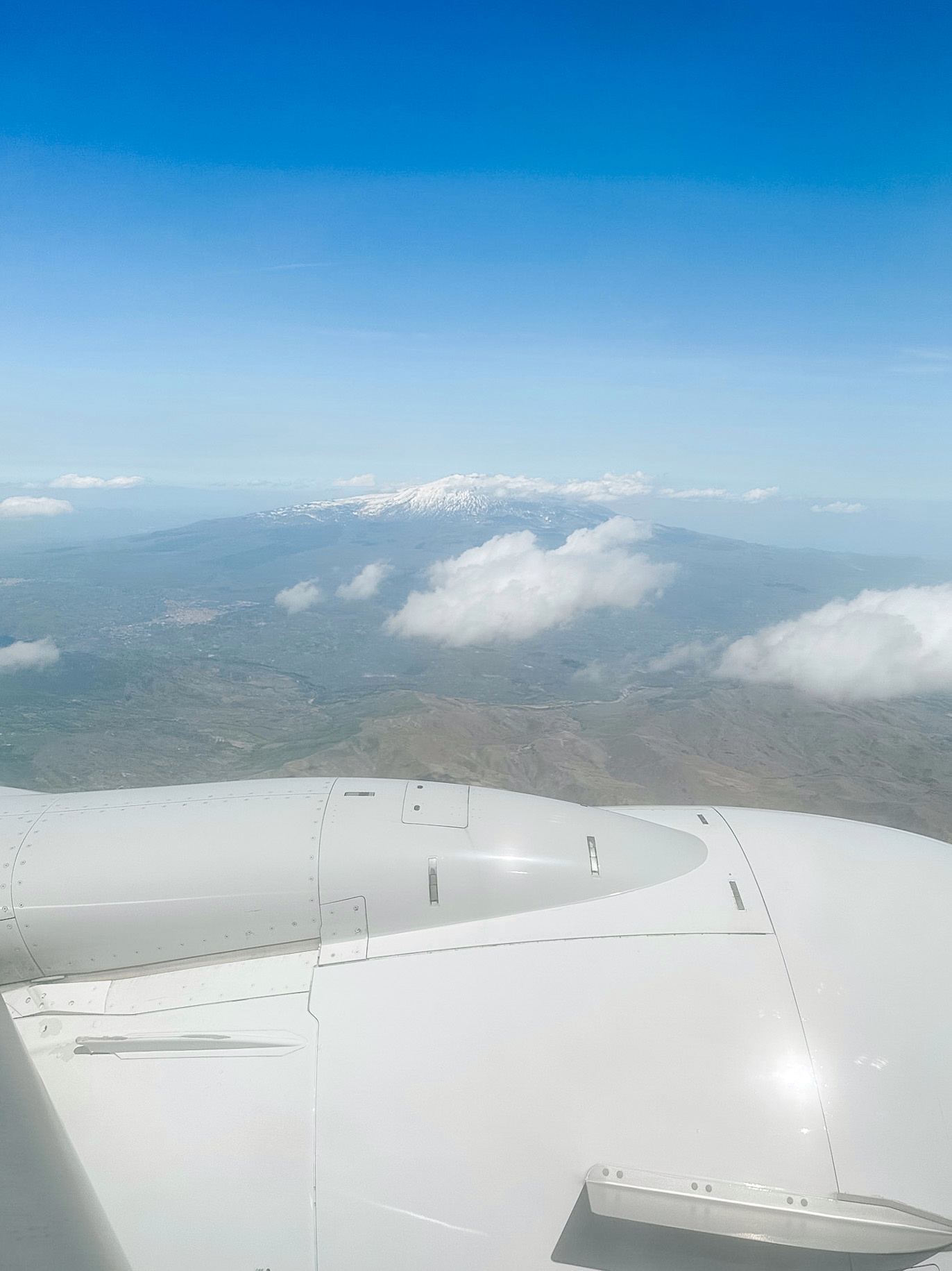 Explore Taormina's Ancient Ruins
Why not travel back in time and discover Taormina's historic ruins after spending the day discovering Mount Etna's natural wonders? There are several historical sites in this charming Sicilian town that provide a look into its rich past.
The Greek Theater, which was built in the third century BC, is one of the must-see attractions in Taormina. With incredible views of the Ionian Sea, this extraordinary amphitheater is carved out of the mountainside. Even though the theater is no longer utilized for shows, tourists still flock there to enjoy the panoramic views and take photos.
Another spot to visit is the Palazzo dei Duchi di Santo Stefano, a medieval palace that houses a small museum. Here, you can admire artifacts from Taormina's history, including archaeological finds and artwork. The palace itself is also a marvel, with its ornate architecture and picturesque courtyard.
As you wander through the town's charming streets, be sure to take note of the various ruins that are scattered about. From ancient walls and arches to crumbling buildings, these remnants of Taormina's past add to the town's rustic charm.
But don't forget, there's still more adventure to be had! Up next, we'll explore the "Godfather Tour" and its ties to Taormina's cinematic history.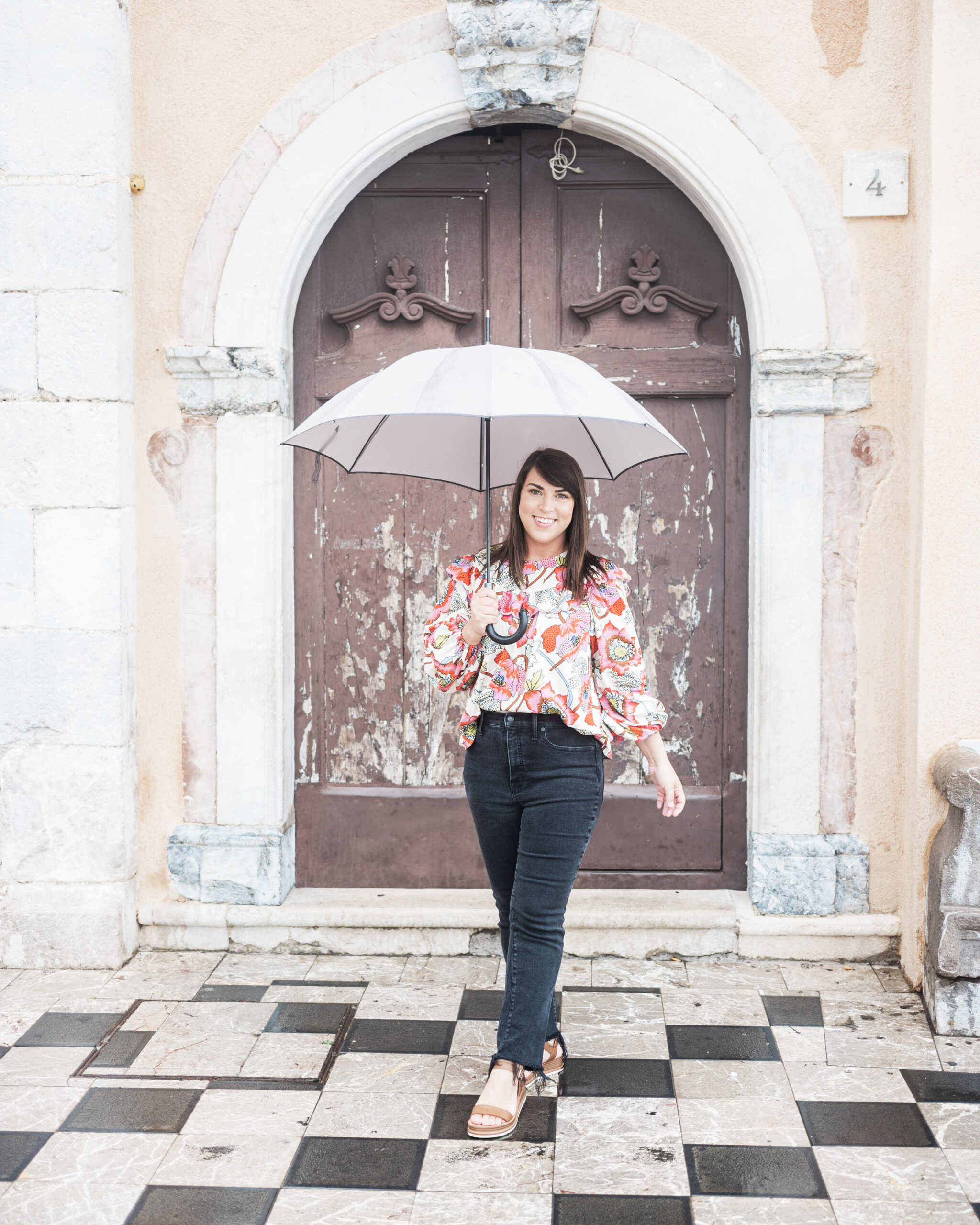 Godfather Tour
It's impossible to help but think of the classic movie "The Godfather" as you explore Taormina's beauty and wonder. Several important moments in the movie were set amid the backdrop of the town's cobblestone streets and old-world beauty. The "Godfather Tour," which takes you to some of the most iconic places from the movie, is something that movie fans won't want to miss.
You'll feel as though you've stepped straight into the movie from Bar Vitelli, where Michael Corleone requested Apollonia's father for her hand in marriage, to the Church of Sant'Agostino, where Michael and Apollonia were married. Forza D'Agro, the hilltop village where young Vito Andolini (after known as Vito Corleone) grew up, is also included in the tour.
After you're done reliving the movie's most iconic scenes, you can head over to Taormina's many boutiques and specialty shops for some unique souvenirs. From locally-made ceramics and jewelry to handcrafted leather goods and gourmet treats, you're sure to find something special to take home.
Shopping in Taormina
This charming town has a variety of specialty shops and boutiques that offer unique souvenirs and gifts.
Locally produced ceramics are among the most sought-after souvenirs from Taormina. There are numerous hand-painted and exquisitely made plates, bowls, vases, and other decorative pieces available that perfectly represent Sicilian artistry.
Visit one of the town's many jewelry stores if you want something more wearable. There is something for every taste and budget, from delicate gold pieces with exquisite stones to bold statement pieces using vibrant glass beads.
Leather products are also another must-have in Taormina. Given the high caliber of Italian leather, there are many handcrafted items that are fashionable and long lasting, including wallets, belts, shoes, and purses. Numerous leather businesses also provide customization options, enabling you to have a personalized item manufactured.
Finally, don't leave Taormina without trying some of the local gourmet treats. The town's specialty food shops offer a range of products, from sweet almond pastries to savory olive tapenades and sun-dried tomatoes. You can also pick up a bottle of locally-produced wine or olive oil to savor the flavors of Sicily at home.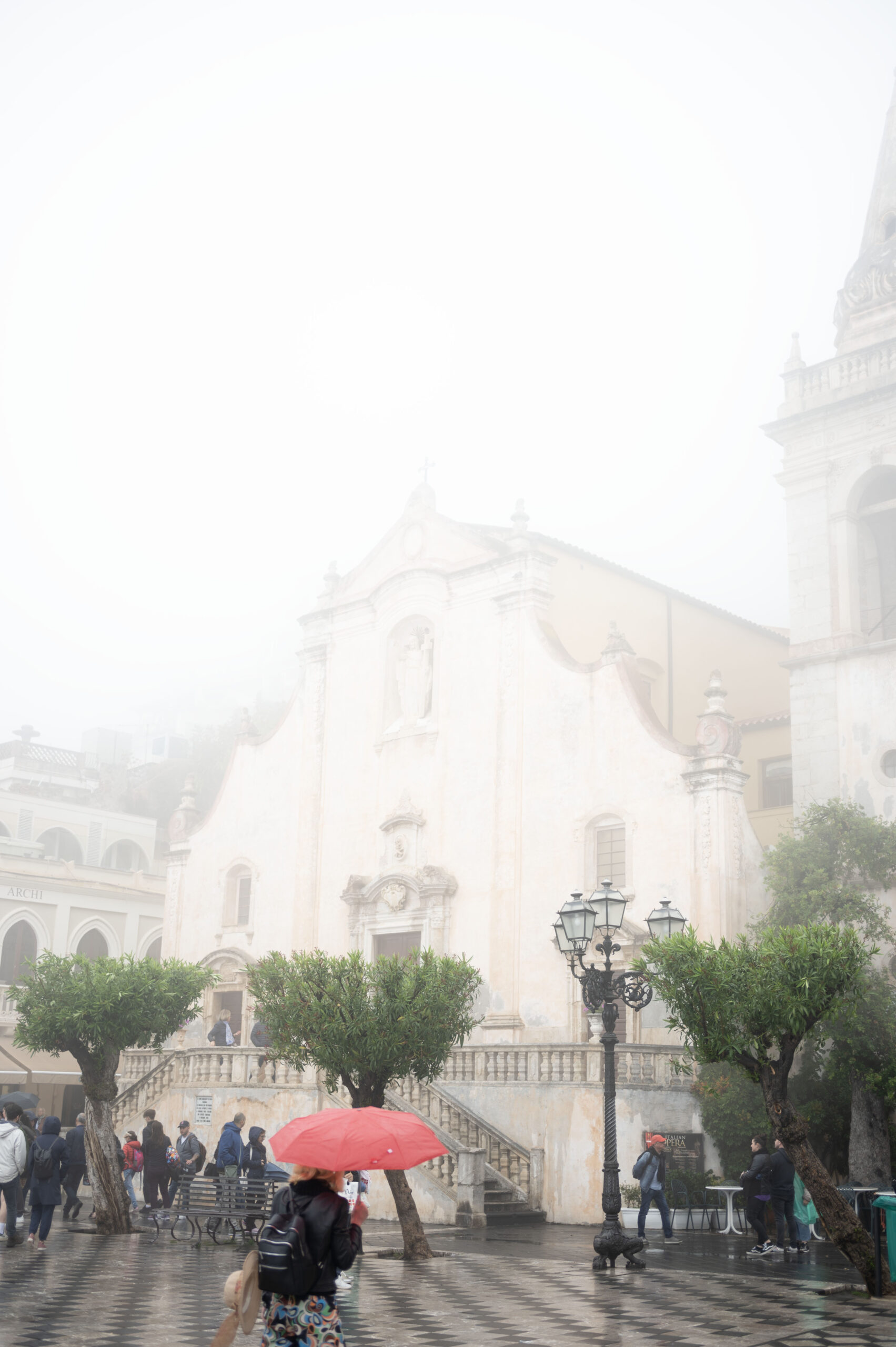 Snorkeling
While Taormina is renowned for its stunning natural scenery and extensive history, it also has some of the Mediterranean's purest seas. The coastline of Taormina provides plenty of chances for snorkeling enthusiasts to explore the underwater world, from the sandy beaches of Mazzarro to the jagged cliffs of Isola Bella.
The small island of Isola Bella, which is connected to the mainland by a short sliver of sand, is one of the greatest places to snorkel in Taormina. The island is a well-liked vacation spot for both locals and tourists since the surrounding seas are crystal clear and home to a variety of colorful fish and marine life. Head to the beaches of Mazzaro or Spisone for a more private experience to find secret caverns, rock formations, and underwater gardens.
The beaches in Taormina include activities for both experienced and amateur snorkelers. You will enjoy a fantastic time discovering the hidden treasures of Taormina's shoreline thanks to the area's tranquil waters and diverse marine life. However, remember to bring plenty of water and sunscreen since you'll want to spend the entire day in the ocean with everything there is to see and do.
Places to eat at in Taormina, Sicily
There are many different restaurants in Taormina, which is a gourmet paradise. This little city offers a wide variety of delicious dining options, from casual trattoria to Michelin-starred luxury restaurants. Nearly every restaurant serves traditional Sicilian cuisine, which is characterized by fresh fish, regional ingredients, and regional flavors. Try a restaurant outside on the terrace of the old castle walls for a memorable experience, or savor a meal of regional specialties at one of the numerous little cafes. Every palate may be satisfied because there are so many different restaurants.
Villa Zuccaro Pizzeria
Villa Zuccaro Pizzeria provides a one-of-a-kind eating experience. The restaurant features a wood-burning brick oven, as well as, an extensive menu of classic Italian tapas, wines, and cocktails. As you have lunch or dinner, enjoy the wonderful cuisine of Sicily and the stunning views of the Taormina coastline.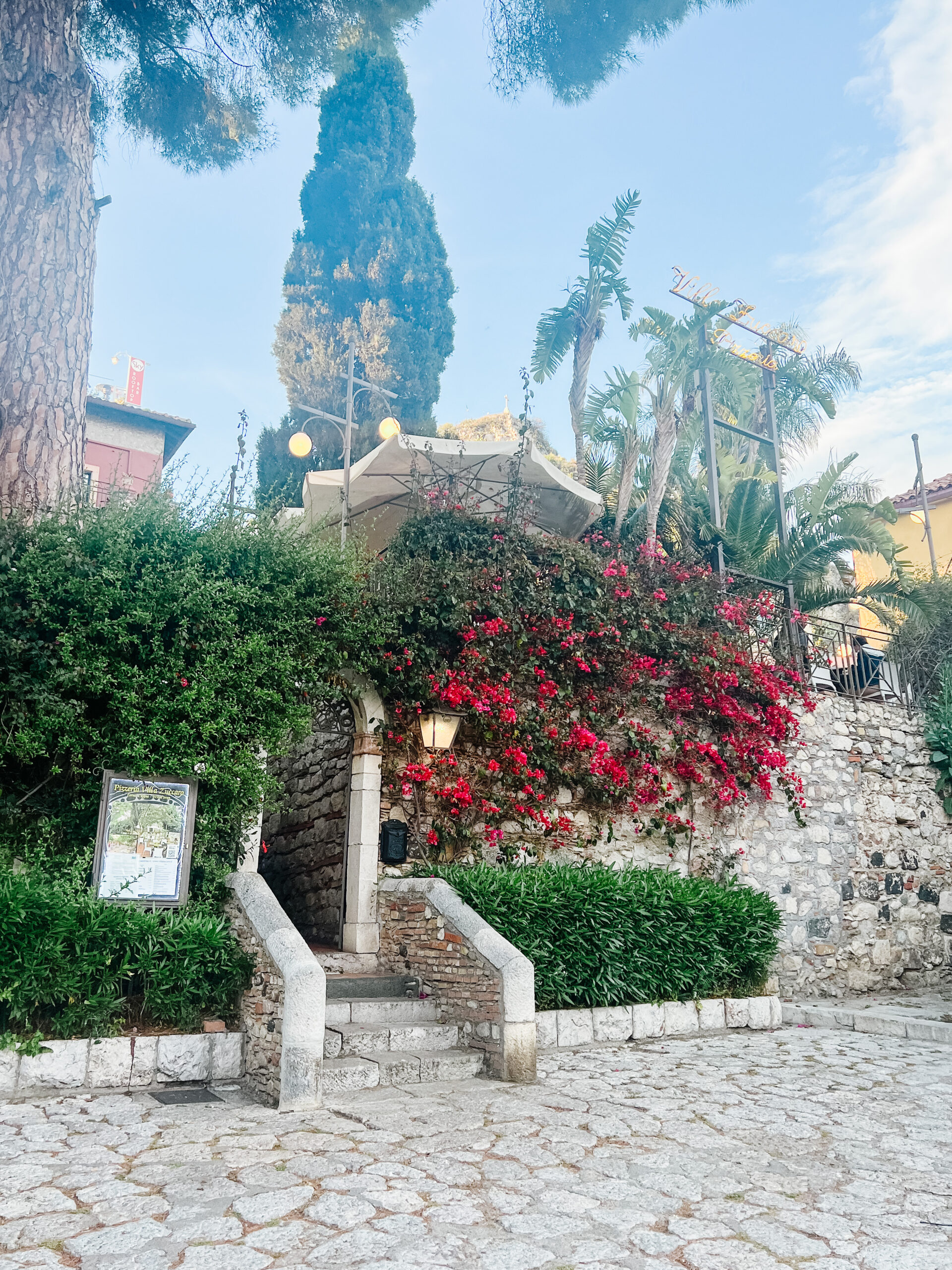 Ristorante Al Saraceno
This restaurant provides an amazing dining experience in a serene location with breathtaking views of the Mediterranean Sea, Mt. Etna, and the surrounding environment. The menu combines traditional Italian cuisine with innovative Mediterranean dishes made with fresh, local, and seasonal ingredients. This luxury restaurant's ambient atmosphere provides an ideal break from the city's hectic hustle and bustle. Ristorante Al Saraceno's attentive and friendly staff strives to make your stay as delightful and memorable as possible.
Unfortunately, we weren't able to enjoy the incredible views due to rain and fog. But I can promise the food is delicious!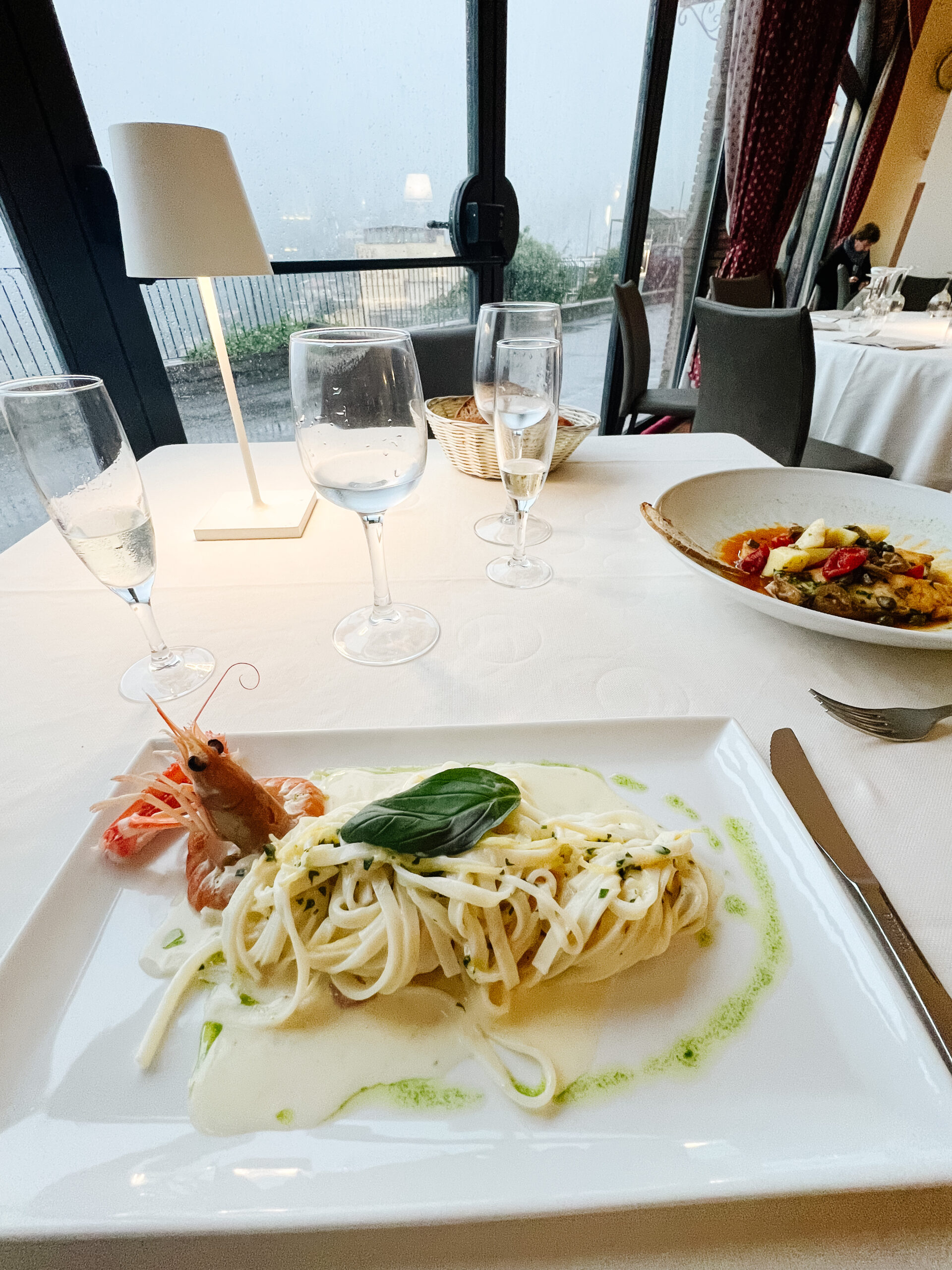 Da Giovanni
Taking inspiration from the past is one of the secrets to generating distinctive and memorable content. This is exactly what Giovanni, an Italian chef, has done with his restaurant in Taormina. Giovanni has given traditional Sicilian food a new spin by combining historic family recipes with contemporary cooking trends. His love of local products and traditional meals has earned him the respect of both residents and tourists. Ristorante da Giovanni was granted a Michelin star in 2020 for his devotion to employing the freshest, best quality ingredients and for his dedication to preserving the flavors of Sicily.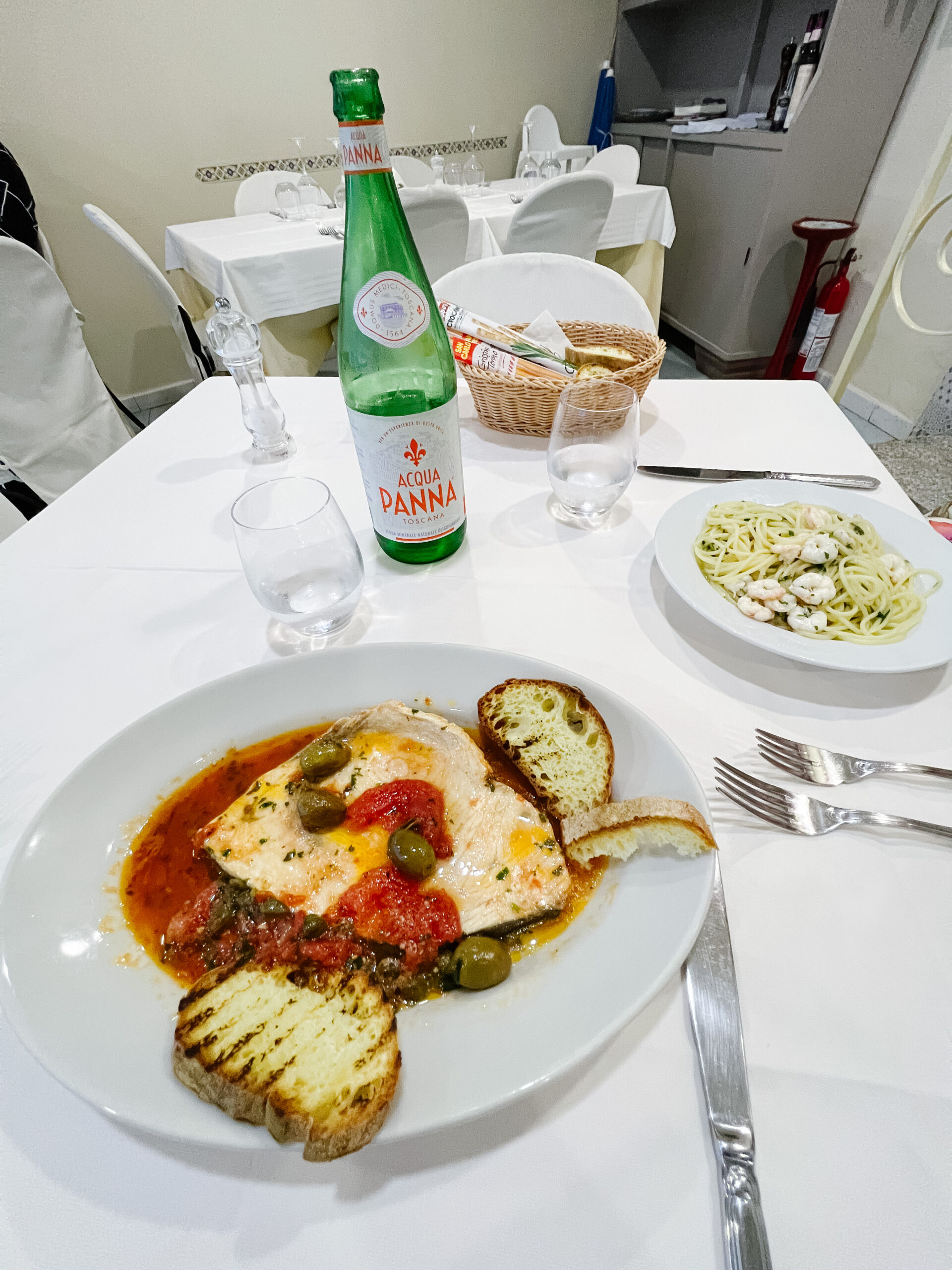 Taormina, Sicily: Conclusion
In conclusion, Taormina is a true gem on the east coast of Sicily, full of hidden treasures waiting to be discovered. From snorkeling in crystal clear waters to exploring the natural wonders of Mount Etna, there's no shortage of adventure or history to be found. And let's not forget the ancient ruins and famous Godfather filming locations. So what are you waiting for? Book your trip now and experience the best of Taormina. As they like to say, "come for the views, stay for the adventure."
Save this Taormina, Sicily Travel Guide on Pinterest!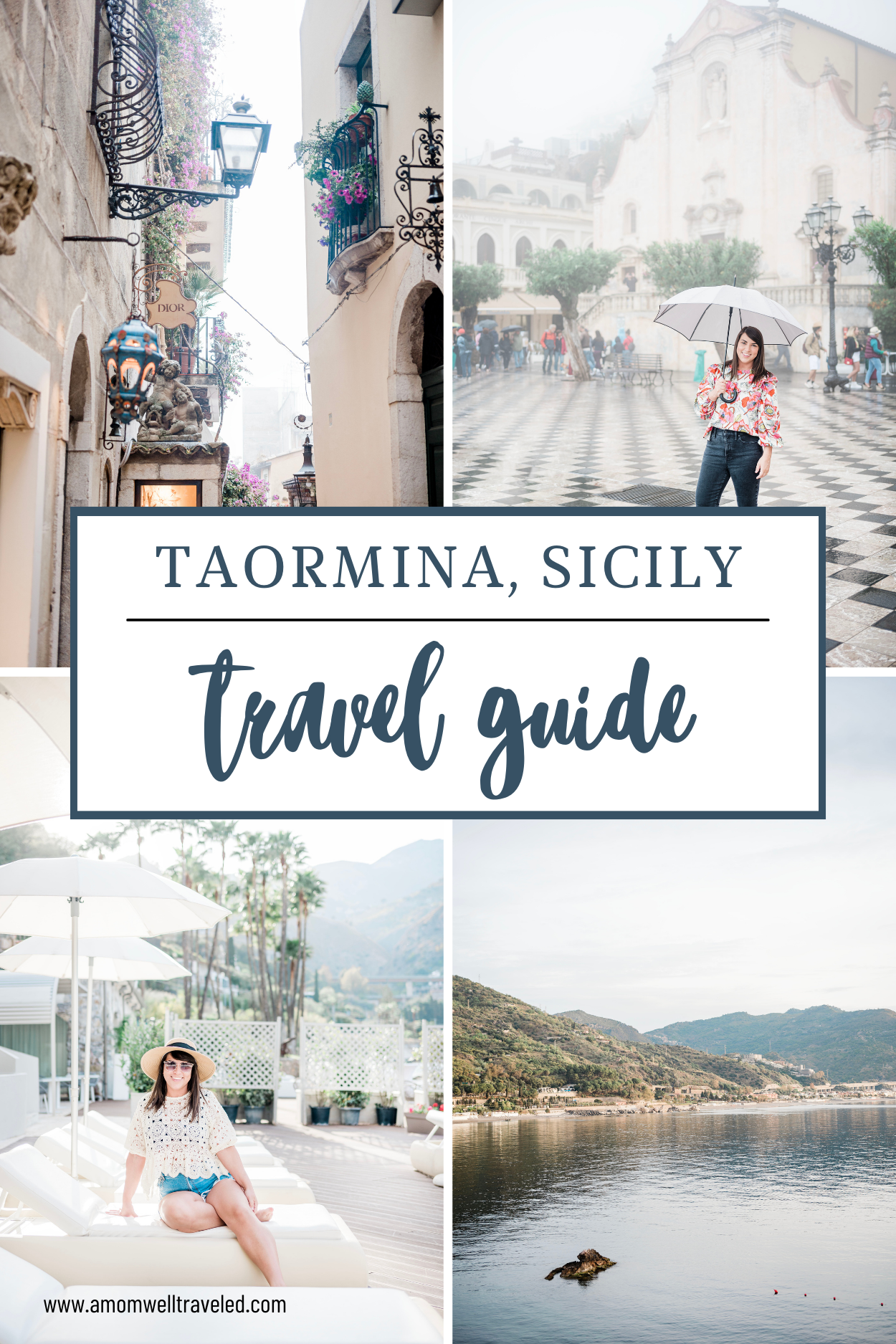 If you're looking for more posts on Italy, check them out here.
*This post contains affiliate links meaning at no additional cost to you, I earn a commission if you click through and make a purchase.*