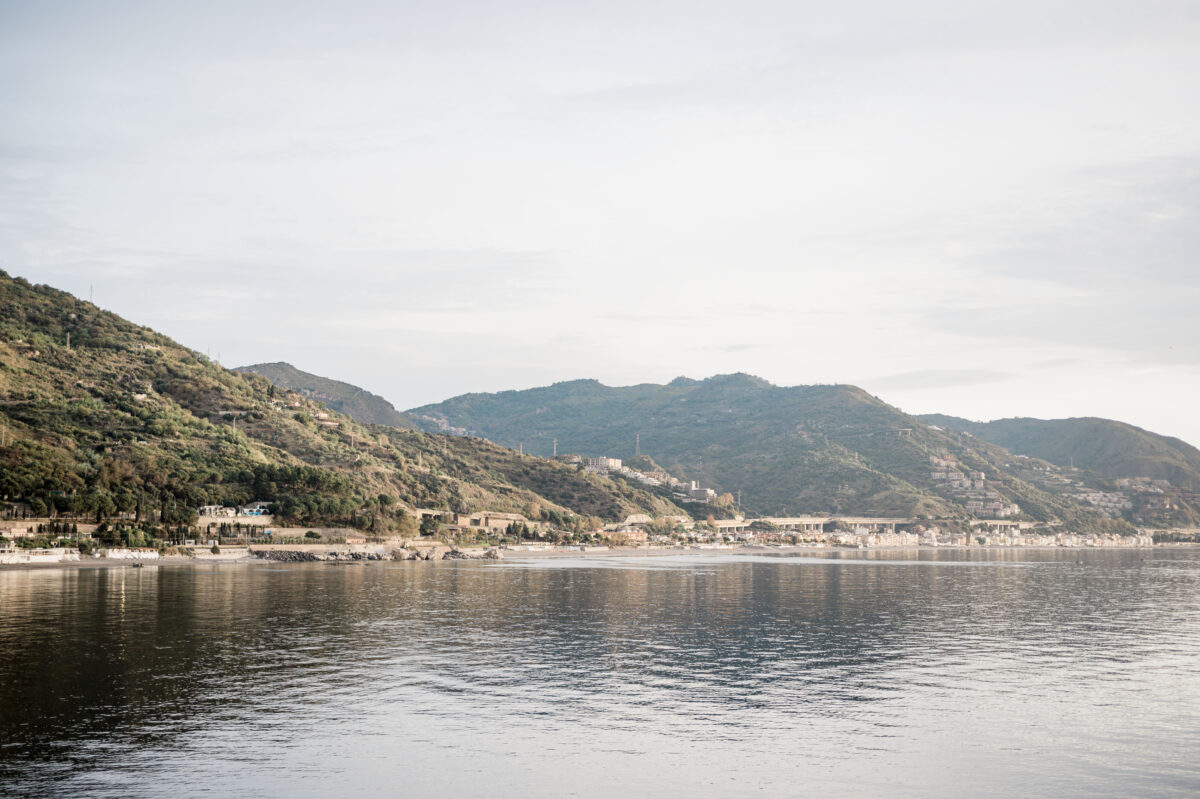 Everything You Need to Know About Taormina, Sicily
Are you ready to discover a hidden Italian paradise? From its breathtaking views of Mount Etna to its charming cobblestone streets, Taormina, Sicily is an idyllic destination for exploring Italian culture and cuisine. Whether you're looking for a romantic getaway or a family vacation, Taormina has something for everyone. In this article, you'll get a comprehensive look at Taormina, from its ancient Greek ruins to its eclectic nightlife. You'll learn about the city's top attractions and find out how to make the most of your stay in this charming Medieval city. So, let's get started, and explore a Sicilian jewel in the making.
Related Posts:
Our 10 Day Italy Itinerary as First Timers
How to get to Taormina, Sicily?
Taormina is a hilltop town on the east coast of Sicily. The nearest airport is Catania Airport (CTA). From there, you can take a private taxi to Taormina (about 45 min away) or the train. We paid 80€ for our transfer from the airport to our hotel.
Where to stay in Taormina, Sicily?
Located on the northeast coast of the beautiful Italian island of Sicily, Atlantis Bay Taormina offers a luxurious getaway with stunning views of the Mediterranean. This paradise is filled with modern amenities and activities, such as swimming pools, spas, and watersports, that are sure to fulfill your vacation dreams. Whether you prefer to relax on the beach or explore the nearby attractions, there's something to suit every taste. Enjoy a delicious meal in one of the many restaurants, or treat yourself to an indulgent shopping spree at the local boutiques. With its unbeatable climate, excellent hospitality and unforgettable landscape, Atlantis Bay Taormina is the perfect destination for your next luxury vacation.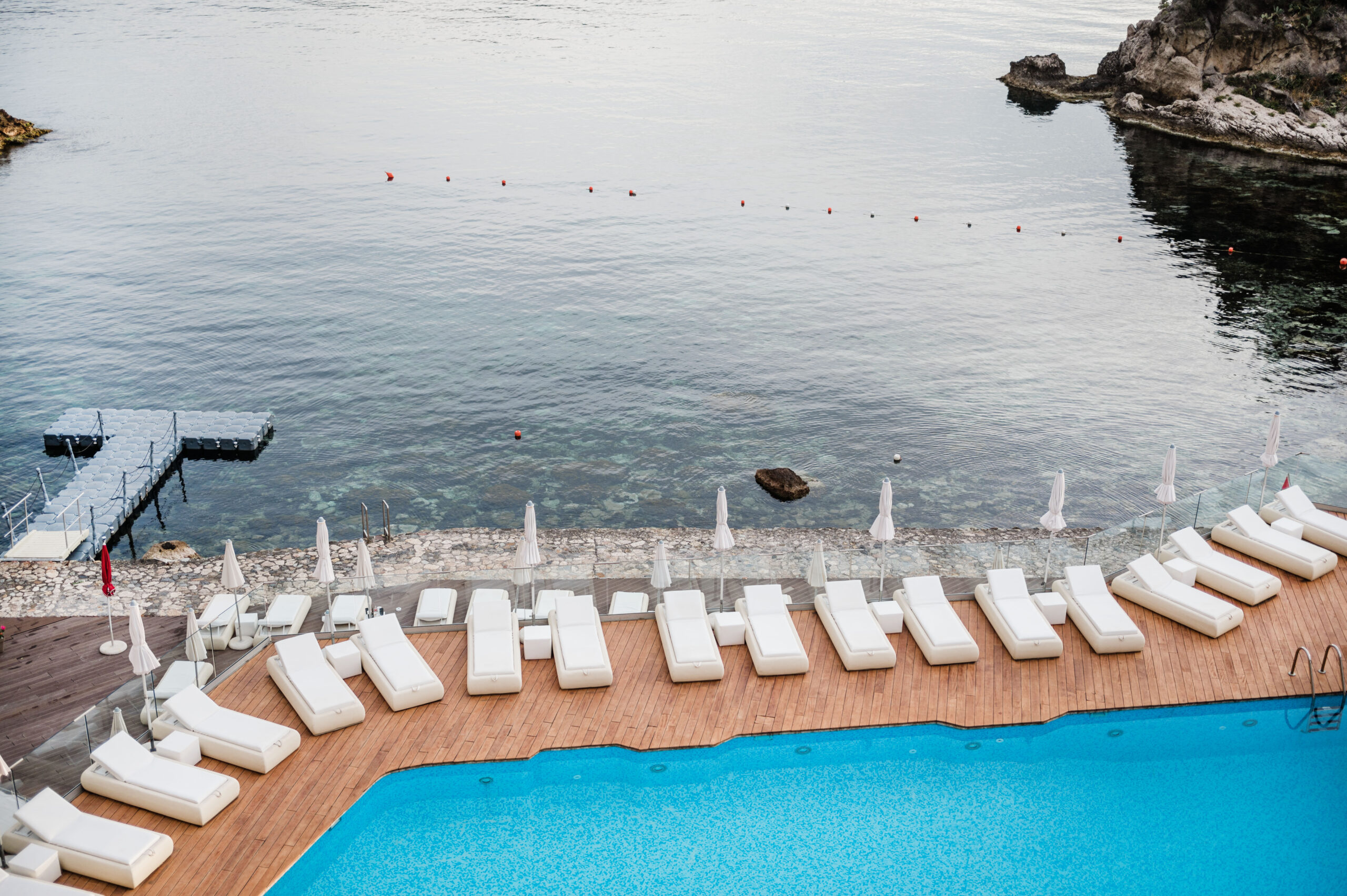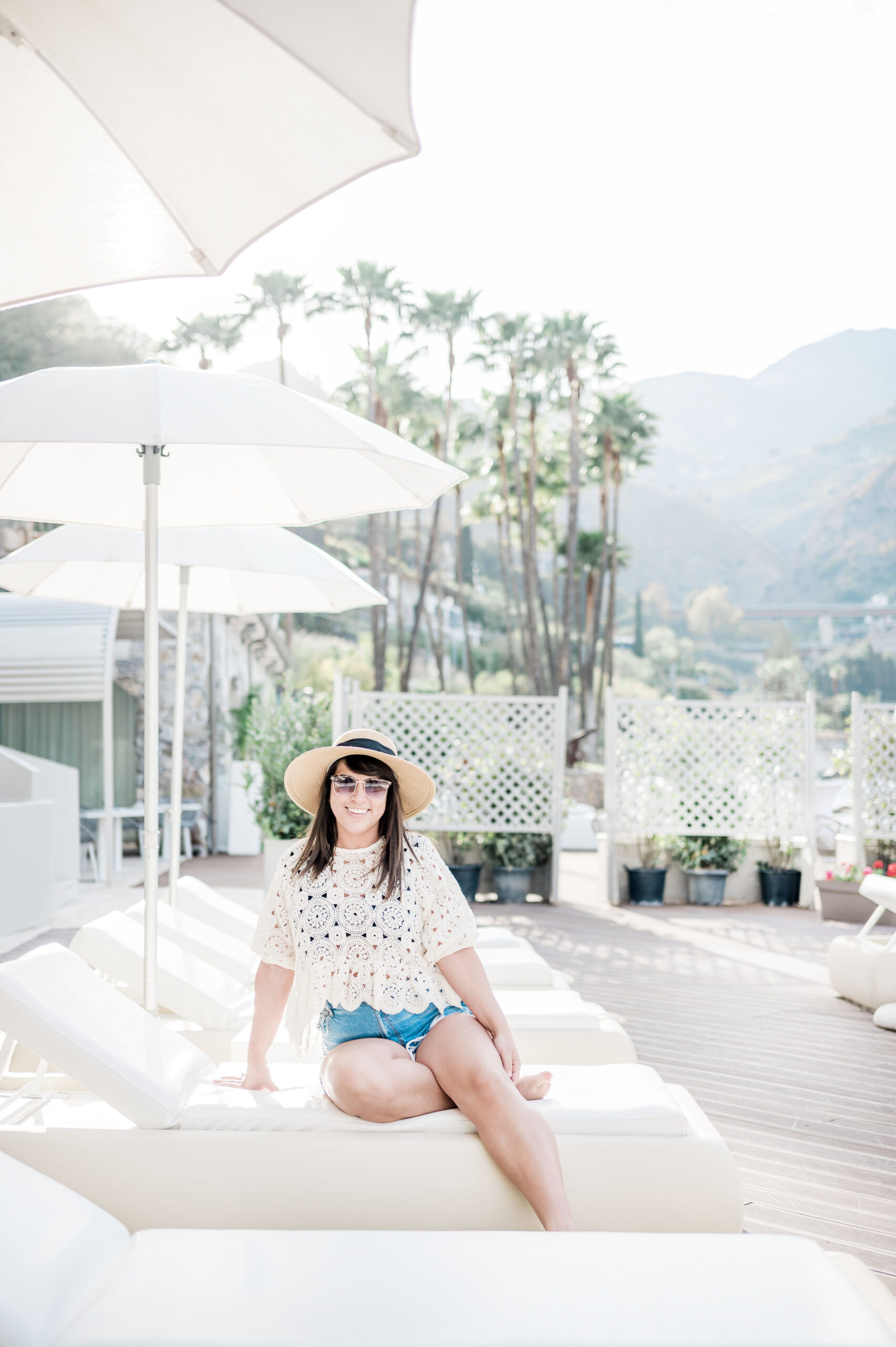 Things to do in Taormina, Sicily
While, it was rainy for most of our stay and we weren't able to do many of these things, I still wanted to share all that Taormina has to offer. Whether you're looking for some outdoor adventure or interested in unraveling the town's rich history, Taormina has something for everyone. Pack your bags, grab your snorkeling gear, and join me as we unravel Taormina's secrets.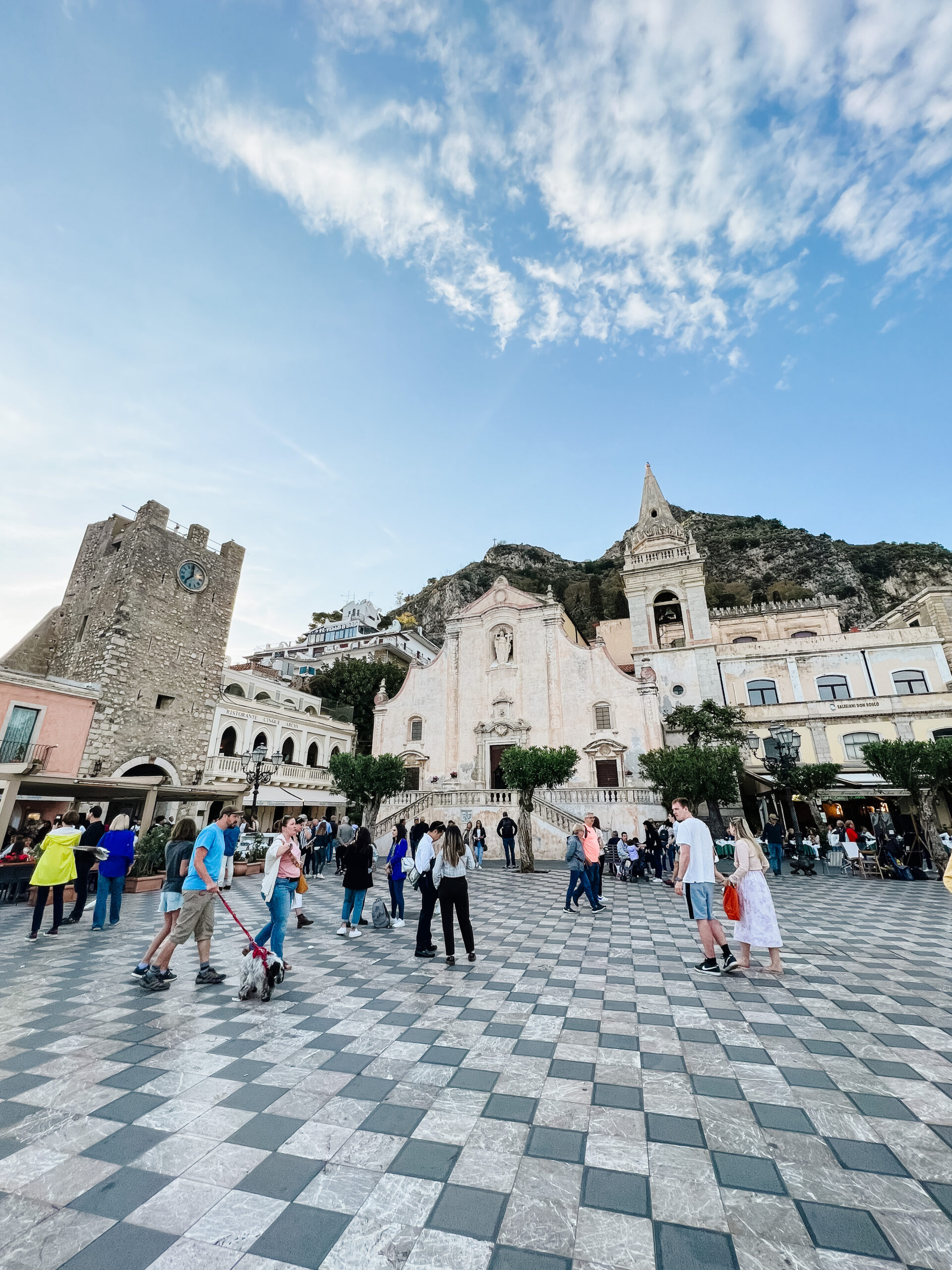 Mt. Etna
Explore the natural wonders of Mount Etna, one of Sicily's most iconic landmarks. The summit of this active volcano towers over 10,000 feet above sea level and offers breathtaking views of the surrounding landscapes. Whether you prefer hiking or taking a guided tour, there are plenty of ways to explore the rugged terrain of Mount Etna. Along the way, you'll discover unique flora and fauna, volcanic caves, and ancient lava fields that offer a glimpse into the island's fiery past.
If you're feeling adventurous, consider taking a cable car or Jeep tour to the summit, where you can take in the sweeping views of the Ionian Sea and the Calabrian coastline. And for the truly daring, there are even opportunities to explore the volcano's craters and lava tunnels with a guide.
After a day of exploring Mount Etna's natural wonders, head back to Taormina to discover the ancient ruins that dot the town's landscape. From the impressive Greek Theater to the charming medieval streets, there's no shortage of historical sites to explore in this charming Sicilian town. So pack your camera and get ready for a day of adventure!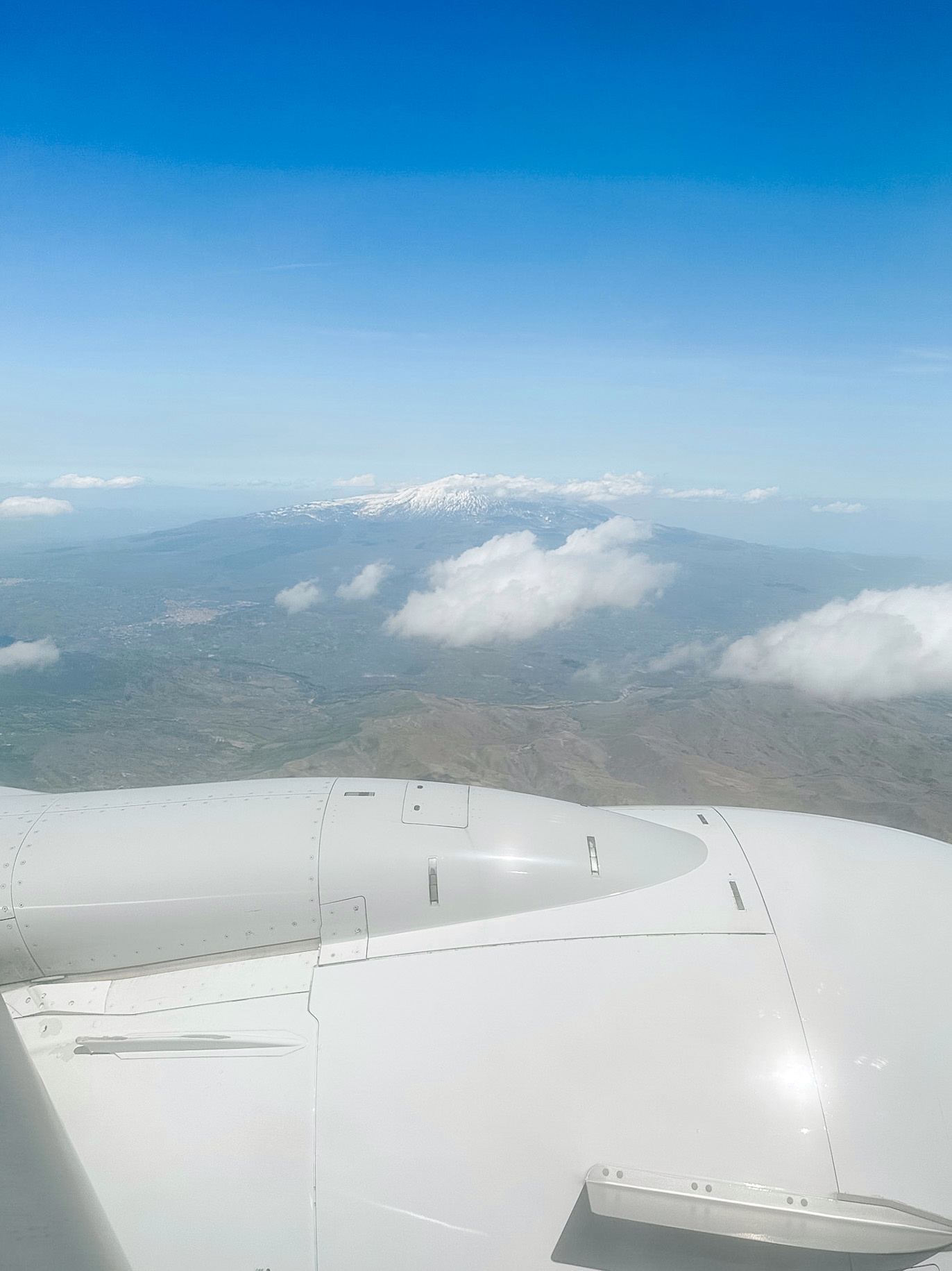 Explore Taormina's Ancient Ruins
After a day of exploring Mount Etna's natural wonders, why not take a step back in time and explore the ancient ruins of Taormina? This charming Sicilian town is home to a plethora of historical sites that offer a glimpse into its rich past.
One of the must-see sites in Taormina is the Greek Theater, which dates back to the third century BC. This impressive amphitheater is carved into the hillside and provides stunning views of the Ionian Sea. While the theater is no longer used for performances, it's still a popular spot for visitors to take in the panoramic vistas and snap photos.
Another spot to visit is the Palazzo dei Duchi di Santo Stefano, a medieval palace that houses a small museum. Here, you can admire artifacts from Taormina's history, including archaeological finds and artwork. The palace itself is also a marvel, with its ornate architecture and picturesque courtyard.
As you wander through the town's charming streets, be sure to take note of the various ruins that are scattered about. From ancient walls and arches to crumbling buildings, these remnants of Taormina's past add to the town's rustic charm.
But don't forget, there's still more adventure to be had! Up next, we'll explore the "Godfather Tour" and its ties to Taormina's cinematic history.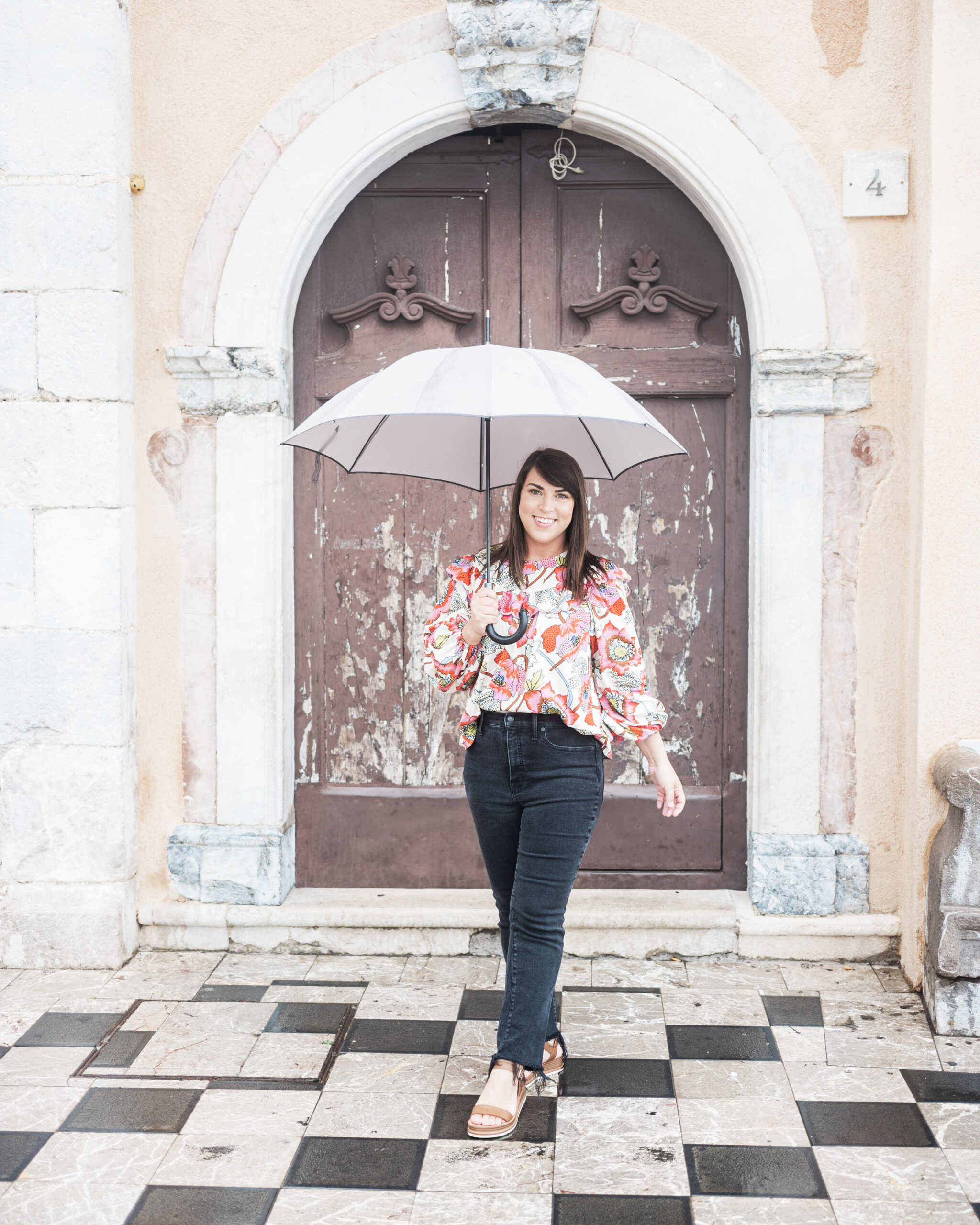 Godfather Tour
As you uncover the beauty and wonder of Taormina, it's hard not to be reminded of the iconic film "The Godfather." The town's cobblestone streets and old-world charm were the perfect backdrop for several key scenes in the movie. If you're a fan of the film, you won't want to miss the "Godfather Tour," which takes you to some of the most memorable locations from the movie.
From Bar Vitelli, where Michael Corleone asked Apollonia's father for her hand in marriage, to the Church of Sant'Agostino, where Michael and Apollonia got married, you'll feel like you've stepped right into the movie. The tour also takes you to Forza D'Agro, the hilltop village where young Vito Andolini (later known as Vito Corleone) grew up.
After you're done reliving the movie's most iconic scenes, you can head over to Taormina's many boutiques and specialty shops for some unique souvenirs. From locally-made ceramics and jewelry to handcrafted leather goods and gourmet treats, you're sure to find something special to take home.
Shopping in Taormina
This charming town has an array of specialty shops and boutiques that offer unique souvenirs and gifts.
One of the most popular items to take home from Taormina is locally-made ceramics. You'll find a variety of hand-painted and beautifully crafted plates, bowls, vases, and other decorative items that capture the essence of Sicilian craftsmanship.
If you're looking for something more wearable, head to one of the many jewelry shops in town. From delicate gold pieces featuring precious stones to bold statement pieces incorporating colorful glass beads, there's something for everyone's taste and budget.
Another must-buy in Taormina is leather goods. Italian leather is known for its quality, and you'll find plenty of handcrafted bags, belts, shoes, and wallets that are both stylish and durable. Many of the leather shops also offer customization options, so you can get a one-of-a-kind piece made to order.
Finally, don't leave Taormina without trying some of the local gourmet treats. The town's specialty food shops offer a range of products, from sweet almond pastries to savory olive tapenades and sun-dried tomatoes. You can also pick up a bottle of locally-produced wine or olive oil to savor the flavors of Sicily at home.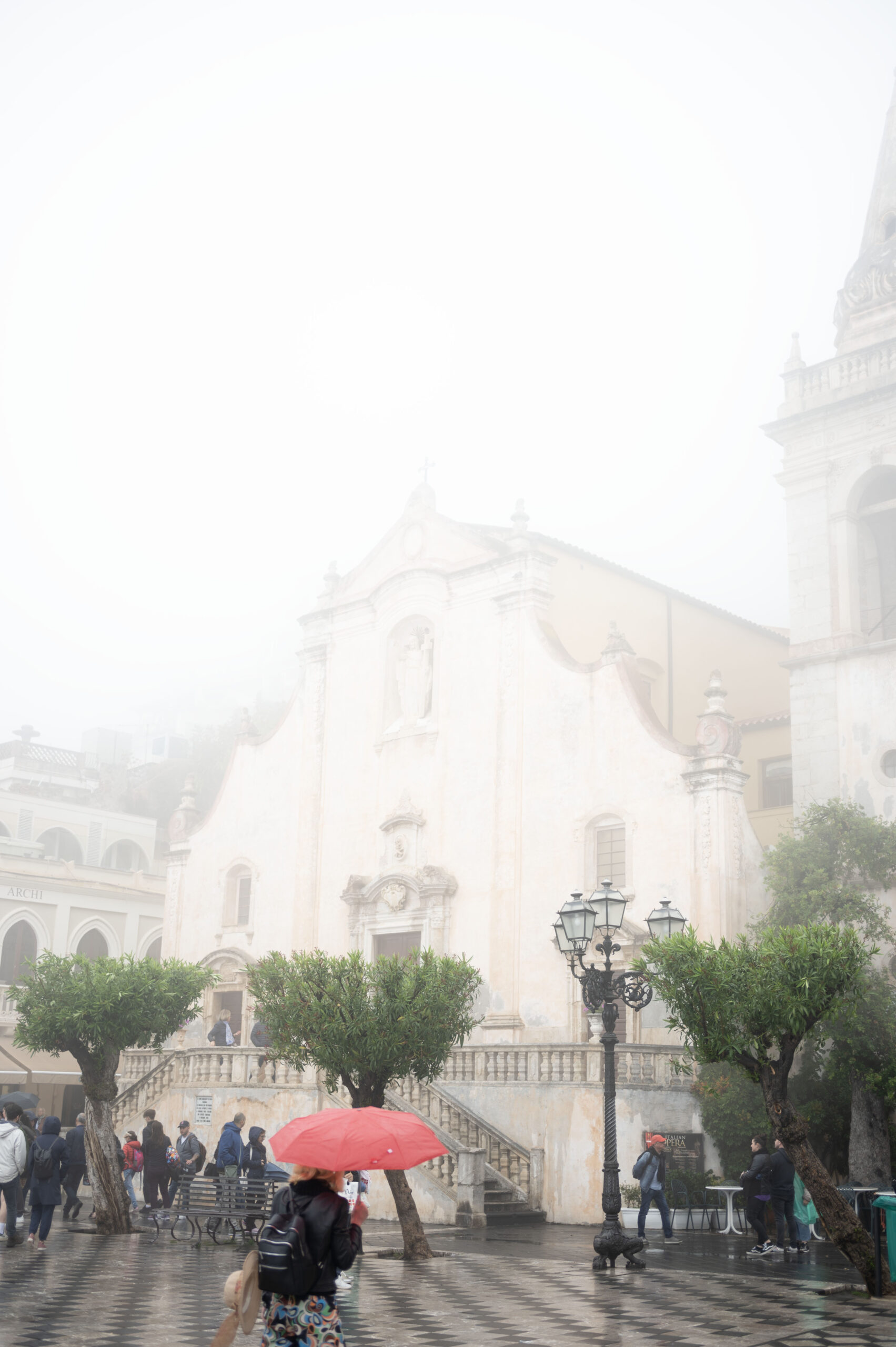 Snorkeling
While Taormina is known for its impressive natural landscapes and rich history, it's also home to some of the clearest waters in the Mediterranean. From the sandy beaches of Mazzarò to the rocky cliffs of Isola Bella, Taormina's coastline offers plenty of opportunities for snorkeling enthusiasts to explore the underwater world.
One of the best spots for snorkeling in Taormina is Isola Bella, a small island connected to the mainland by a narrow stretch of sand. The crystal clear waters surrounding the island are home to a variety of colorful fish and marine life, making it a popular destination for both locals and tourists alike. For a more secluded experience, head to the beaches of Mazzarò or Spisone, where you can discover hidden caves, rock formations, and underwater gardens.
Whether you're a seasoned snorkeler or a beginner, Taormina's beaches offer something for everyone. With calm waters and a diverse range of marine life, you're sure to have an unforgettable experience exploring the hidden gems of Taormina's coastline. But be sure to pack your sunscreen and plenty of water – with so much to see and do, you'll want to spend all day in the water!
Places to eat at in Taormina, Sicily
Taormina, Sicily is a culinary paradise with a wide variety of restaurants. From casual tratorria to Michelin-starred gourmet establishments, this small city is full of delightful dining experiences. Traditional Sicilian dishes featuring fresh seafood, local produce, and regional flavors can be found in almost any restaurant. For an unforgettable experience, try an outdoor eatery on the terrace of the old castle walls or indulge in a meal of local delicacies at one of the many charming cafes. With such a variety of restaurants, there is something to please every palate.
Villa Zuccaro Pizzeria
Villa Zuccaro Pizzeria offers a unique dining experience unlike any other. Enjoy the fresh taste of a traditional Sicilian-style pizza as you gaze out the open windows at the breathtaking views of the Mediterranean Sea. The restaurant not only has a wood-burning brick oven, but also an extensive selection of traditional Italian tapas, wines, and cocktails. Experience the exquisite flavors of Sicily and the views of the beautiful Taormina coastline as you share a meal with family and friends. Whether you come for a romantic dinner for two or a group gathering, you're guaranteed a dining experience that will leave a lasting impression.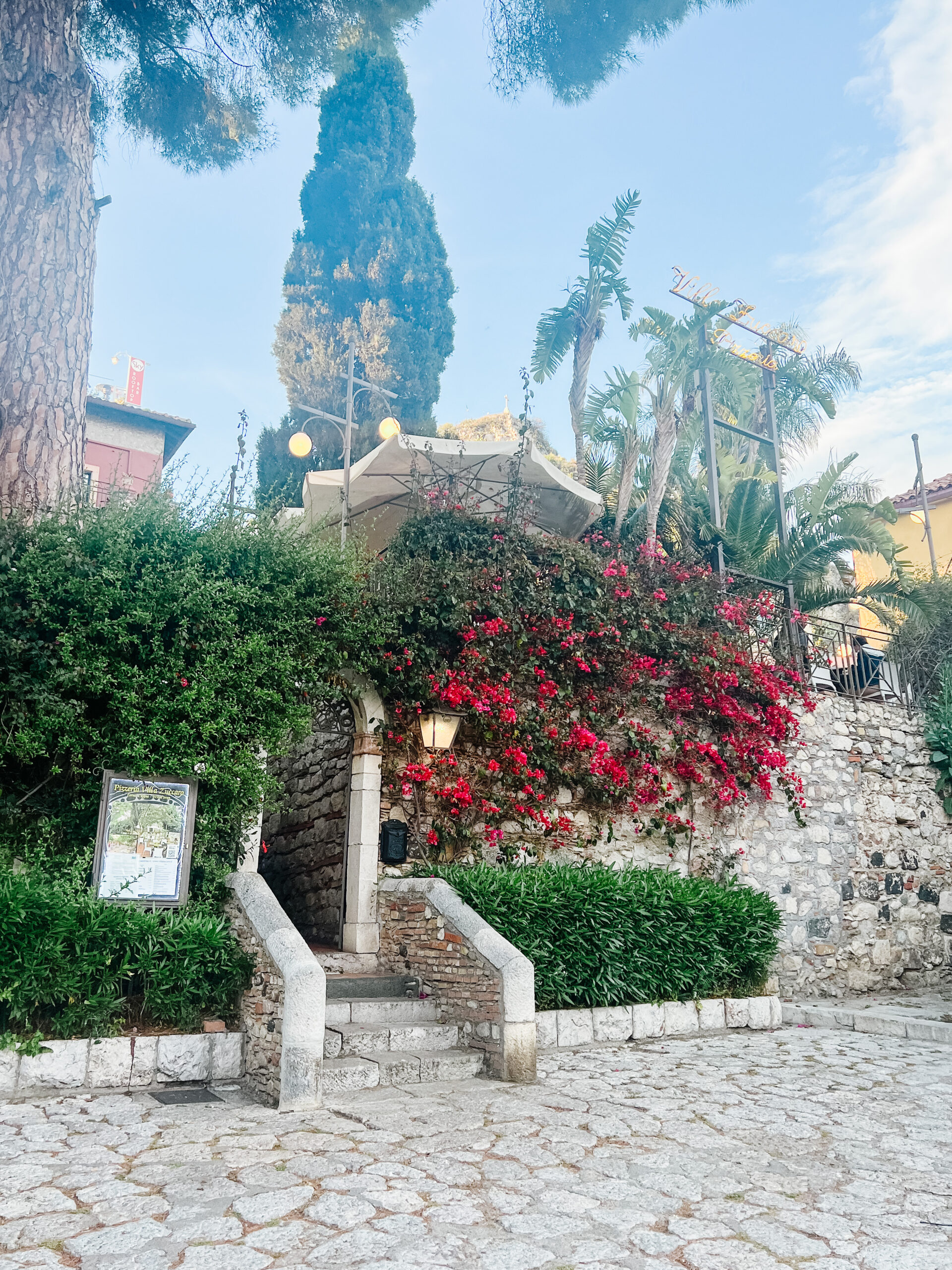 Ristorante Al Saraceno
The restaurant offers an exceptional dining experience in a tranquil setting, with spectacular views of the Mediterranean Sea, Mt. Etna, and the surrounding landscape. The menu features a combination of traditional Italian cuisine and creative Mediterranean dishes created with fresh, local, and seasonal ingredients. The ambient atmosphere of this luxurious restaurant offers a perfect escape from the busy hustle and bustle of the city. With an attentive and courteous staff, Ristorante Al Saraceno aims to make sure your experience is as enjoyable and memorable as possible.
Unfortunately, we weren't able to enjoy the incredible views due to rain and fog. But I can promise the food is delicious!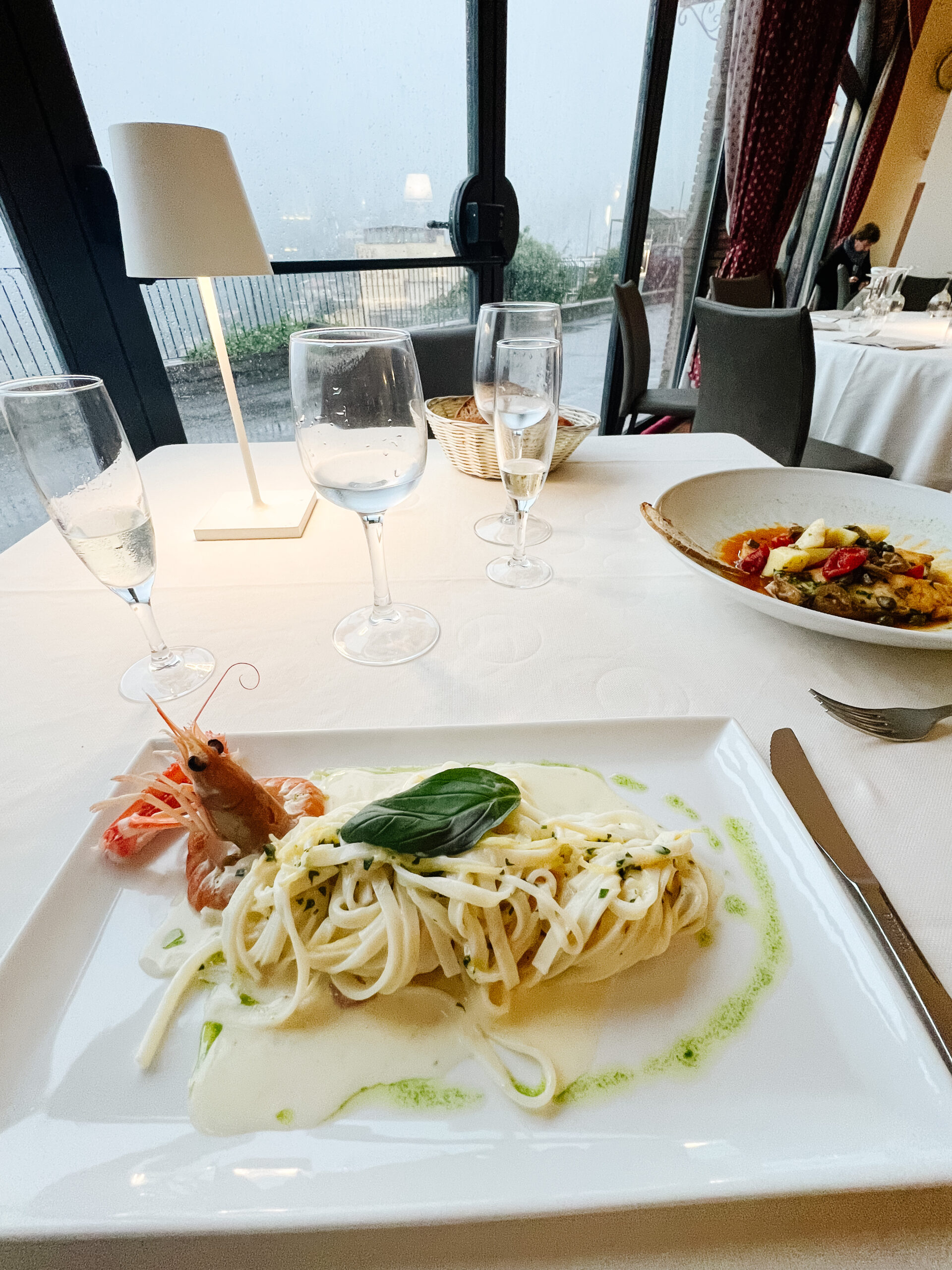 Da Giovanni
One of the keys to creating unique and memorable content is to draw inspiration from the past. This is exactly what Italian chef Giovanni has done with his restaurant in the city of Taormina, Sicily. With a focus on traditional Sicilian cuisine, Giovanni has put a modern twist on his dishes by blending classic family recipes with contemporary cooking trends. His passion for local ingredients and traditional dishes has gained him the admiration of both locals and tourists alike. In 2020, Ristorante da Giovanni was awarded the prestigious Michelin star award for his commitment to using the freshest, highest quality ingredients, and for his dedication to keeping the flavors of Sicily alive.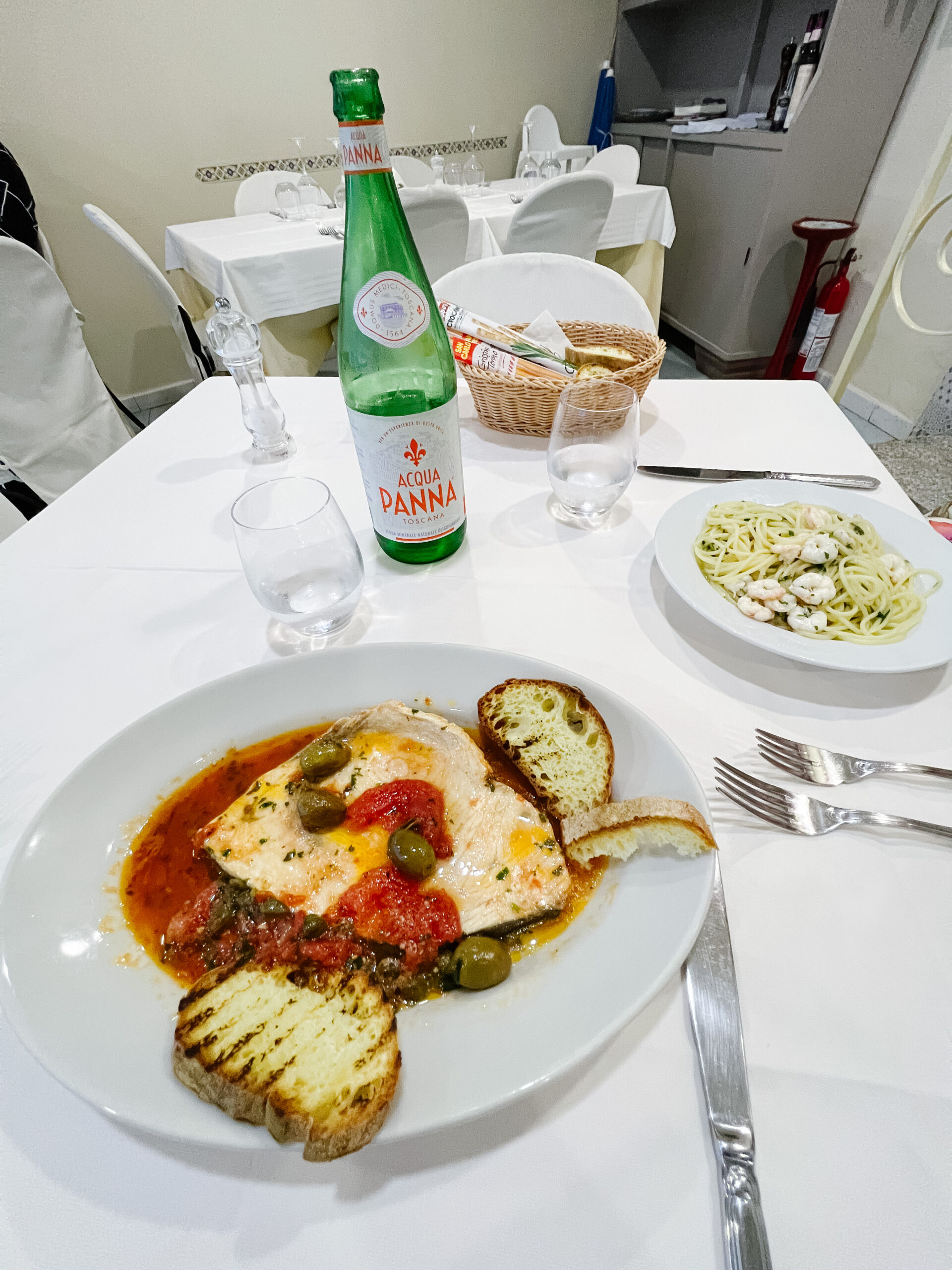 Conclusion
In conclusion, Taormina is a true gem on the east coast of Sicily, full of hidden treasures waiting to be discovered. From snorkeling in crystal clear waters to exploring the natural wonders of Mount Etna, there's no shortage of adventure or history to be found. And let's not forget the ancient ruins and famous Godfather filming locations. So what are you waiting for? Book your trip now and experience the best of Taormina. As we like to say, "come for the views, stay for the adventure."
Like this Post? Pin it!
If you're looking for more posts on Italy, check them out here.