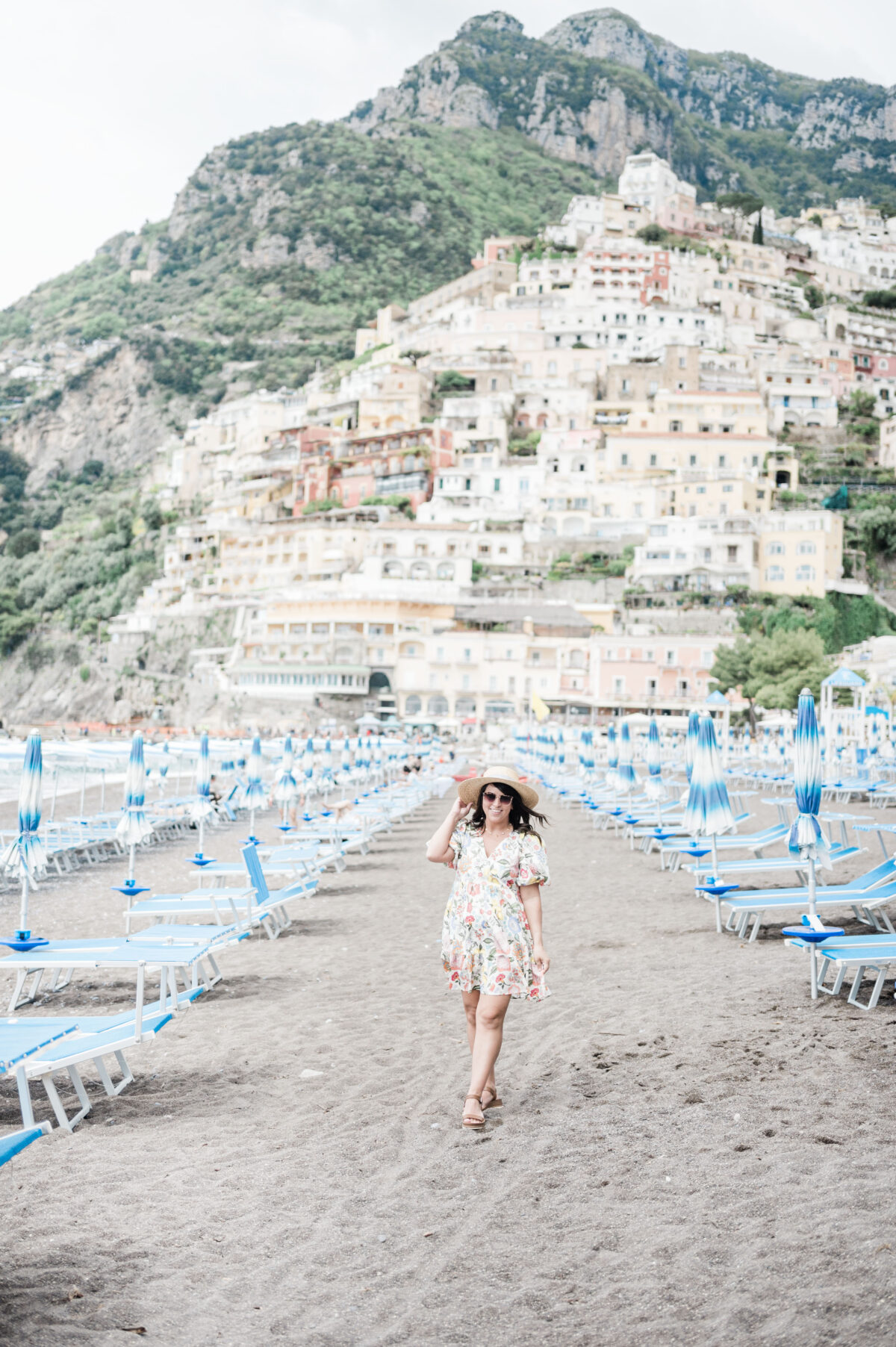 Our Complete 10 Day Italy Itinerary as First Timers
I'm sure you've seen many 10 day Italy itineraries. Even I read through many of those same itineraries, but I'd like to think our 10 day itinerary is unlike any other. In this itinerary, I share where we ate, what we did, and how we traveled through Italy as first timers. We traveled to Taormina, Positano, and Rome with a total of 8 days in Italy and 2 days spent traveling.
Our trip took place the first week of May, which is considered to be the shoulder season for tourists. While we didn't experience big crowds, there was an unusual amount of rain and cooler temps during our stay. Rain did alter some of our plans, but we were still able to enjoy our time.
Related Posts:
Everything You Need to Know About Taormina, Sicily
A Remarkable Stay at Hotel Poseidon Positano
Best Places to Eat at in Positano
A Private Boat Tour from Positano
How to Spend 36 Hours in Rome
Accommodations in Italy
Transportation Services in Italy
Day One: Travel Day
Woo hoo! It's the beginning of an unforgettable Italian getaway! Not going to lie, getting to Sicily is quite the trek. Had we flown to Rome, we would've only had one layover, but because we were flying to Catania, we had two layovers.
Word of advice: if you're traveling overseas and have a connection, make sure you have at least 2.5 hours. We were late leaving JFK and while I thought the pilots would make up some time in the air, they didn't. We had about 75 minutes (rather than 120) to clear passport control and make our connection. Thankfully we made it with about 10 minutes to spare, but I wouldn't wish that stress on anyone.
Day Two: Arrive in Taormina, Sicily
After landing in Catania, Sicily at 3:30 pm, our taxi driver drove us to our accommodations in Taormina. I arranged a taxi ahead of time with Taormina Taxi Transfer. Once we arrived at our hotel, Atlantis Bay, we were able to quickly check into our room.
As with any vacation, I'm constantly checking the weather. Our arrival day to Taormina was trending to be the best weather, so rather than crash at the hotel, we opted to take the shuttle to the city. Typically there is a cable car available to take to Taormina, but it wasn't working, so there was a shuttle available for 1.20€ per person each way.
After walking around for a bit, we enjoyed our first Italian dinner at Villa Zuccaro. We split the San Daniele, which was absolutely delicious! Of course, we quickly called it a night shortly after dinner.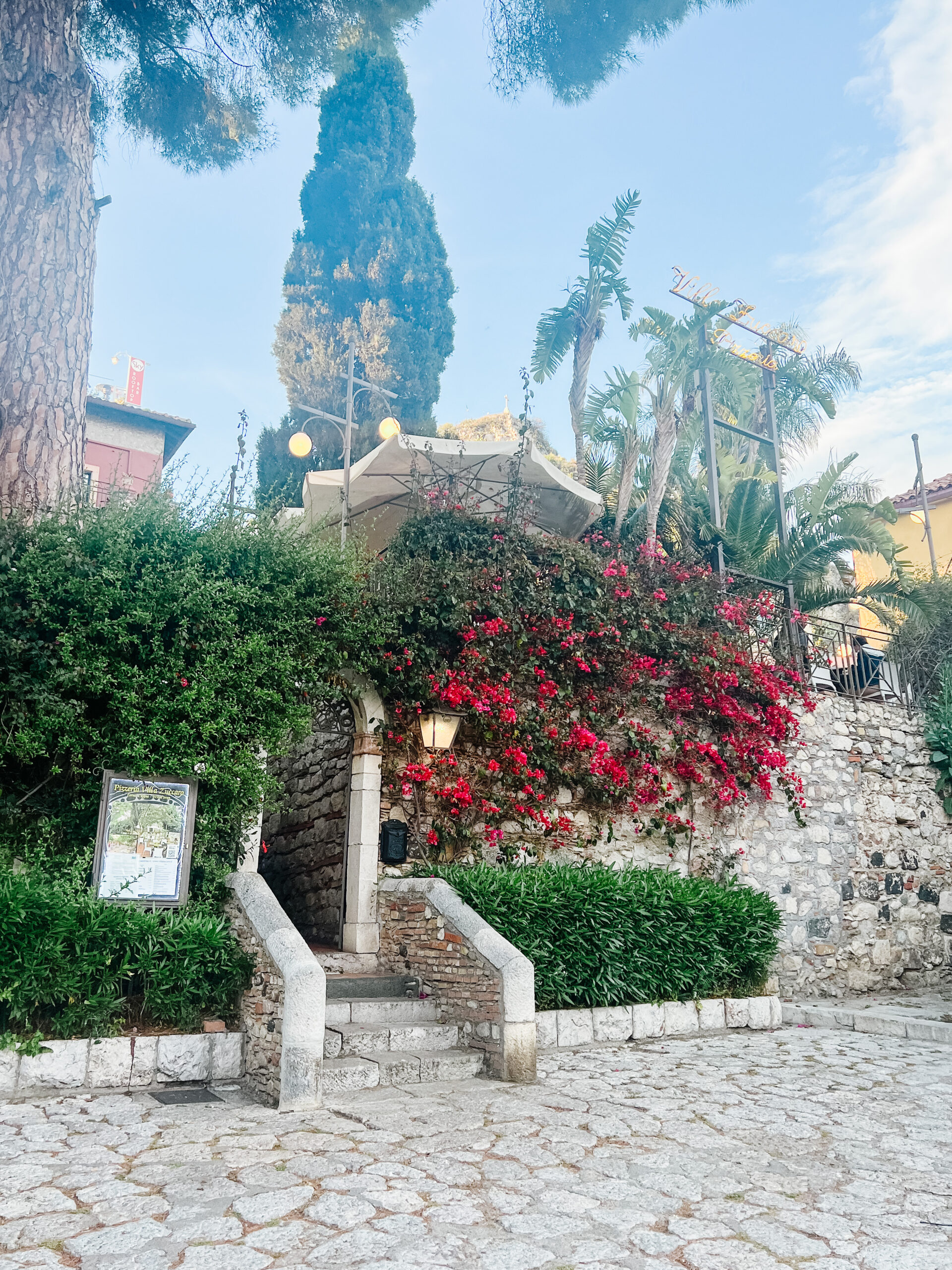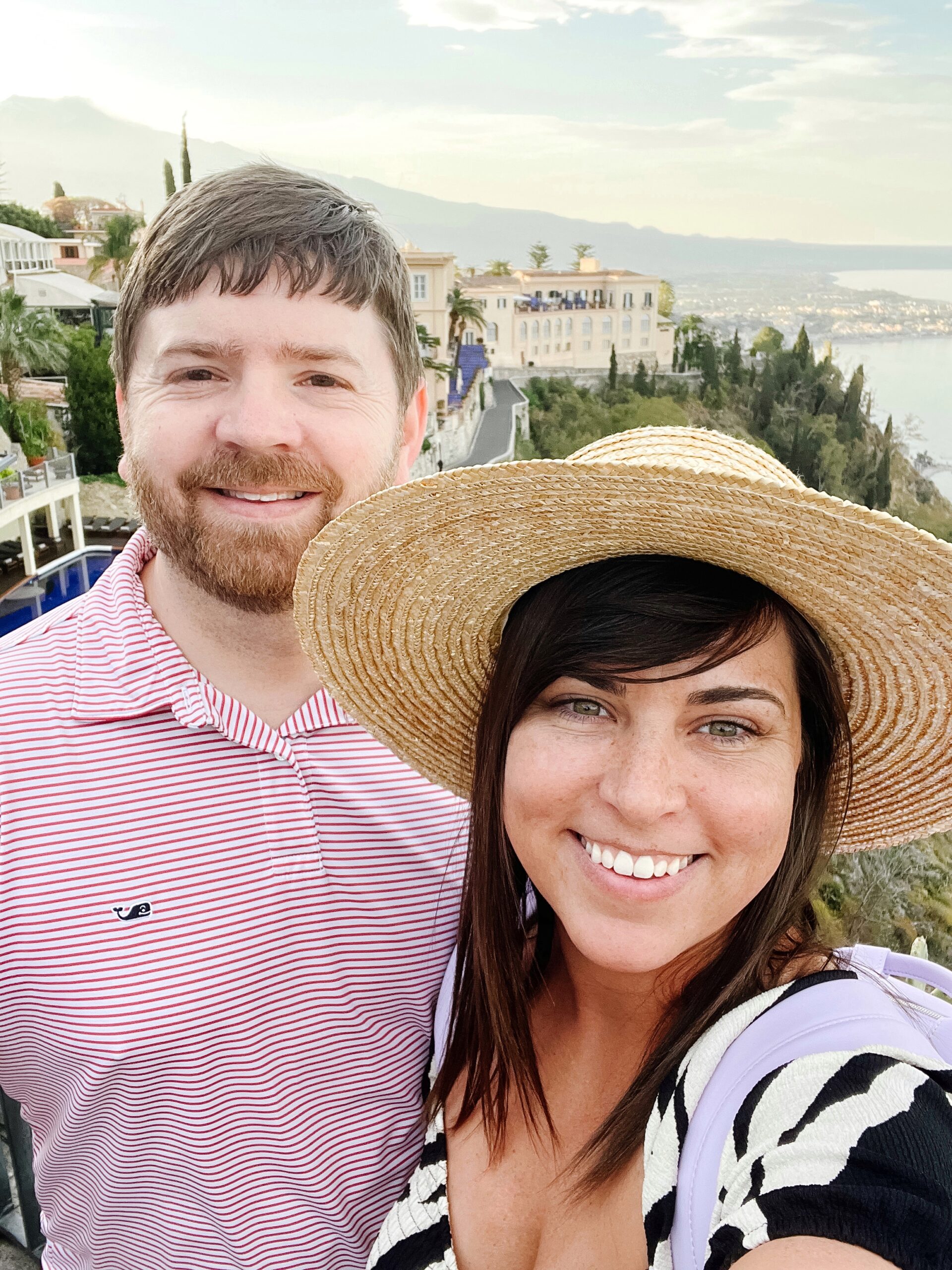 Day Three: Rest and Relaxation
The morning started with breakfast at our hotel. (When booking our accommodations, I made sure to have breakfast included). After checking the weather and realizing we probably only had two hours of sunshine, we spent some time by the water.
As fate would have it, it did rain. Still tired from our travels and the time difference, we chose to hang out at the hotel where we would have lunch and take a nap.
That evening, I had dinner reservations at Ristorante Al Saraceno. Had the weather been perfect, we would've had epic views of Taormina and Mount Etna on the outdoor terrace. Instead, the rain forced us to sit inside and all we saw was fog. Despite not having the memorable views, we did have an amazing meal and outstanding service. They also provided us complimentary Prosecco to celebrate our anniversary.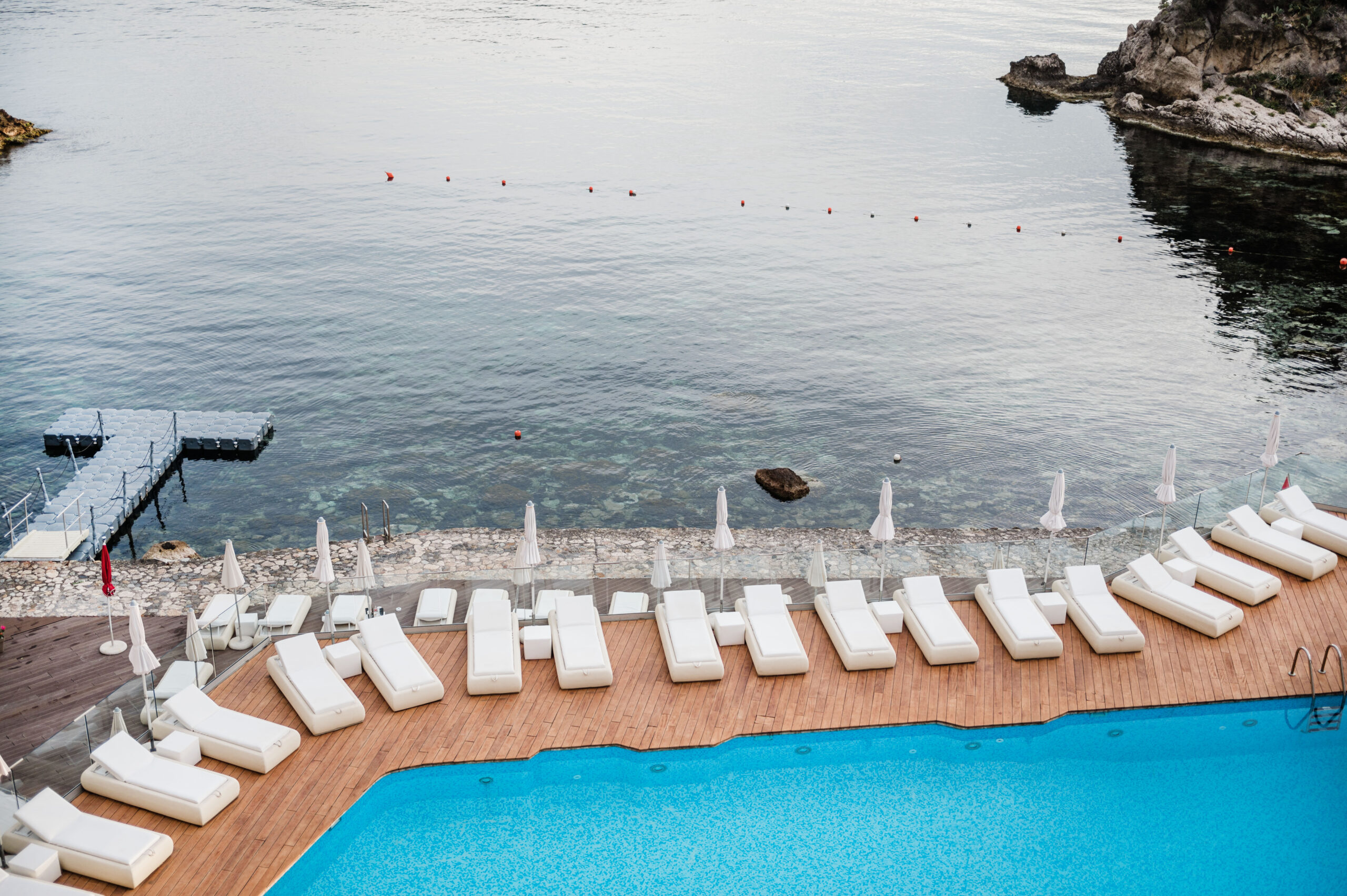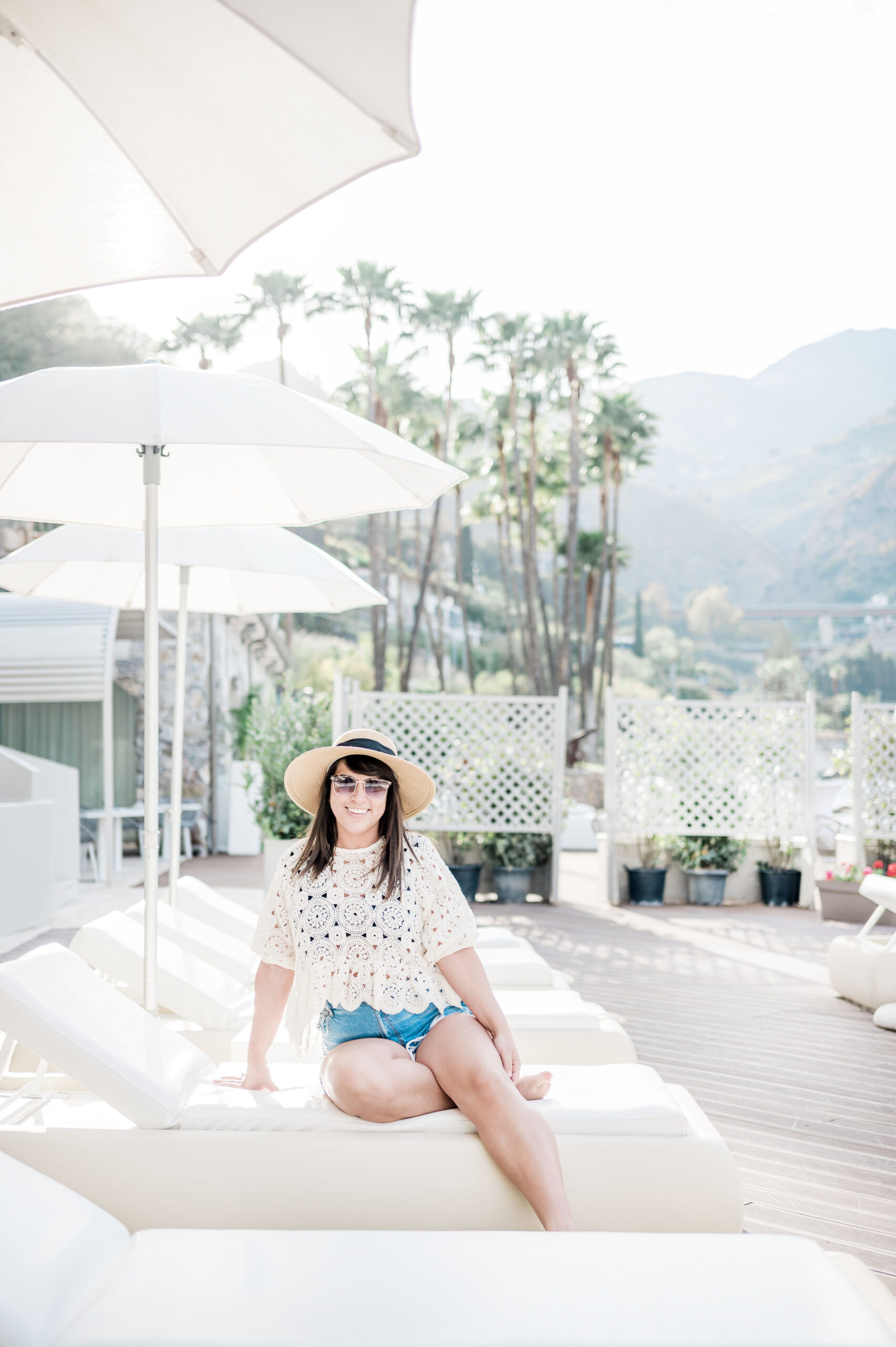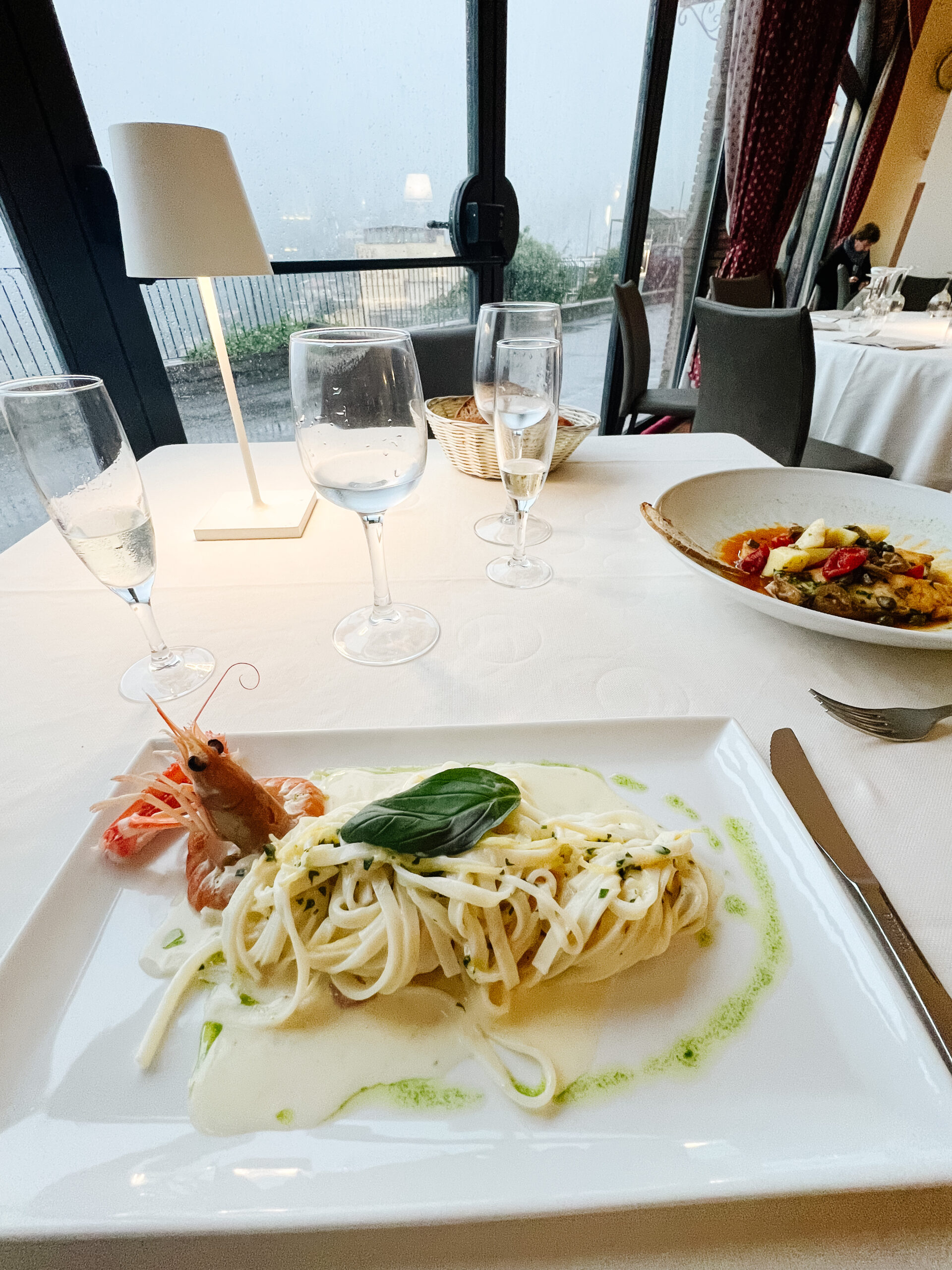 Day Four: Snorkel
Spoiler alert! We did not get to snorkel in Taormina. Sadly, the weather did not cooperate at all during our time in Taormina. It's honestly sort of ironic because I specifically chose to go to Sicily for the snorkeling. If you do find yourself in Taormina and are interested in snorkeling, we had booked our snorkel with Sicily Adventure.
So what did we do instead? After grabbing breakfast, we decided to brave the rain and head back to the city via the shuttle bus. Since we had somewhat of a late breakfast, we opted to grab something sweet for lunch. John treated himself to a cannoli, while I had gelato from Pasticceria. After grabbing some souvenirs. we headed back to the hotel.
We wrapped up our time in Taormina by having dinner at Ristorante da Giovanni. We were able to walk to the restaurant from Atlantis Bay. On a sunny day, you can view Isola Bella as you dine. The restaurant is family owned and once again, the food did not disappoint.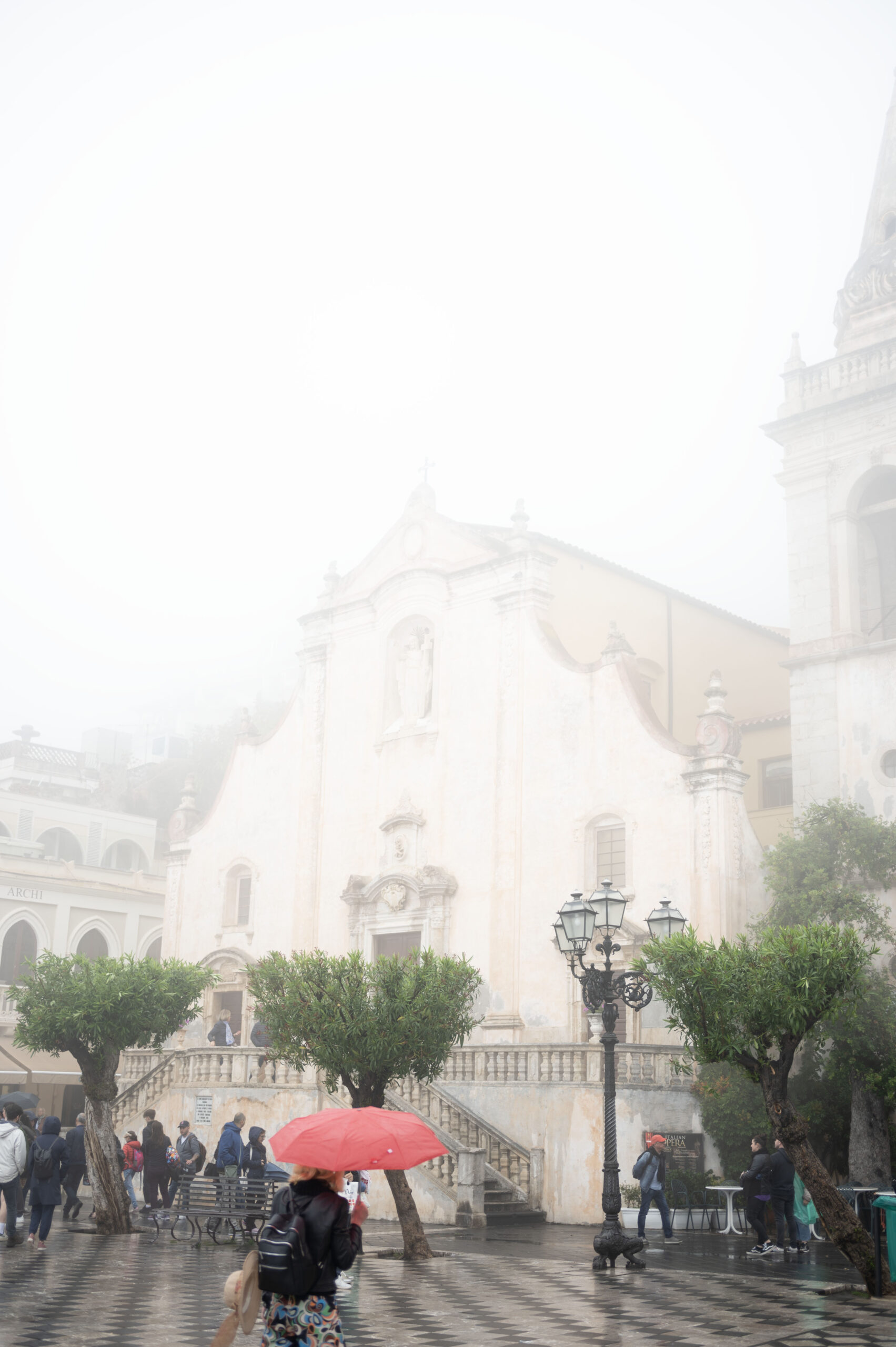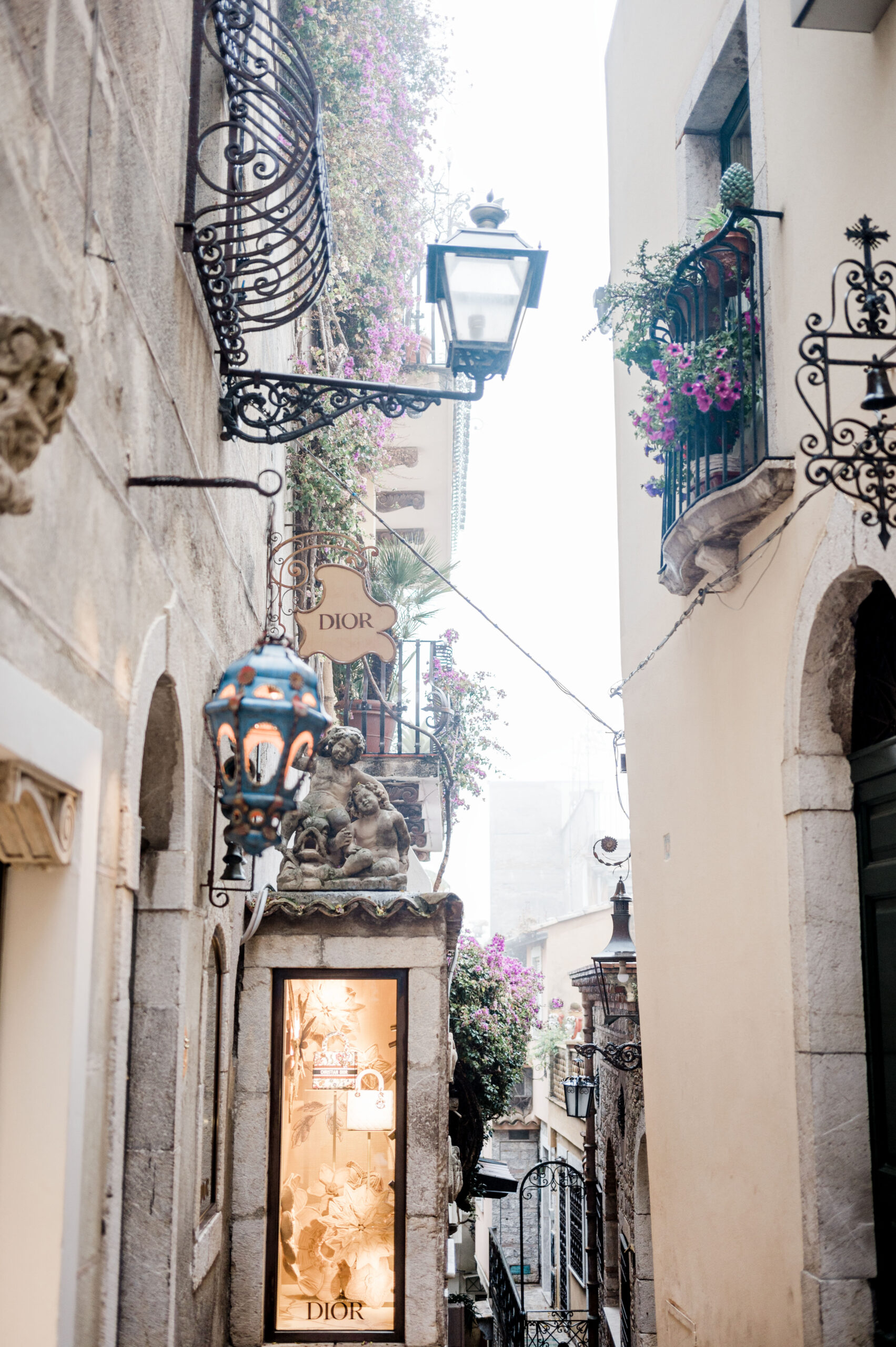 Day Five: Arrive in Positano, Italy
An early flight from Catania with EasyJet got us to Naples at 9:30 am and our taxi driver (Positano Taxi Transfers) drove us to Positano. The drive is usually an hour to an hour and a half. We experienced a lot of traffic due to rain and fog, so it did take us a little longer.
After checking into the gorgeous Hotel Poseidon, we took a few moments to enjoy the views from our balcony. We then made the trek to our lunch reservations at Lo Guaraccino. I finally had some Italian fried calamari and it was so delicious! Meanwhile, John had pizza.
Since we were near the beach and the rain had stopped, we decided to walk on the beach after lunch. (You'll want to make sure you have your shoes on when walking on the beaches in Positano as they mostly contain rocky pebbles).
Our evening wrapped up at Il Tridente, which is the restaurant at our hotel. Il Tridente is a restaurant you DON'T want to miss if you're in Positano. You'll need to have a reservation, so book early. Sadly the rain forced us to have another meal inside, but we were able to enjoy cocktails on the outdoor terrace after dinner.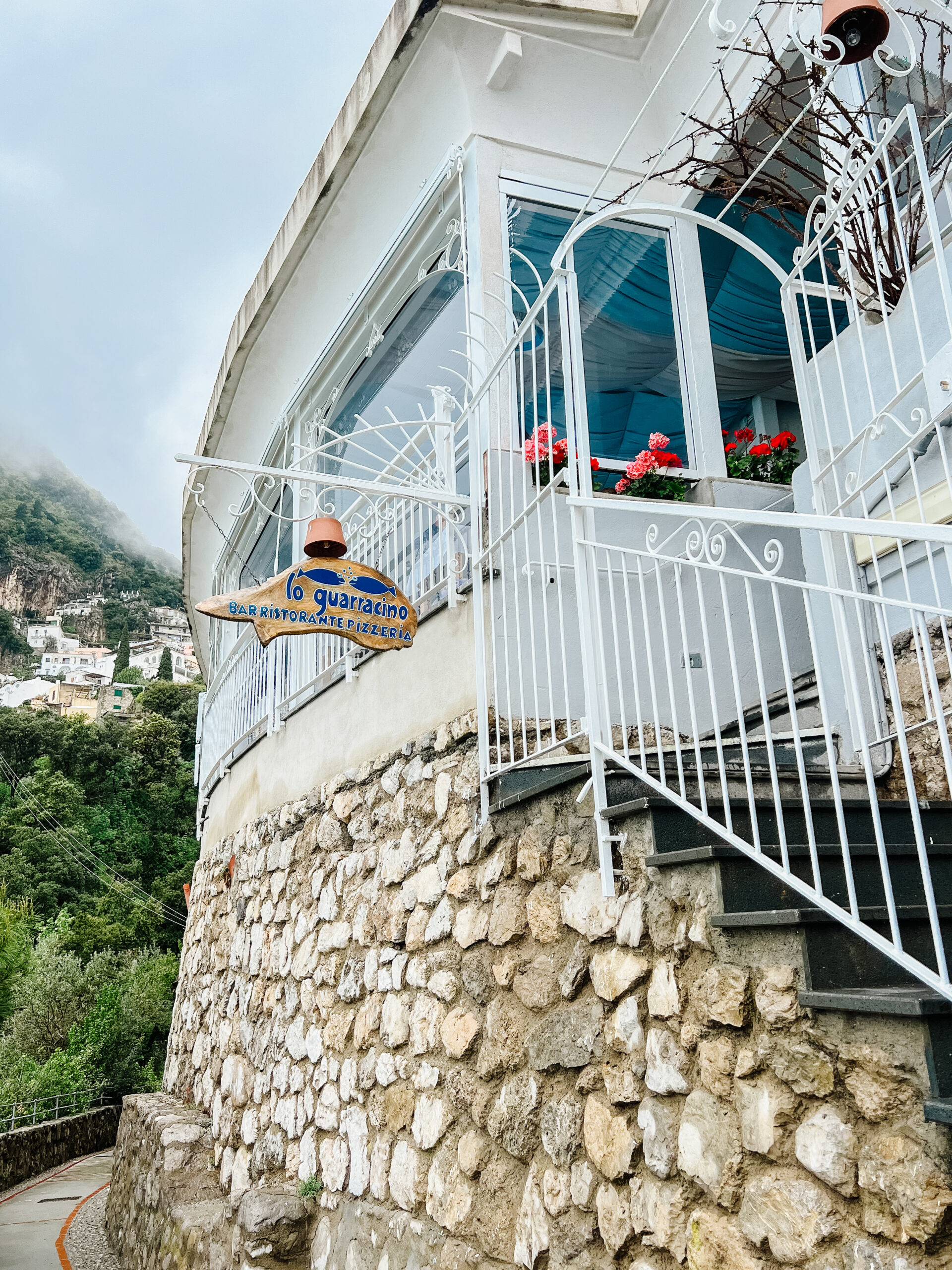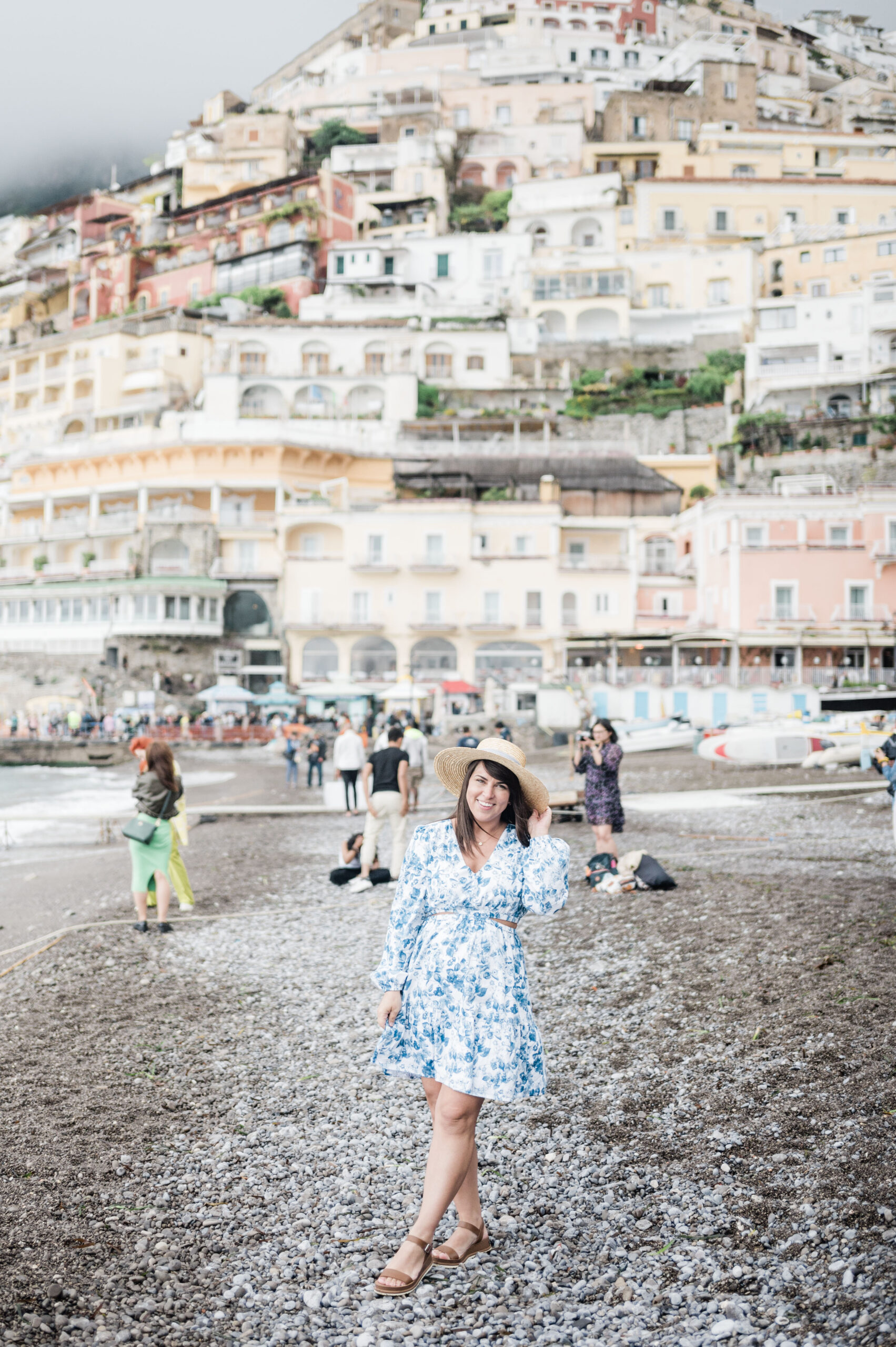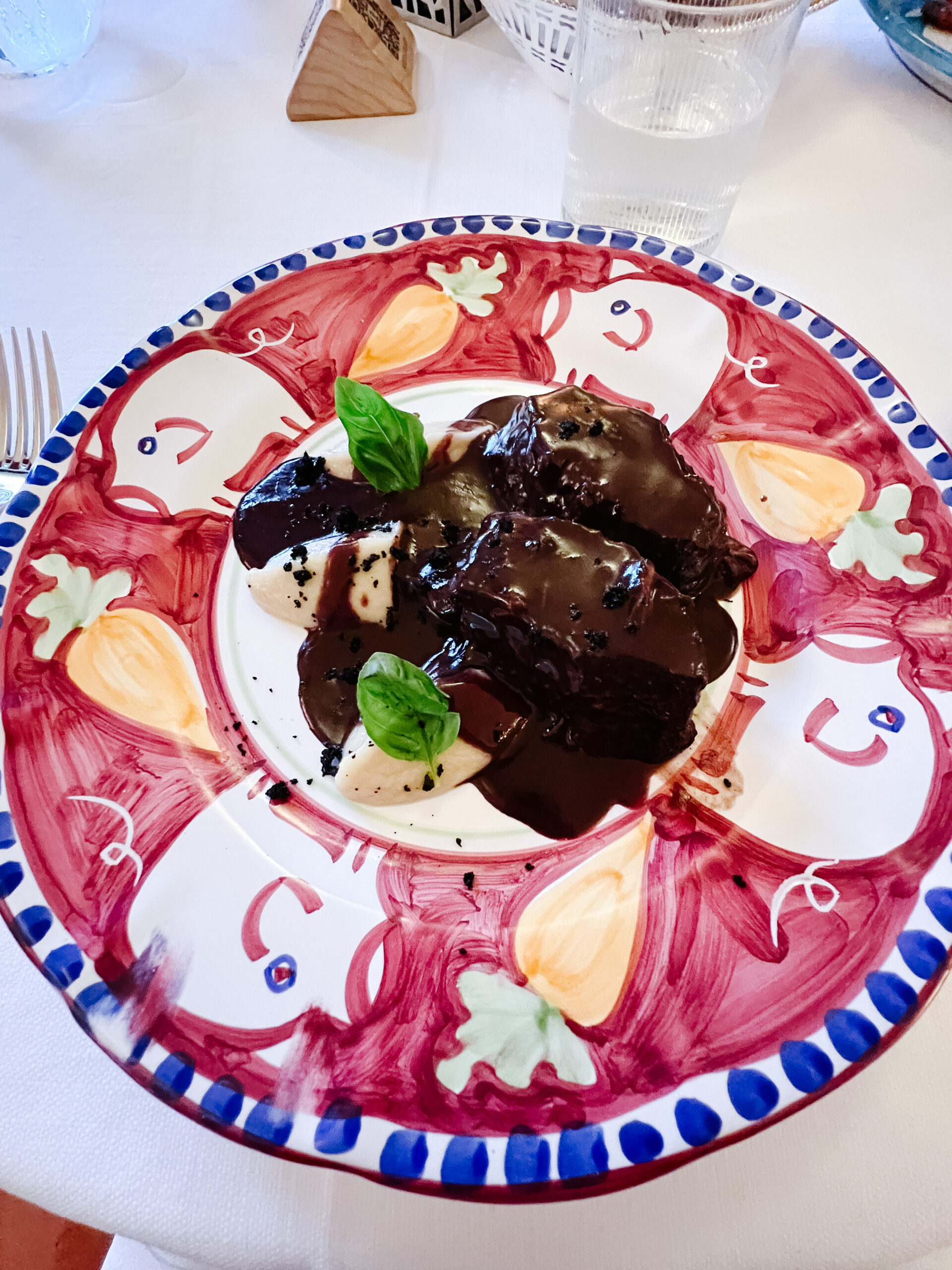 Day Six: Explore Positano
There's so much to explore in Positano! After having breakfast, we got ready and then explored the city of Positano. As much as I wanted John to rent a Vespa to drive around, he was not willing to risk our lives on those winding roads!
While Positano is a vertical city and many have complained about the stairs, there is an alternate route that requires no stairs at all. From Hotel Poseidon down to the beach it's an easy 20-25 minute walk. Of course, coming back up does require more effort. We still didn't find it to be too difficult. Along the walk, you'll discover many shops and restaurants. We picked up numerous souvenirs before making it down to the beach.
We enjoyed a light lunch at Chez Black, which is right there at the beach. You would think we would have been tired of pizza at this point, but no. We enjoyed yet another pizza. The pizza in Italy is just TOO good.
Late afternoon, we headed to Franco's Bar. You may have heard of Franco's Bar, as it's such a popular spot to grab drinks and watch the sunset in Positano. I must say though, the drinks are pricey and you don't really know where you'll get a seat. We stood in line for about 30 minutes before we were able to get a seat and they didn't exactly have the best view. While it is a fun atmosphere, there are other great places in Positano to grab drinks and watch the sunset like the Il Tridente bar.
After drinks, it was just a short walk to Ristorante Bruno. This is actually another great dinner spot for the views. You'll want to make most of your dining reservations before arriving to Positano to ensure you're able to get a table.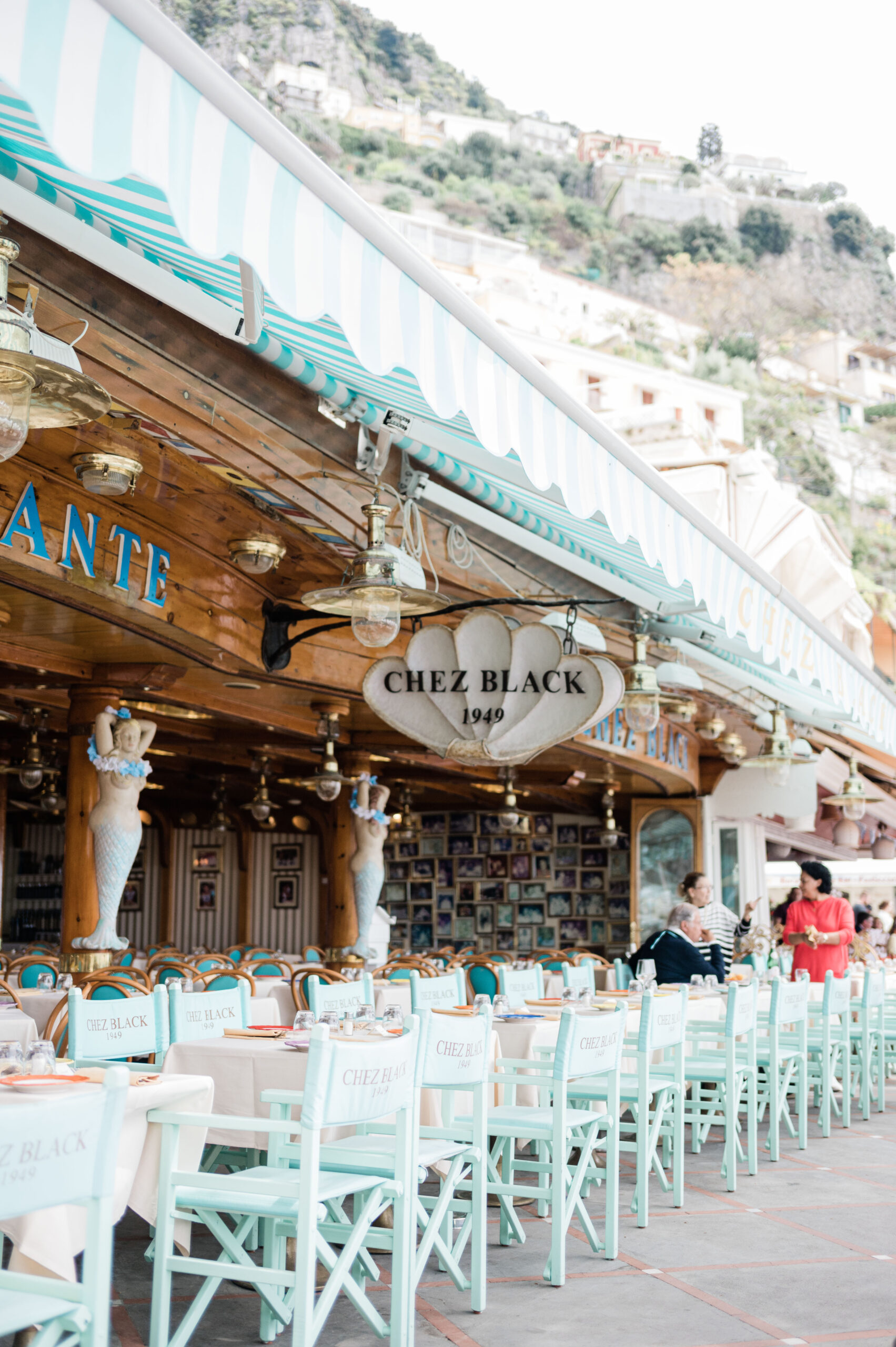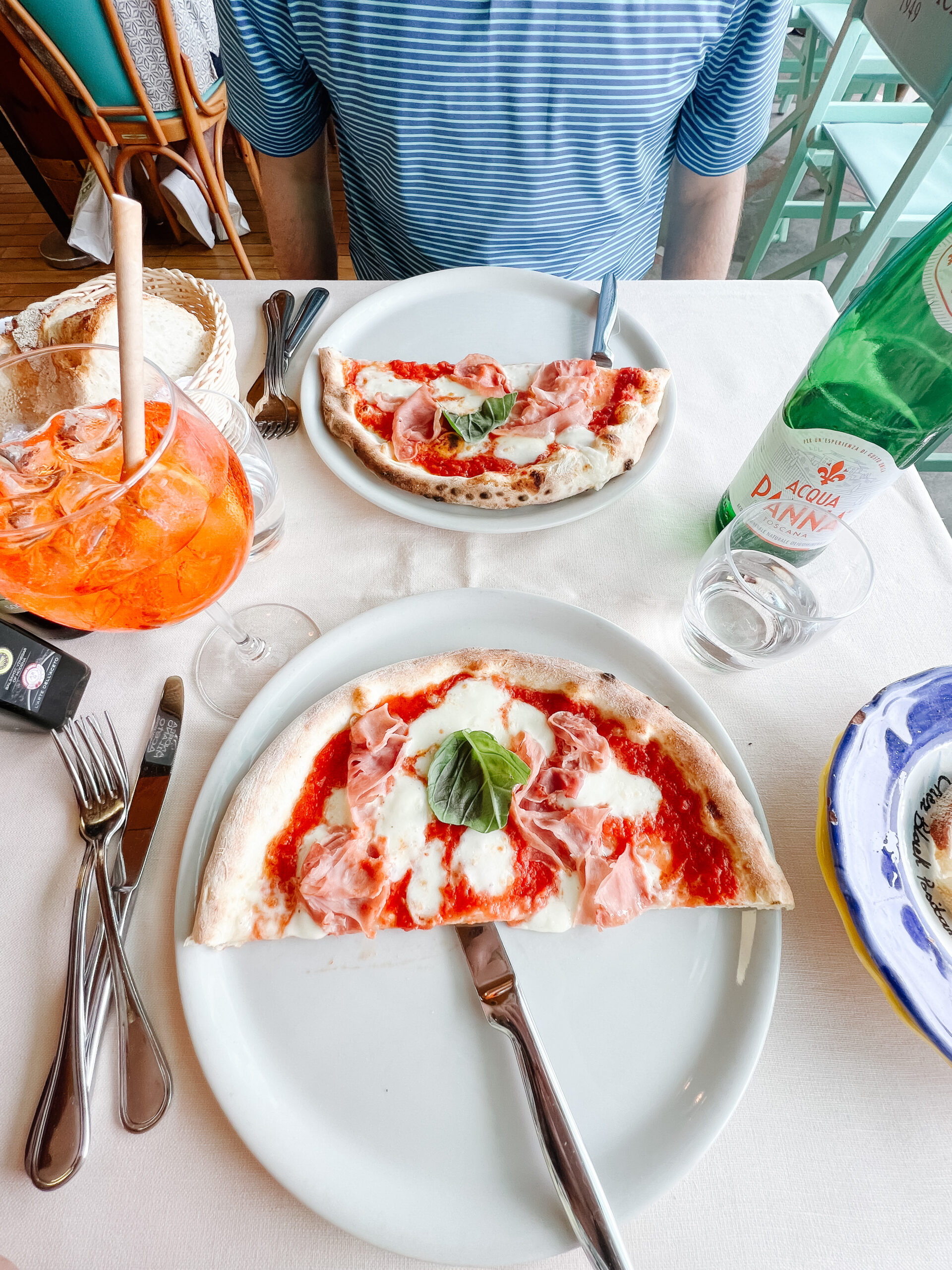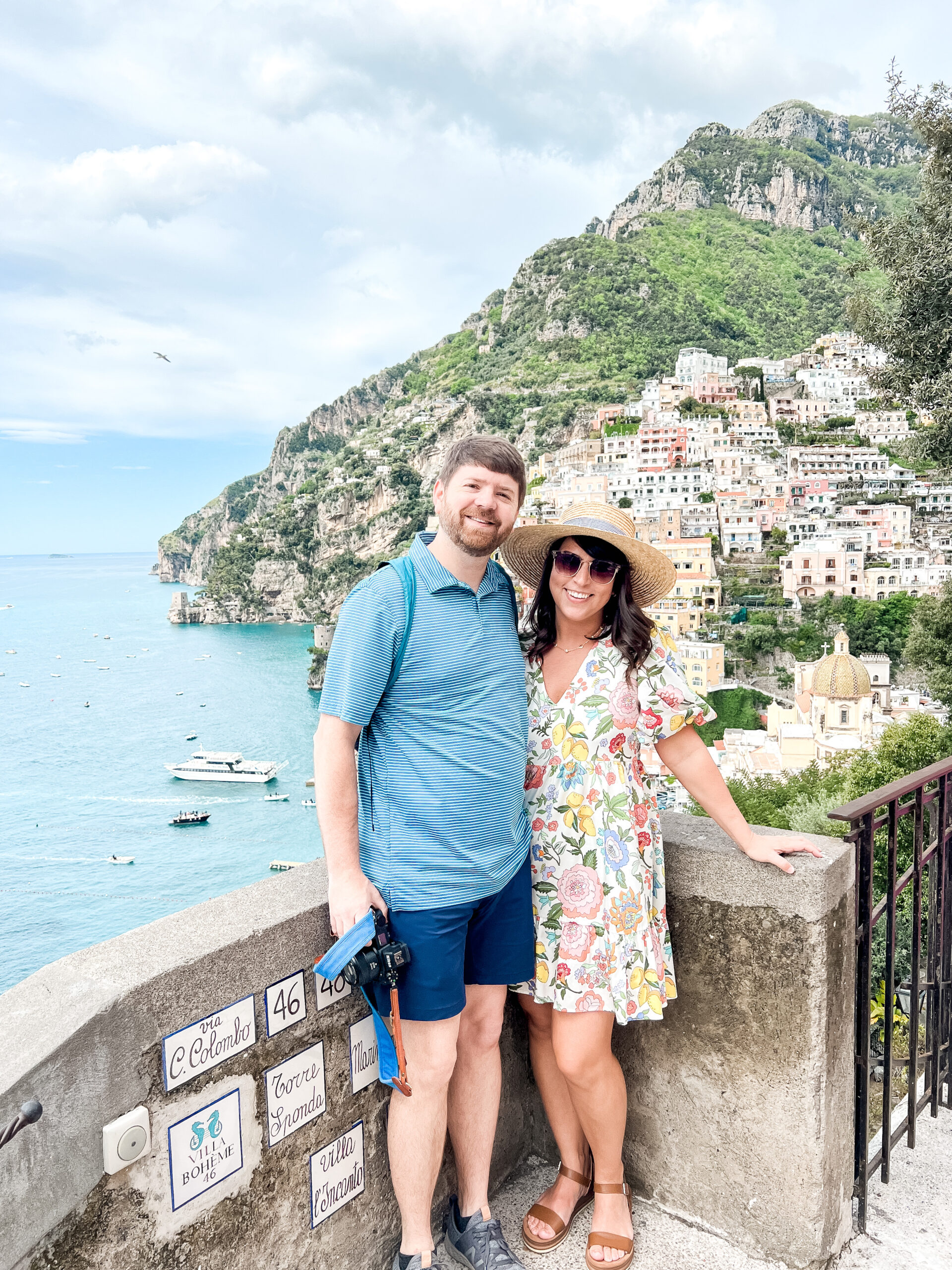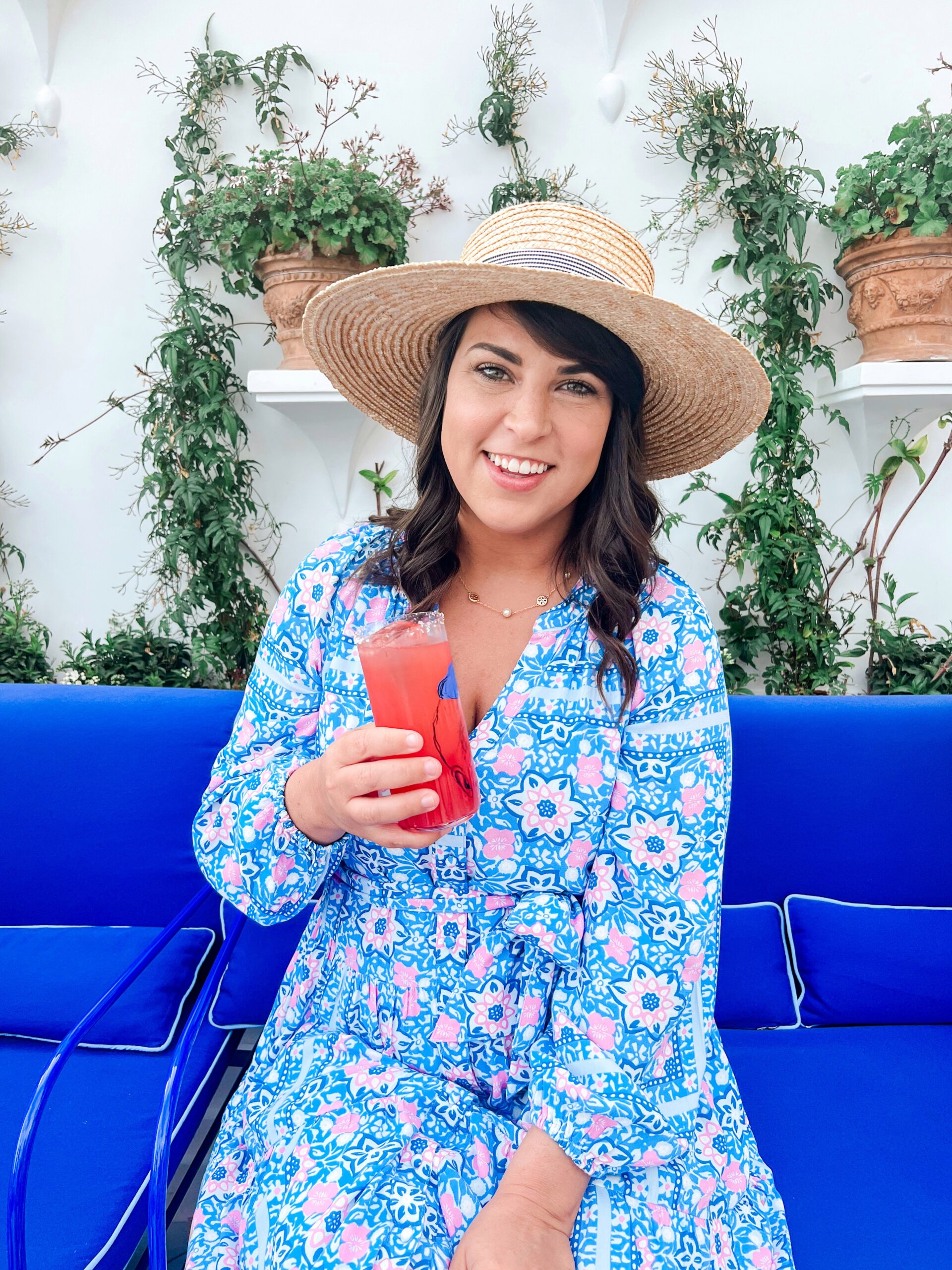 Day Seven: Full Day Private Boat Tour to Capri
It's the day we've been waiting for! Our full day private boat tour to Capri! After going back and forth, I finally settled on doing the full day (7 hours) tour since we were celebrating 10 years and we just enjoy being on the water. What we were not prepared for, however, was how COLD the water would be. As mentioned before, it was unusually cooler for this time of year. The highs were 67-69 degrees Fahrenheit, which felt great, but it didn't make for warm waters.
We met our skipper at the main dock in Positano where he then drove us to Capri. In addition, he took about two hours showing us all the hidden gems around Capri, including grottos, rock formations, and more. John and I opted to pay an additional fee to see the famous Blue Grotto. After about 30 minutes of waiting, we were able to hop on a tiny little boat to enter the grotto. It was absolutely stunning and well worth the cost and wait time.
You are able to pay an extra fee to get off in Capri, but we decided not to and continued on with our day at sea. John braved the cold water once more, while I chose to enjoy the sun rays.
Prior to leaving the hotel that morning, I asked about dinner recommendations. After we decided on one restaurant, the staff kindly called and made reservations for us at Rifugio dei Mele while we were out for the day. Rifugio dei Mele is located higher up in the mountains, so they provide free shuttle service to and from Positano.
While I had never heard of this restaurant in all of my searches, it was the absolute best experience and had the most stunning views. The service we received was impeccable and one would think the prices would be expensive, but our meal was no more expensive than any other meal we had in Positano. So, please do yourself a favor and book dinner at Rifugio dei Mele.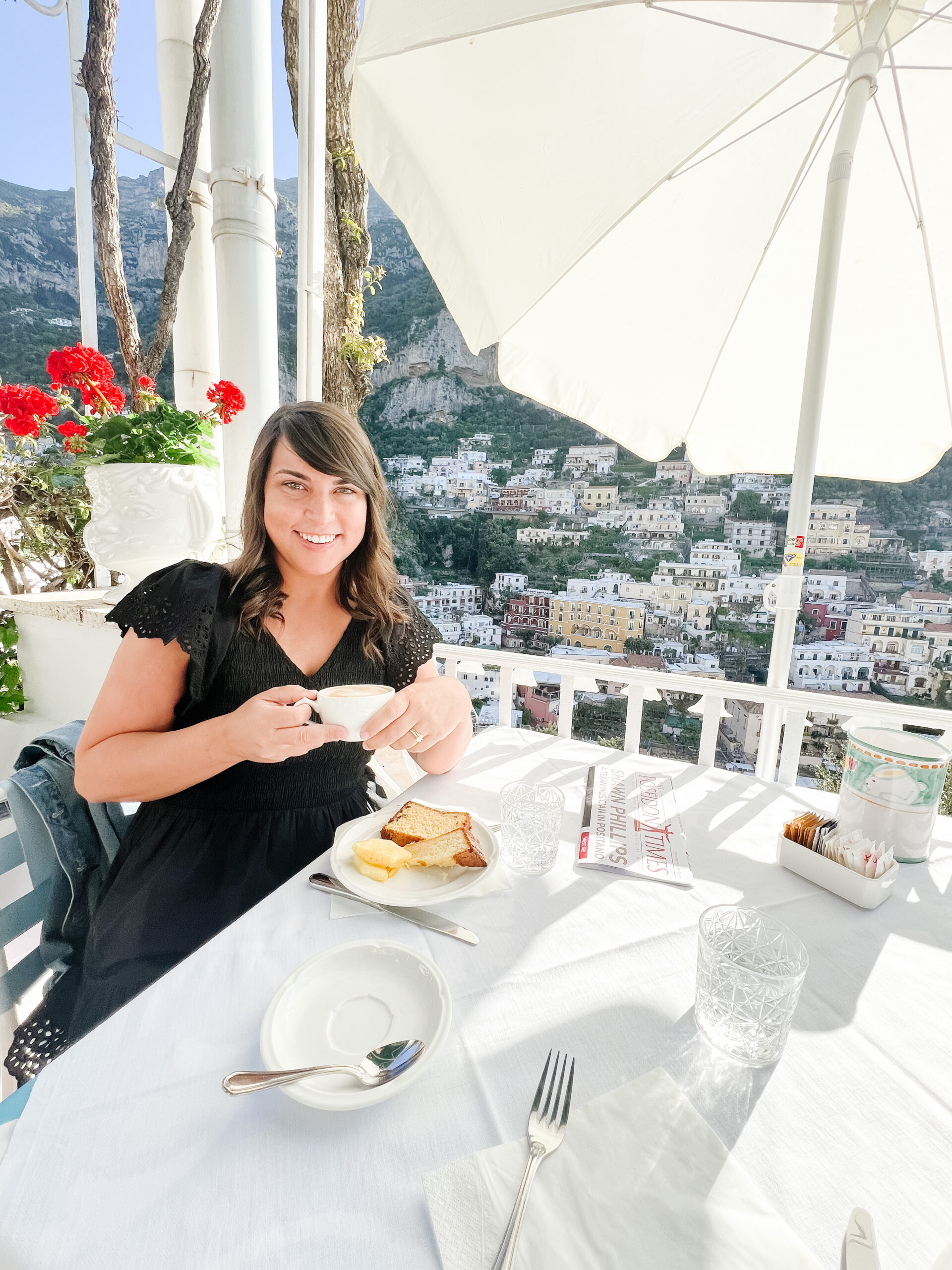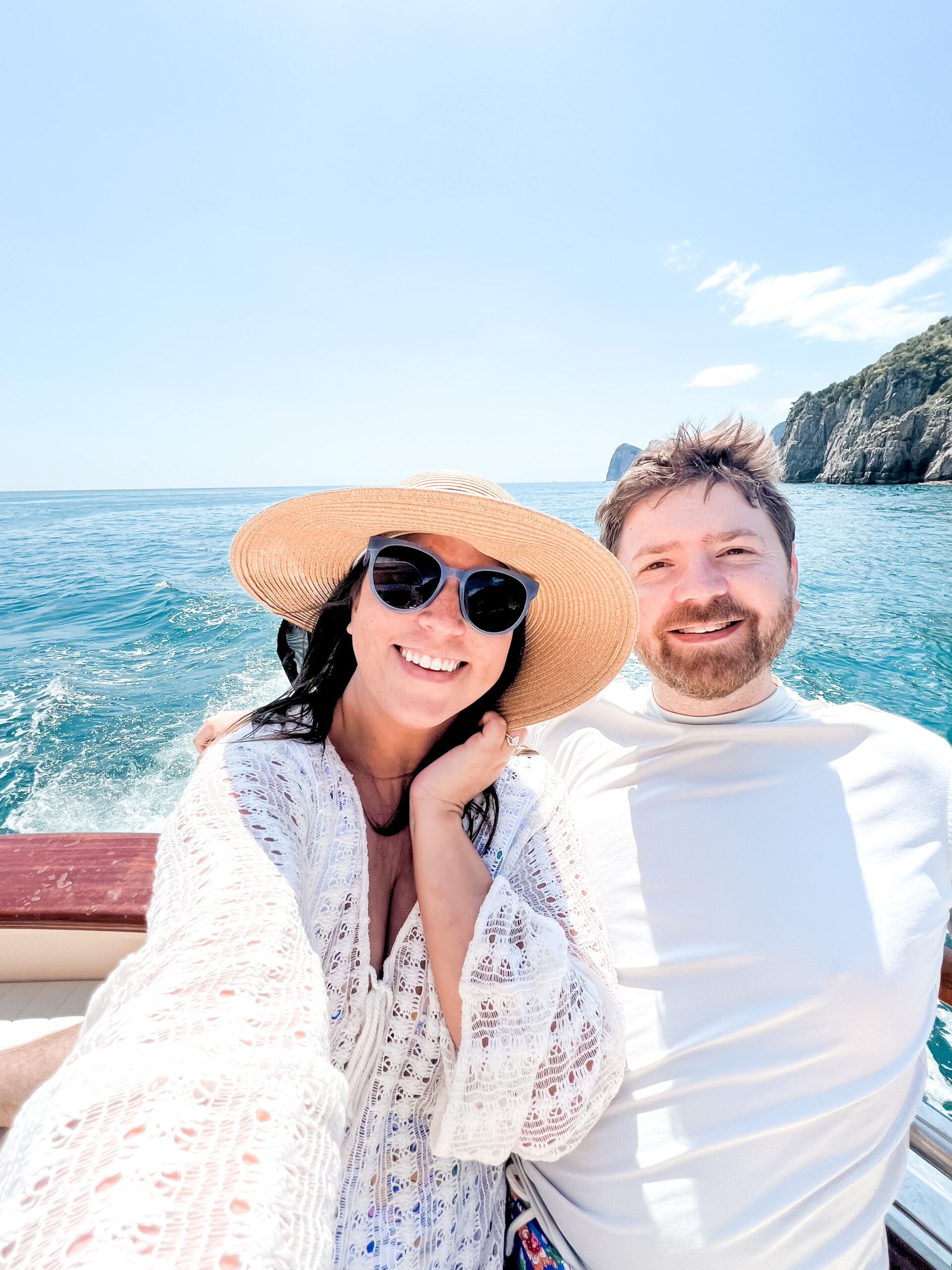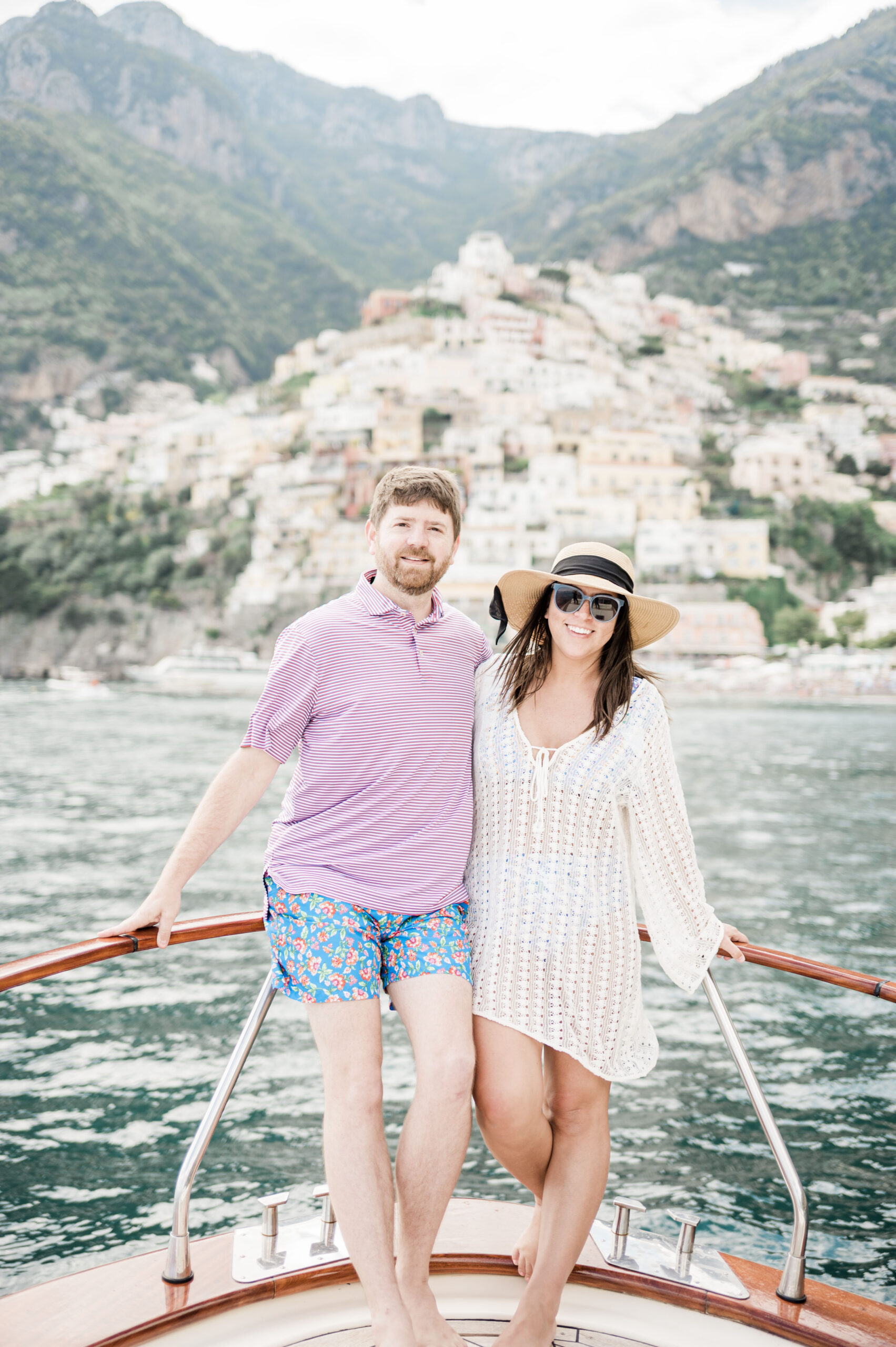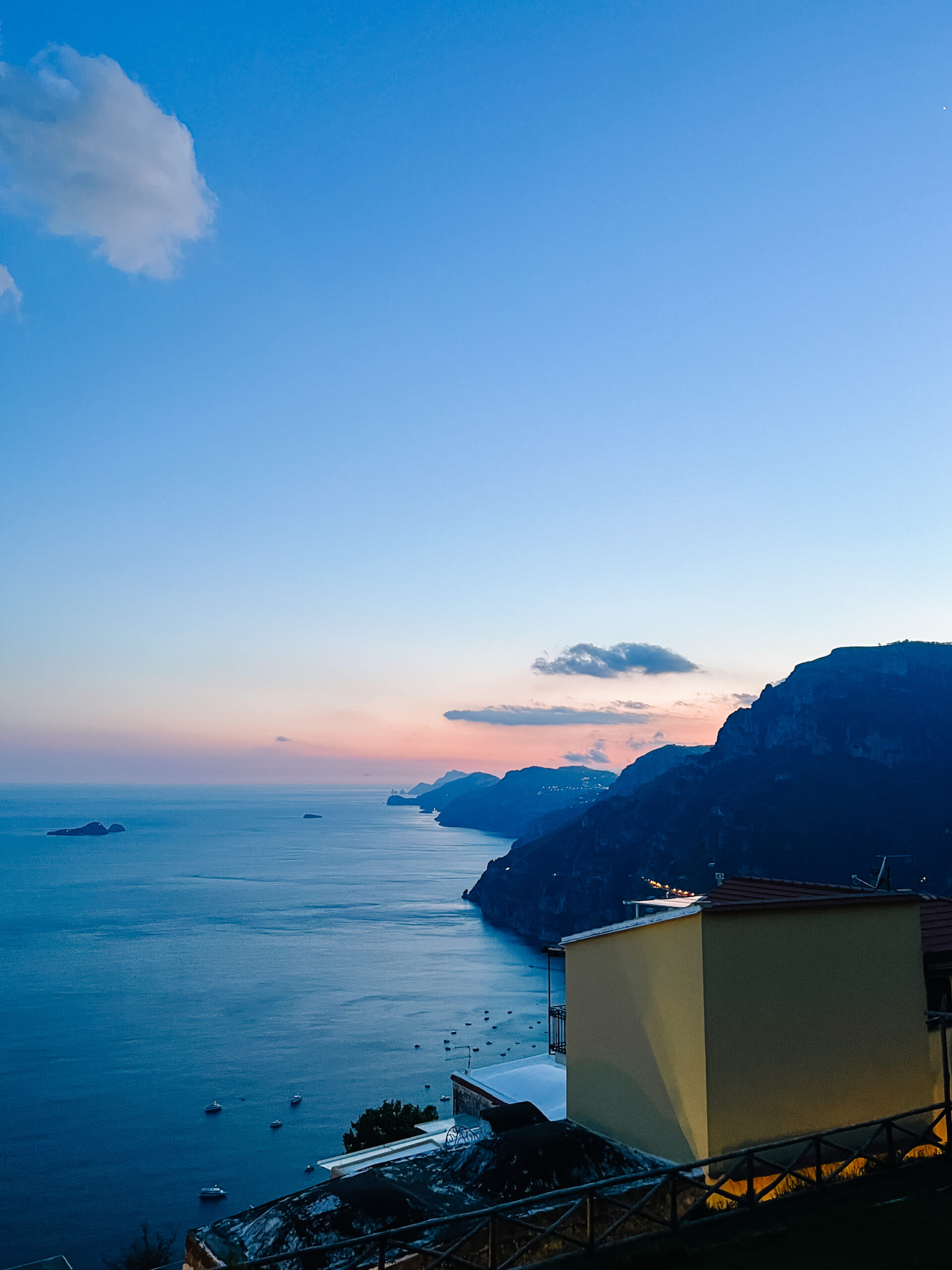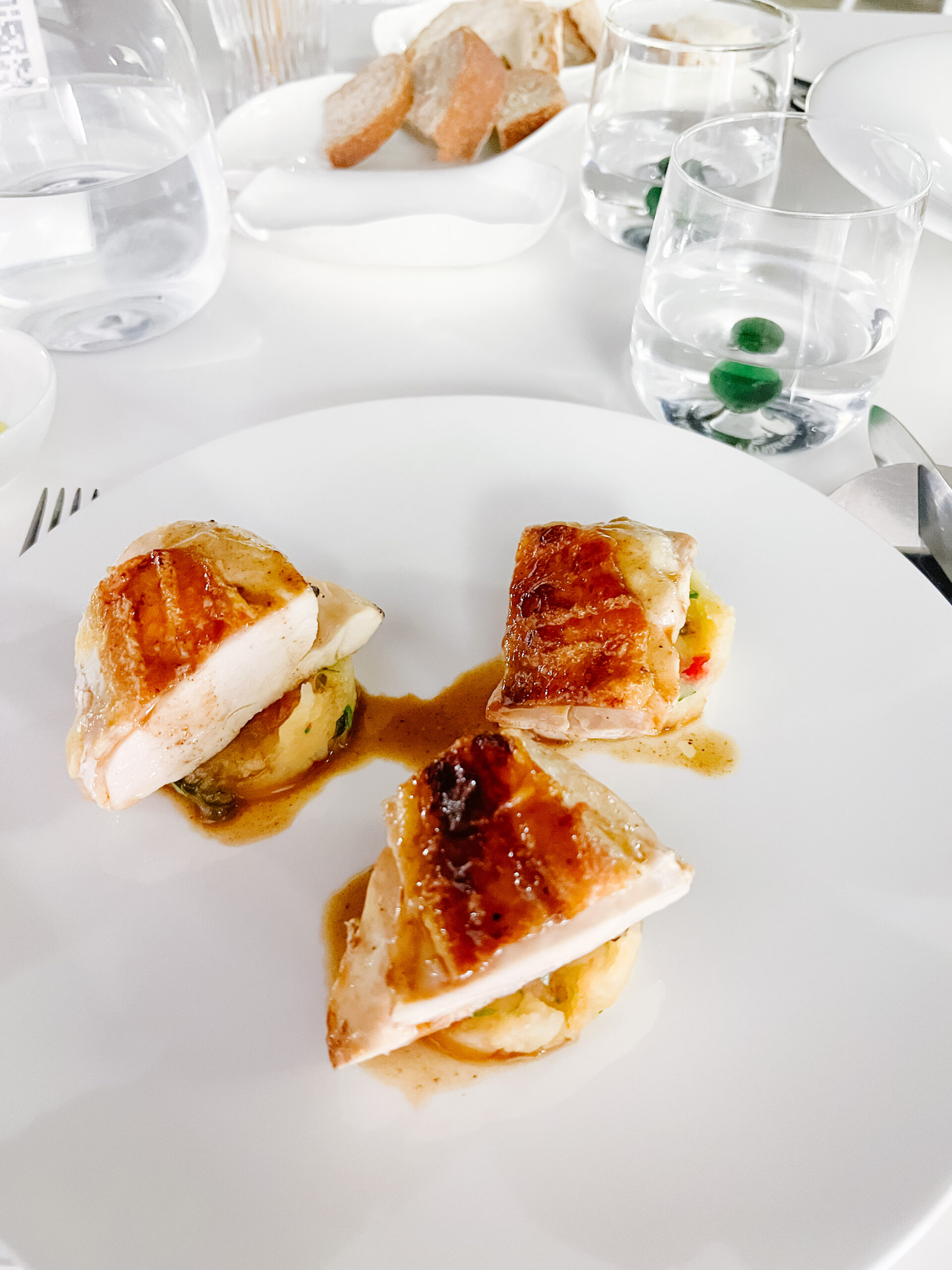 Day Eight: Arrive in Rome, Italy
We arrived in Rome around 11:00 pm after taking the train from Naples. Our hotel was only about a 15 minute walk from the train station. After dropping off our luggage, we decided to make the 1 mile trek to the Colosseum on foot. After roaming around Rome for a bit, we had our pizza making class. The class took only an hour, as we were the only two to book that day, but a fun experience nonetheless.
After, we grabbed Tiramisu from Two Sizes, which was just across from where we made our pizza, and then we called it a night.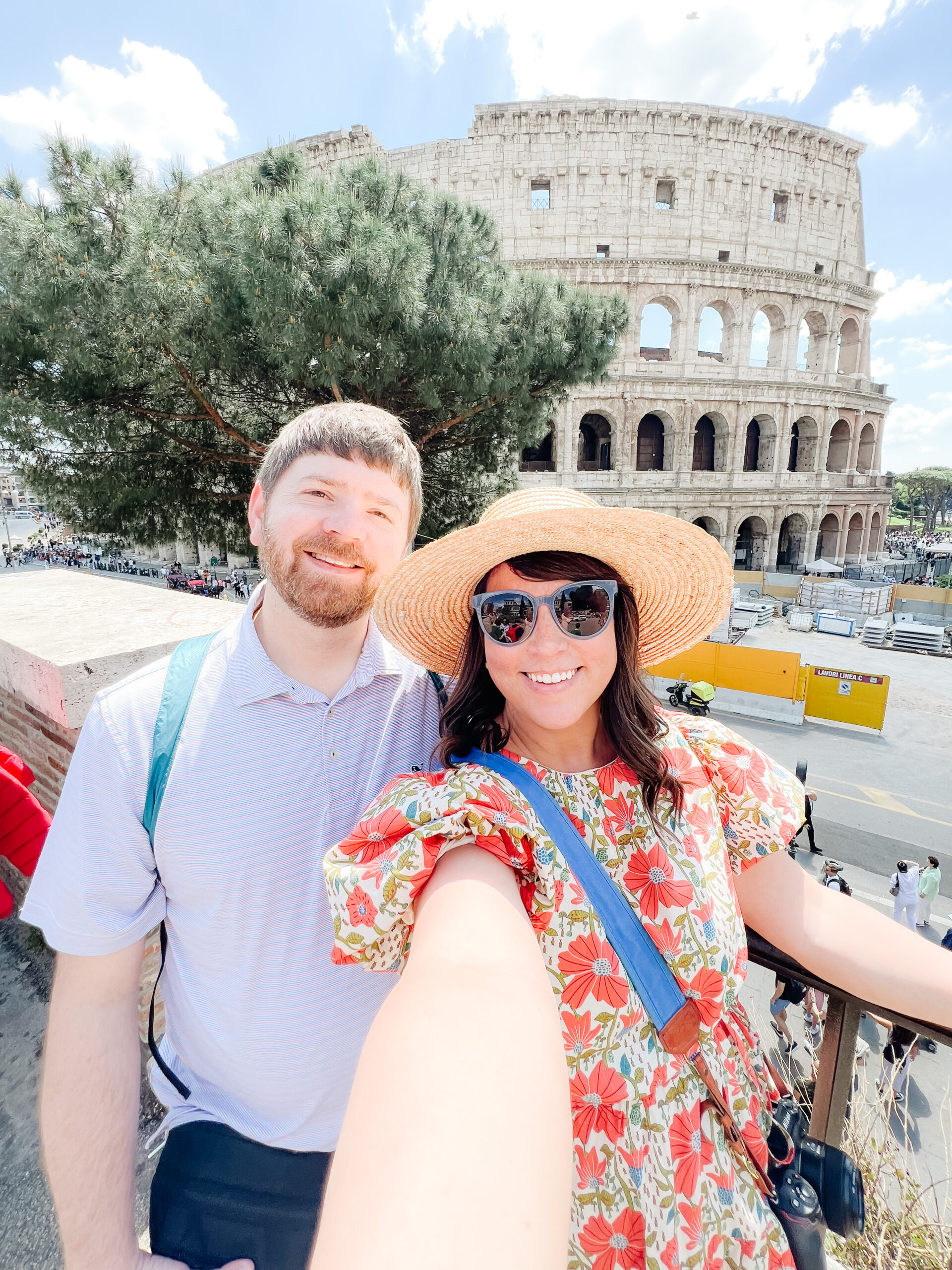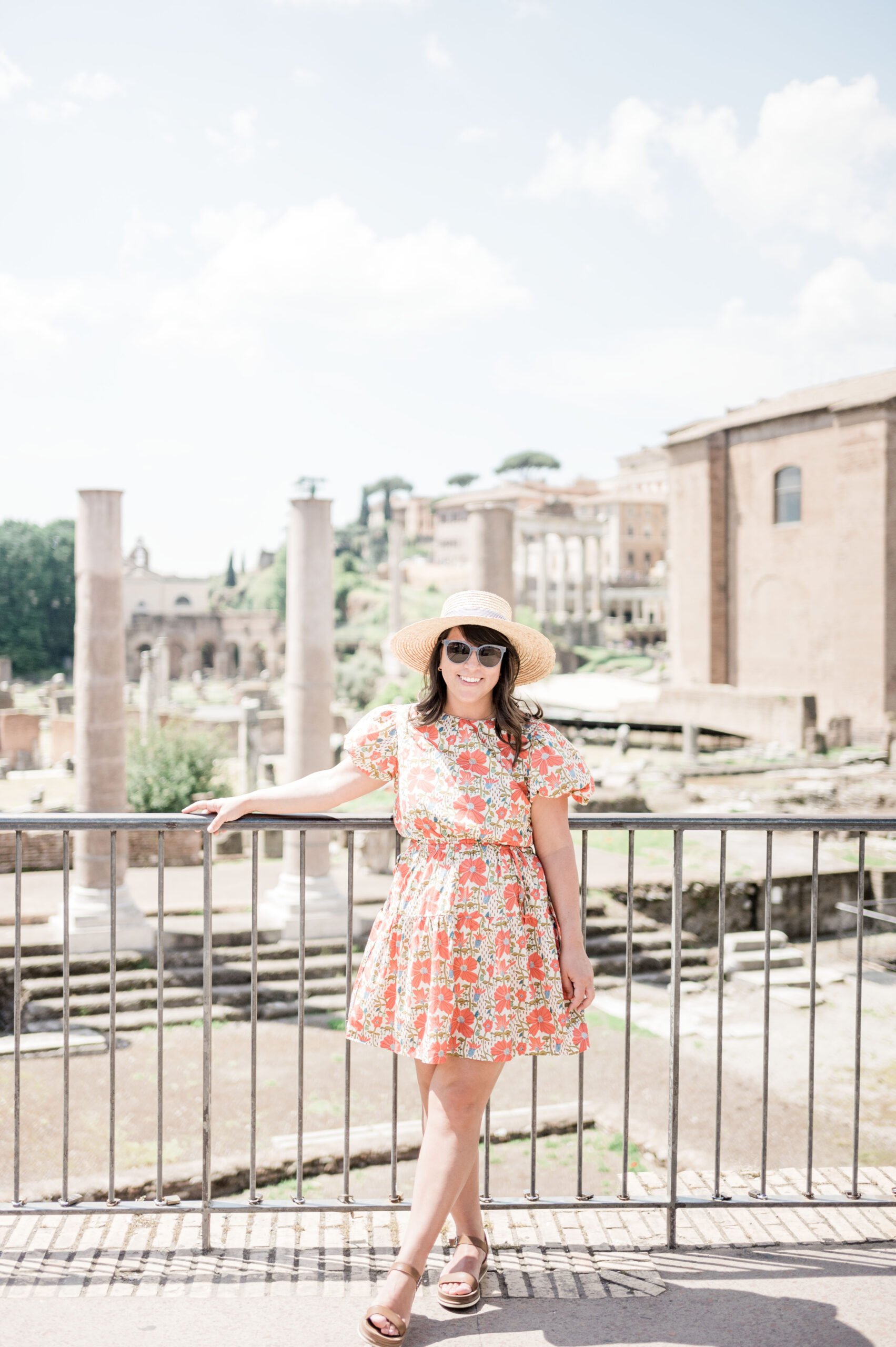 Day Nine: Golf Cart Tour of Rome
When in Rome, why not take a golf cart tour to explore the city? Seeing as Rome was our last stop and we would only be there for a short time, we opted to book a golf cart tour with Roman Roads Tours. They offer various tours, but we booked the 3 hour tour. Each tour is customizable and you can pick and choose what you would like to see throughout your tour.
We let our tour guide take the lead and he was able to show us many of the top sights in Rome. We saw the Colosseum, Pantheon, Trevi Fountain, Piazza Navona, and more. You can read more about our tour and our 36 hours in Rome, here.
Now, I'm probably going to get some heat for this, but at this point I was tired of pasta and pizza. So, we grabbed a quick lunch at McDonalds. Surprisingly, it was much better than what we have in the United States.
Rome was the only city in Italy that I failed to make any sort of dinner reservations. I had really hoped I could make a reservation day of, but I was VERY wrong. Fortunately on our walk back to the hotel from McDonald's, we passed a small restaurant and were able to reserve a table for that evening.
Our last meal in Italy was enjoyed at OperArt Caffè. And of course, our last meal wouldn't be complete without having tiramisu. Dinner was followed by drinks on our hotel rooftop bar as we watched the final sun set in Italy. Cue the tears.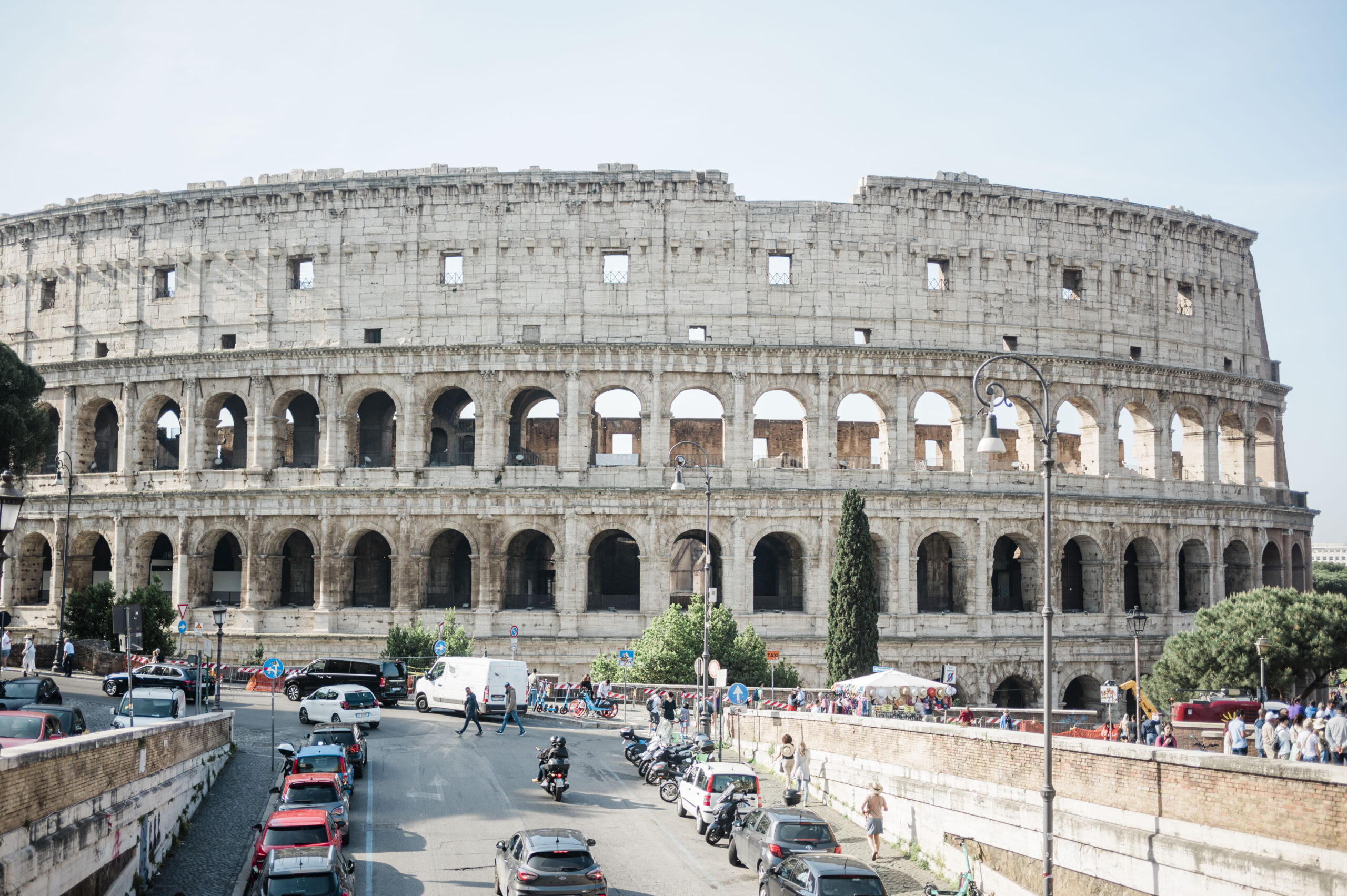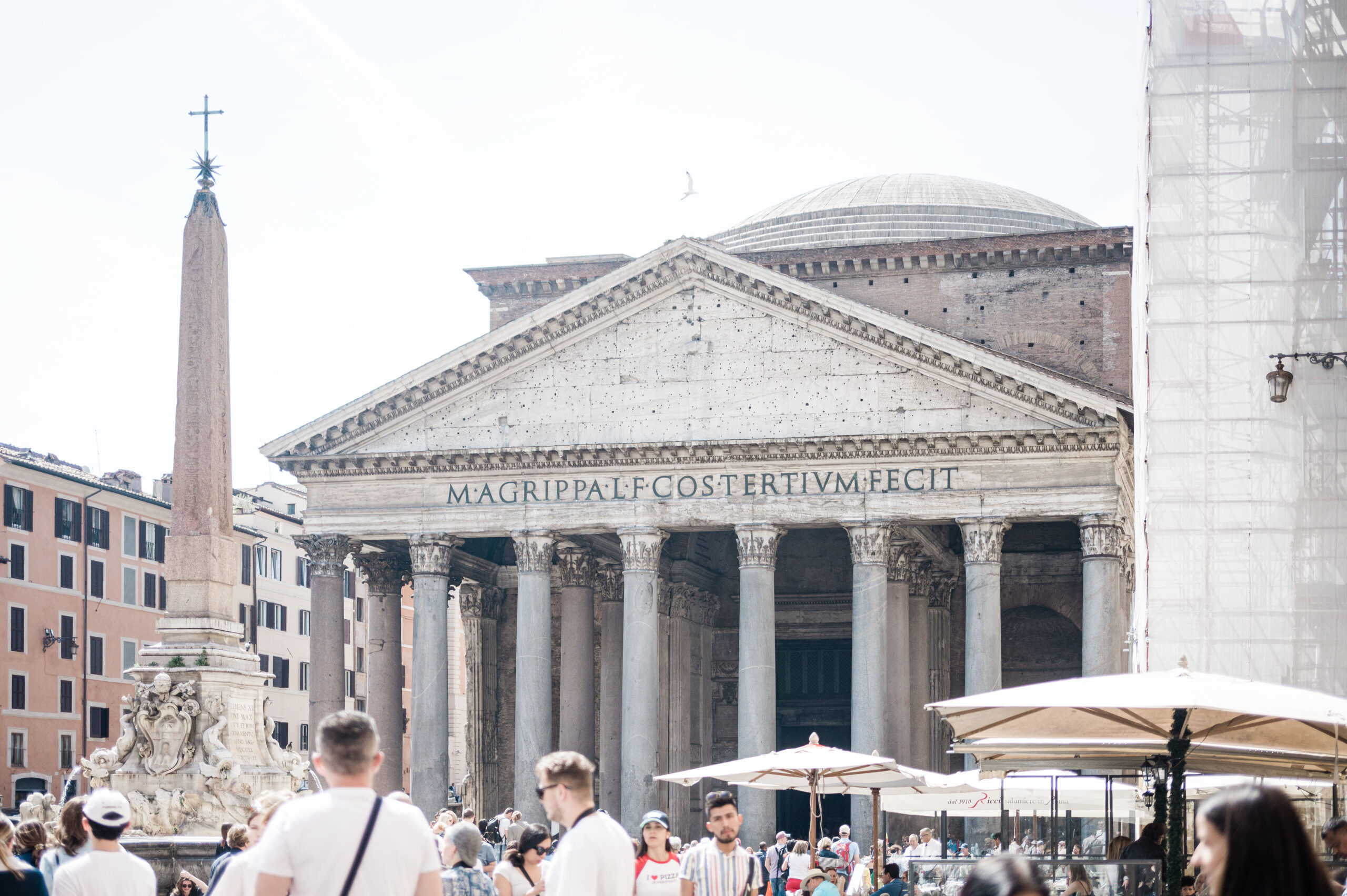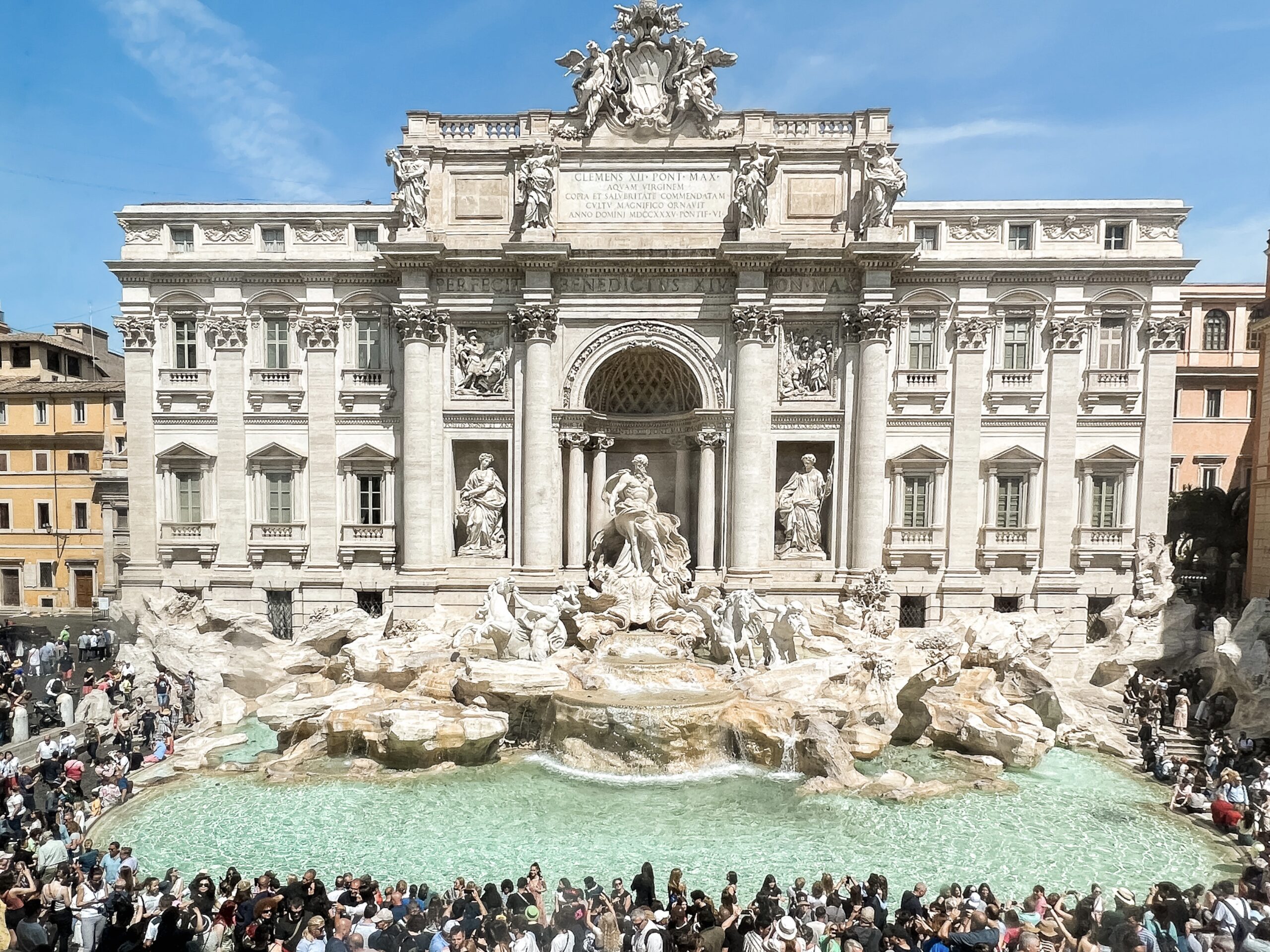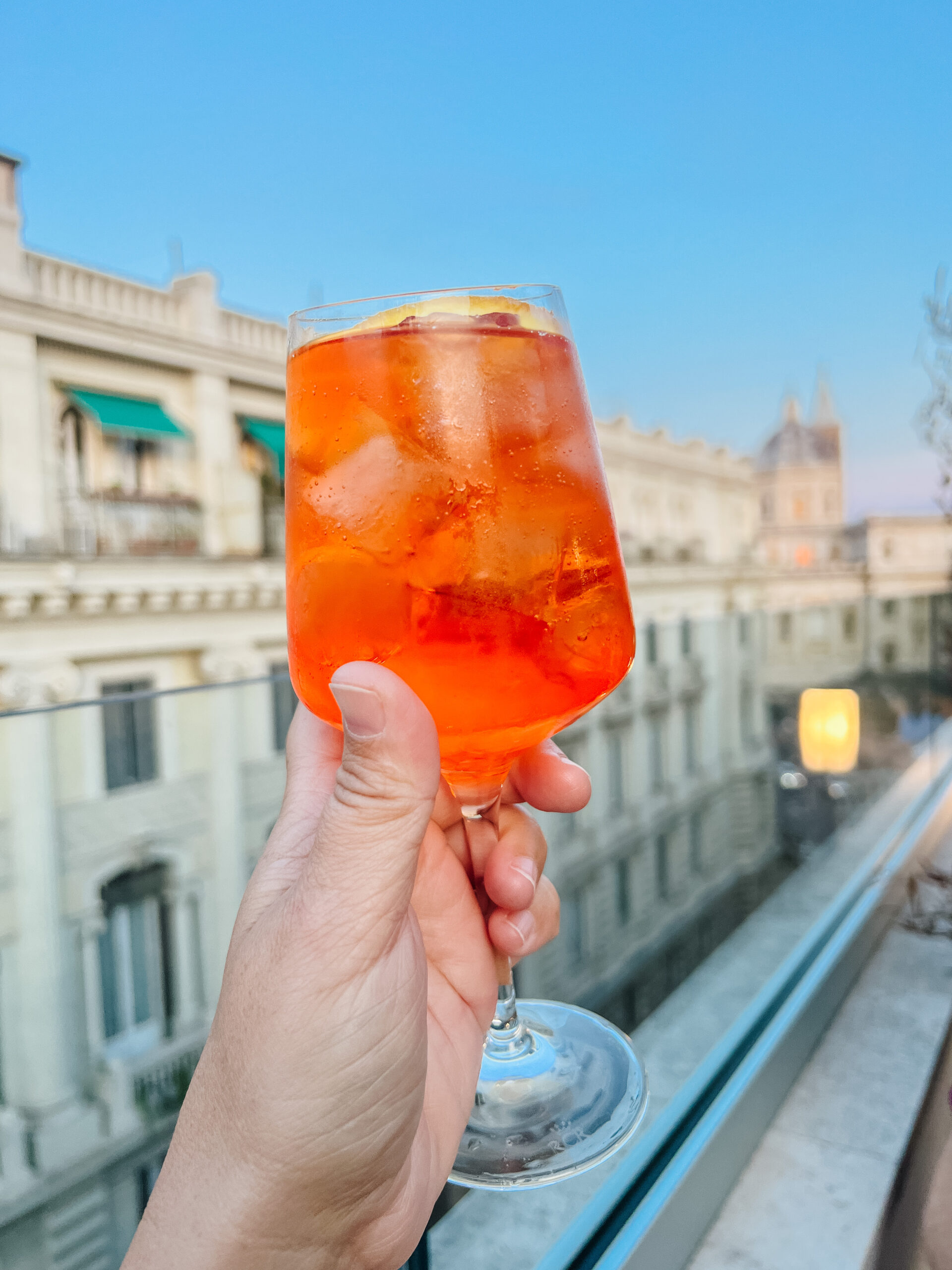 Day Ten: Depart Italy
It's always a sad day when it's time to leave. We scheduled a taxi with Drive4u, to take us to the airport.
My one tip for traveling back to the United States is to download the MPC (My Passport Control) app. Download it before you board your plane and upload your information. As soon as you land, you can submit your forms. You should then receive a QR code.
As you approach passport control there should be a separate line for those who have MPC. That line was MUCH shorter than any other line at JFK. This allowed us to quickly clear passport control, retrieve our luggage, and proceed to security so we could make our next flight.
Things I Would Change
Obviously when planning an epic vacation you hope to have the best weather, but it doesn't always work out that way. Since we did experience several rain days, here's what I would've done differently…
I would have tried to book some sort of cooking class in Sicily. Most cooking classes are indoors, so the weather doesn't matter. Another option would've been to book a massage at the hotel spa.
Then I would've canceled the pizza class in Rome and made time for us to visit Vatican City. In addition, I would have booked tickets to the Colosseum and made sure we had dinner reservations to our desired restaurants.
While these are just little changes, I think adjusting our schedule based on the weather would've allowed us to maximize our time in Italy. I know last minute changes aren't always possible, but it's definitely worth trying.
Conclusion
To sum it up, this 10 day itinerary through Italy is unlike any other. We experienced a bit of rain, delays, and some mishaps along the way, but our trip was still memorable. From exploring Taormina and Positano to a private golf cart tour of Rome, we experienced the beauty of Italy and encountered many unforgettable moments. No matter the weather, there's always something special about Italy and no matter where you go, you are sure to be in for a treat.
So if you're looking for something different when you travel to Italy, our itinerary should give you all the inspiration you need. No two trips to Italy are the same and your memories will be unique to you and your experience. So live it up, and enjoy your Italian adventure!
Like this post? Pin it!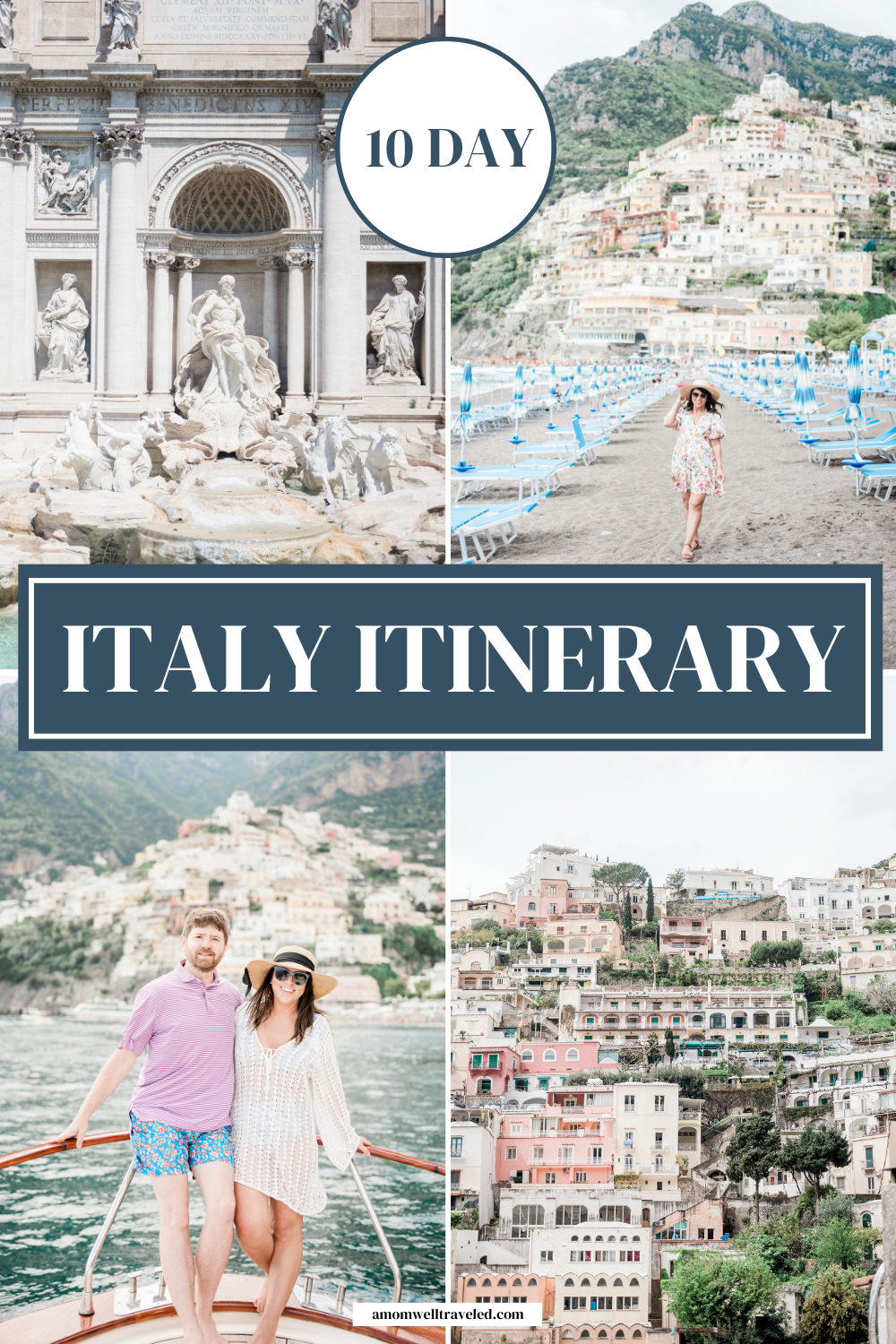 *This post contains affiliate links meaning at no additional cost to you, I earn a commission if you click through and make a purchase.*