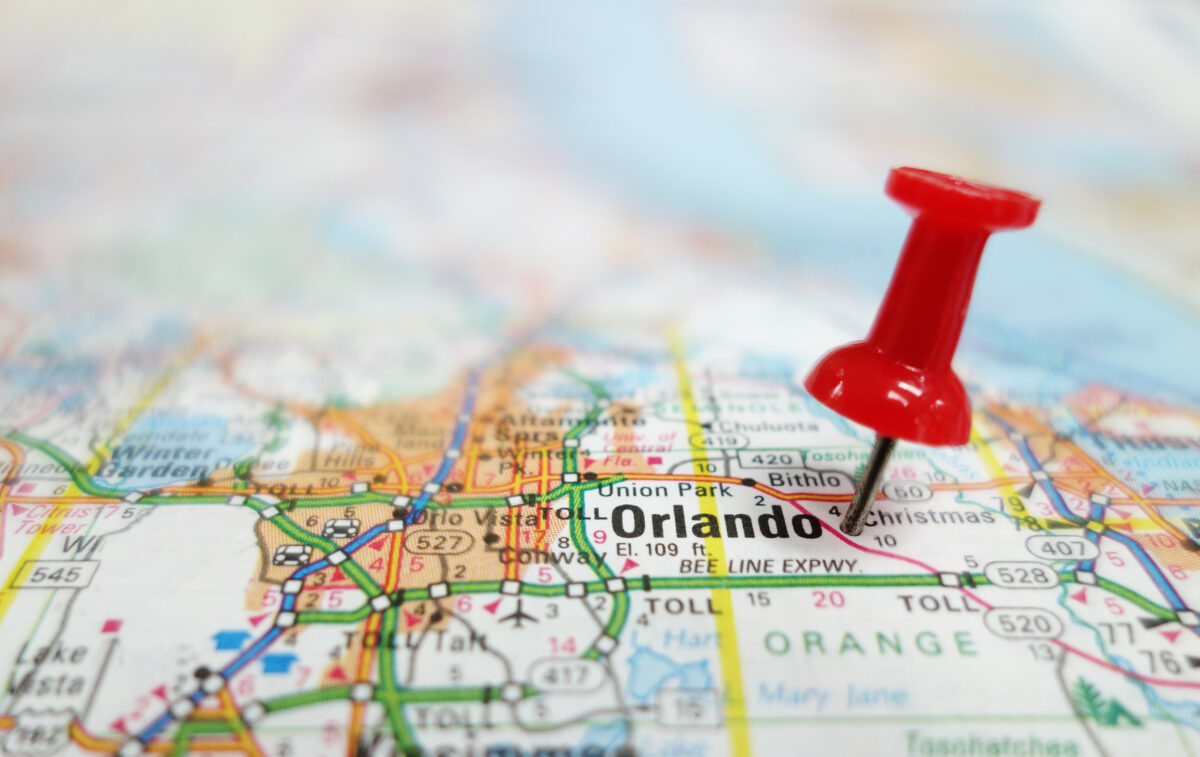 15 BEST Day Trips from Orlando for Couples and Families
Are you ready to escape the hustle and bustle of Orlando for a day and embark on an incredible journey with your family? Look no further! We've curated a list of 15 BEST day trips from Orlando, for couples and families, all conveniently located within a 3-hour drive.
From breathtaking beaches to enchanting natural springs and more, these destinations offer the perfect blend of excitement and relaxation for couples and families alike. Whether you're seeking thrilling outdoor activities or peaceful moments in nature, these handpicked day trips have something to suit everyone's interests.
15 BEST Day Trips from Orlando
While Orlando is filled with many exciting things to do, there is still so much to explore in Florida. Here are 15 day trips to start planning with your family today…
1. Cumberland Island
Looking for a great day trip filled with adventure? Check out Cumberland Island National Seashore just off the coast of St. Marys in southern Georgia! Accessible only by ferry or private boat, Cumberland Island is a remote island managed by the National Park Service. It is home to a diverse population of animals including wild horses, turkeys, alligators, and more. At one time, it was also owned by the Carnegie family. Today their mansion ruins still stand.
The drive from Orlando to St. Marys is 2 hours 45 minutes. Embark on the Cumberland Island Ferry for a short trip to the island. Be sure to keep a lookout for wild dolphins jumping in the water next to the boat! Upon arrival, take the main road down to Dungeness Ruins for a look at the Carnegies' property. Then, trek past the marsh (where alligators can often be spotted) and the dunes on your way to the beach. Here visitors are likely to see several wild horses grazing or enjoying the cool ocean water. The full loop is 4.3 miles.
This is the perfect day trip for adventurous couples and families with older children.
Suggested by From Alicia of Well and Well Traveled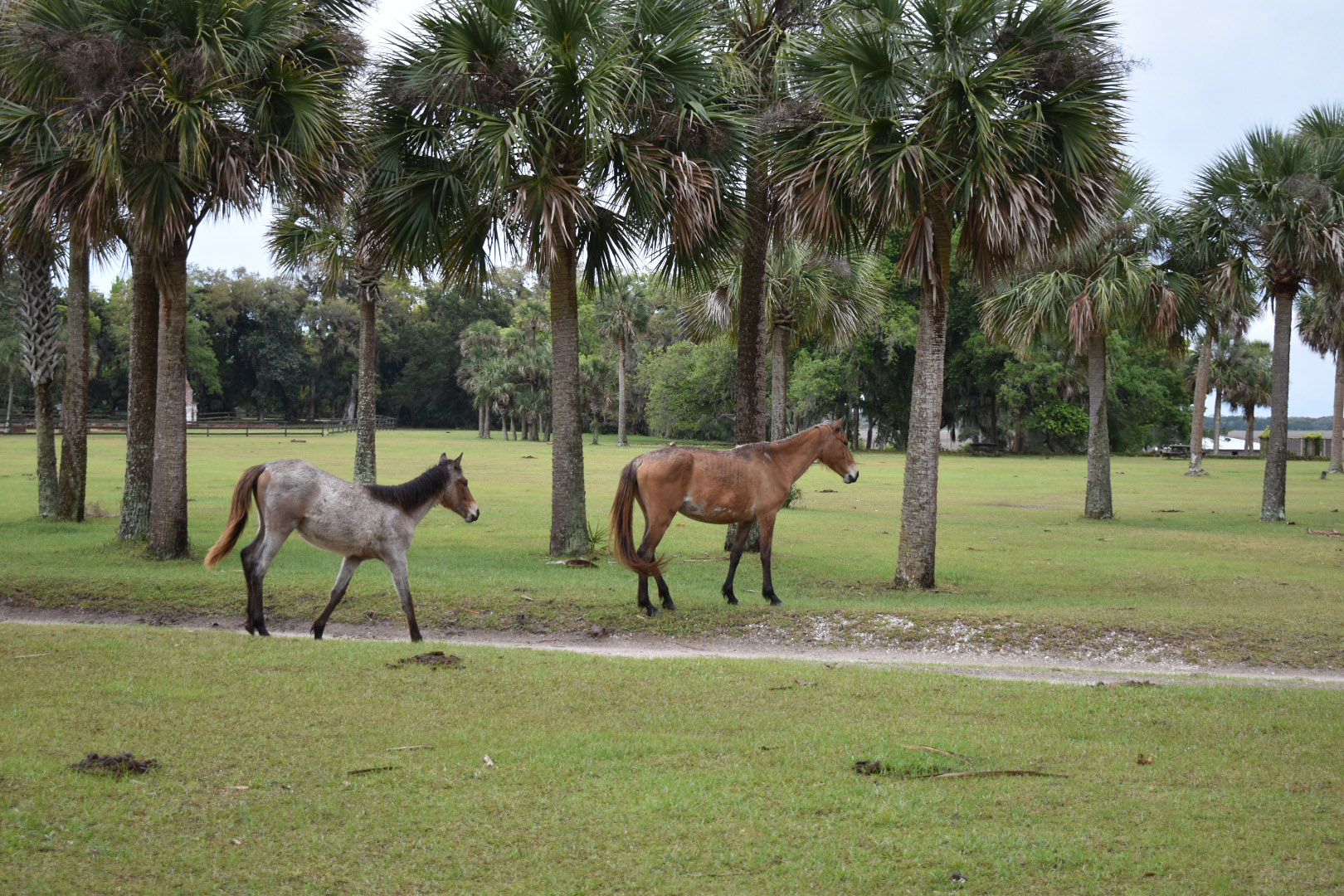 2. Saint Augustine
If you're looking for one of the best day trips from Orlando then you cannot beat St. Augustine.
Because as the country's oldest city, which was initially founded in 1565, St. Augustine is home to exquisite, Spanish Colonial-style buildings that create a romantic atmosphere. It's also a fairly compact city that is easy to explore as part of a day trip.
Therefore, couples looking for a great day trip from Orlando can drive the 108 miles, or two hours, to St. Augustine and visit the Lightner Museum. It is a magical place this is home to incredible fine art.
You can also take a relaxing walk along St. Augustine Beach before sipping on an incredible glass of wine at the San Sebastian Winery. Then you can have a great meal at Prohibition Kitchen that includes both a German Pretzel and a Whiskey Burger.
Afterward, go on an Old Town Trolley Tour and enjoy one of the all-time best things to do in Saint Augustine.
If you're traveling with kids, the Saint Augustine Alligator Farm is a great family activity and offers hours of entertainment.
Suggested by Victoria of Florida Trippers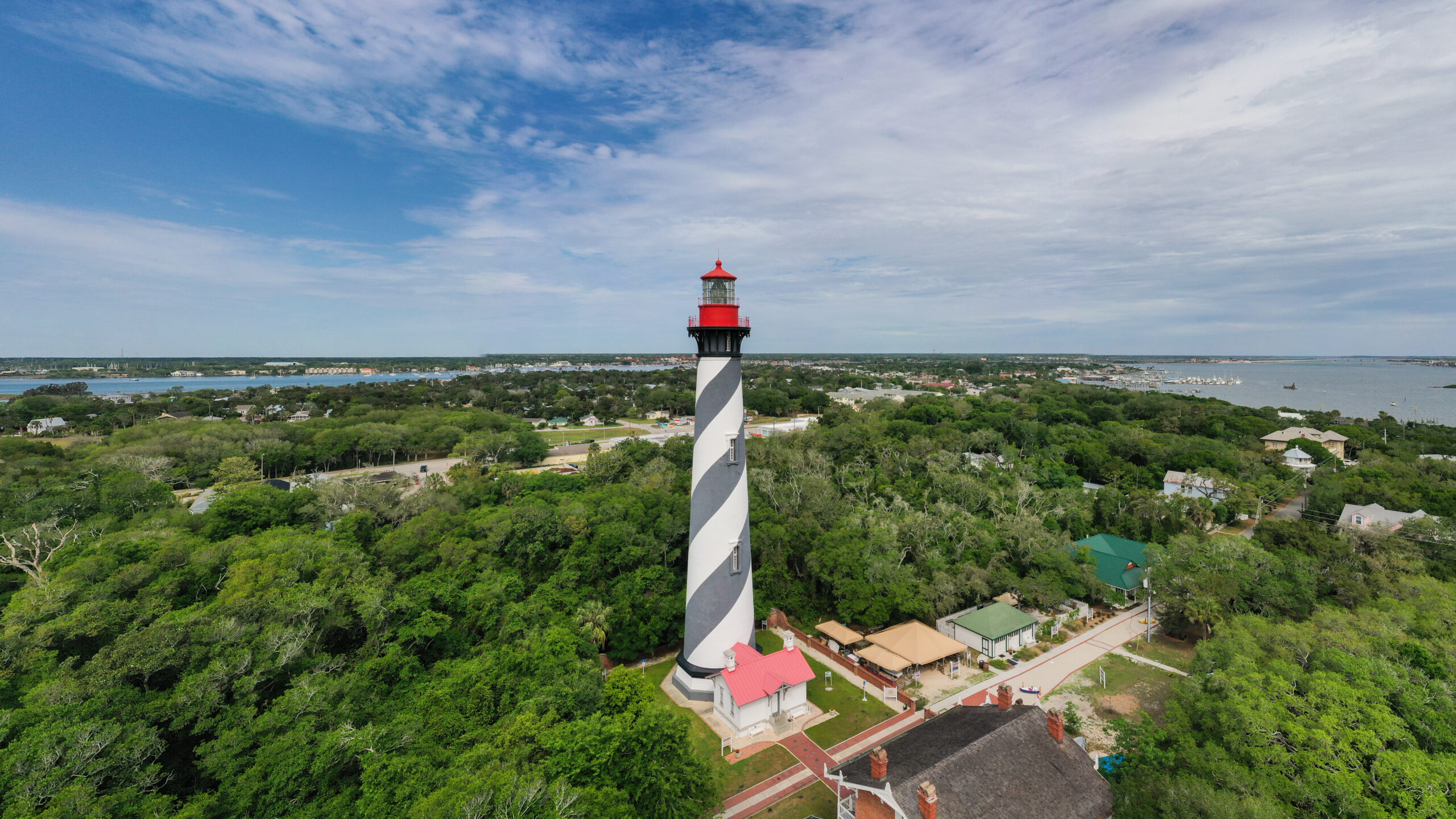 3. Daytona Beach
Drive 56 miles east on I-4 from Orlando and you can find yourself in the "World's Most Famous Beach," Daytona Beach, which boasts of miles of pristine sandy shores.
Aside from the beautiful beaches, the city's racing heritage adds an exciting element to the experience, with the iconic Daytona International Speedway being a must-visit attraction for motorsport enthusiasts.
The Daytona Beach Boardwalk and Pier offers a delightful blend of amusement rides, souvenir shops, and delectable treats.
If you're a nature enthusiast, head to the nearby Ponce de Leon Inlet Lighthouse & Museum for stunning views and intriguing history. Whether you're seeking family-friendly fun or a tranquil beach retreat, Daytona Beach promises an unforgettable escape for everyone.
If you opt to make a weekend out of your day trip, then you need to stay at the Max Daytona Beach Resort for an unforgettable experience.
Suggested by Brittney of A Mom Well Traveled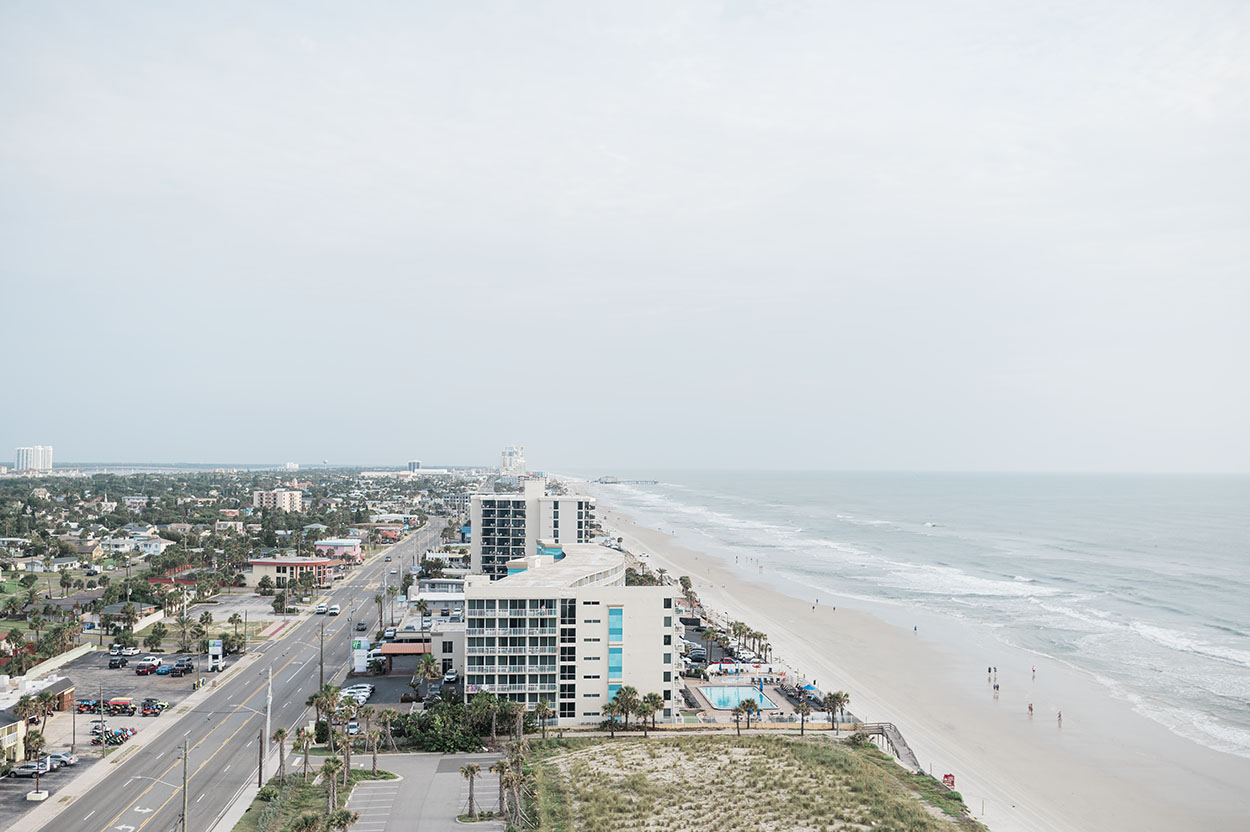 4. Cocoa Beach
After a few days exploring the Disney Parks in Orlando, you will be ready for a day trip to the beach, so why not check out one of the best beaches in Florida, Cocoa Beach? The day trip to Cocoa Beach is only a 70-minute drive as Cocoa Beach is the closest beach to Orlando and Disney World, as most other beaches are over 2 hours away. Cocoa Beach is also super close to Port Canaveral, making it the perfect destination before or after taking a cruise.
Cocoa Beach is the perfect beach for adventure travelers as it is often called the surfing capital of the East Coast as the waves rival those in California. There are lots of local surf schools and surfboard rental companies if you want to try to catch a wave!
If you want to learn more about surfing and the history of surfers in the area, then check out the Ron Jon Surf Museum. If you're not into surfing, there are still tons for you to enjoy, including the historic city pier that is perfect for watching the sunset or go fishing, or stop at Rikki Tiki Tavern at the end of the pier for a drink and snack in this open-air restaurant.
Families will enjoy visiting Kennedy Space Center, kayaking through mangrove tunnels at Thousand Islands looking for manatees, checking out exploration towers, or checking out the great shopping, eating, and recreational opportunities in Cocoa Village.
Another great option for outdoor exploration is Lori Wilson Park which is a great area for a picnic or cookout, it has a beautiful beach for swimming and a 1000 ft boardwalk for strolling.
If you're hungry for seafood, you have to try Florida's Seafood Bar & Grill, as they serve amazing Rock shrimp, fried oysters, and scallops that are super fresh. Another great restaurant option is Coconuts on the Beach which is a covered tiki bar with live music and great food.
Suggested by Hannah & Adam of Getting Stamped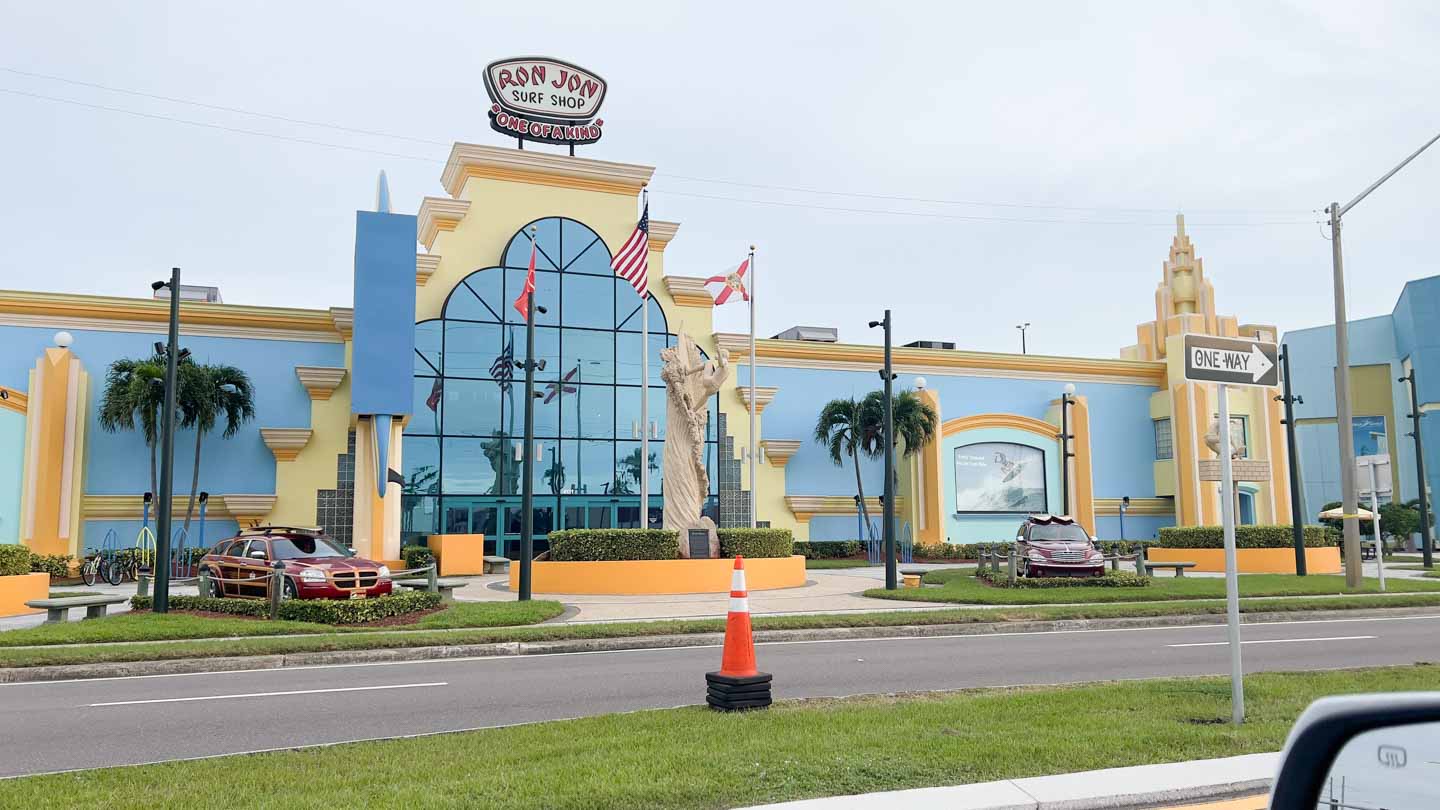 5. Crystal River
Located about 1 hour and 45 minutes away from Orlando Florida is Crystal River Florida. Stepping out of the busy area of Orlando into the calming and natural area of Crystal River makes for a great day trip. It is a great place for anyone to visit, solo travelers, adults, and families will all enjoy exploring Crystal River.
Known as the "Home of the Manatees," Crystal River offers a unique opportunity to witness these gentle giants up close and personal. The area of Florida is home to the largest population of West Indian manatees in the state. The area offers visitors many ways that they can experience manatees including swimming, snorkeling and kayaking alongside these magnificent creatures. It's a truly magical experience that allows you to connect with nature and appreciate the beauty of Florida's wildlife.
While the highlight of visiting Crystal River is the manatees there are many things to do in Crystal River Florida. You will want to be sure to visit Three Sisters Springs and Homosassa Springs.
Crystal River also offers a charming small-town atmosphere and a range of local attractions to enjoy. The historic downtown area is filled with unique shops, art galleries, and cozy cafés, perfect for strolling and browsing. Visitors can also indulge in delicious seafood at waterfront restaurants, enjoying fresh catches from the Gulf of Mexico.
Crystal River provides a refreshing escape from the city and a chance to experience Florida's natural wonders, making it an excellent day trip destination from Orlando.
Suggested by Lauren of Roaming with Kids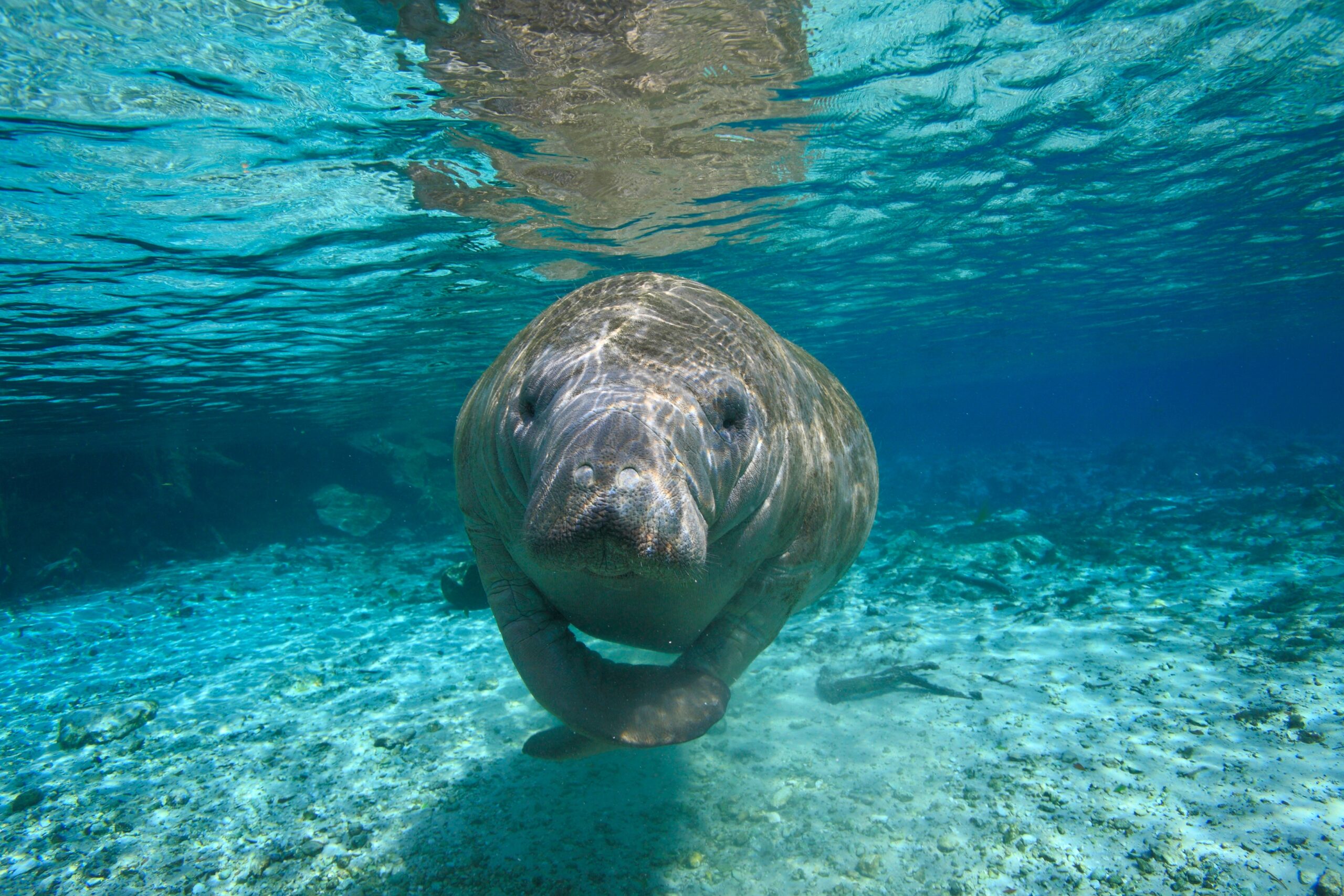 6. Wild Florida
One of the best day trips from Orlando can be found less than an hour away in the Kissimmee Chain of Lakes Wildlife Management Area. Many people consider the lakes, swamps, and streams in this part of Florida as the "headwaters" of the Everglades. Here, Wild Florida enchants guests with a trio of attractions – a safari drive-thru park, a wildlife park, and airboat rides.
Wild Florida sits on the eastern shore of Lake Cypress in Kenansville. From this location, a fleet of airboats heads out every hour or half hour to fly across the lake's smooth surface in search of alligators. Licensed professionals captain each vessel and provide protective headphones. Stadium-style seating ensures a magnificent view.
Gator Park provides a safe home for animals, especially nuisance gators rescued from dangerous situations. Visitors can see rare albino alligators, a Florida panther, baby gators, an alligator feeding show, and much more.
The Safari Park features over 150 species of native and exotic animals roaming free. Add-on experiences, such as feeding or painting with giraffes, delight families and make a memorable date for couples.
Wild Florida is open year-round; however, the best time to visit is in the fall or spring. Though the reptiles will be more active in the summer, afternoon thunderstorms often cause airboat ride cancellations. In the colder winter months, alligators and other reptiles might be less active.
Suggested by Cristina Vanthul of Wander Florida
7. Lake Wales
Bok Tower Gardens in Lake Wales, Florida, is a fantastic day trip option from Orlando. A little over an hour's drive from the bustling city is a perfect escape from the theme parks and crowds.
What sets Bok Tower Gardens apart is its breathtaking beauty and tranquility. Located within Bok Tower Gardens is Bok Tower, a 205-foot Art Deco Singing Tower surrounded by lush gardens, peaceful pathways, and serene reflecting pools. The tower houses a 60-bell carillon, producing enchanting melodies throughout the day. Visitors can enjoy the melodic tunes while exploring the meticulously manicured gardens, which showcase a diverse collection of plants and flowers, including rare and exotic plants.
The best time to visit Bok Tower Gardens is during spring when the gardens are in full bloom and the weather is pleasant. The vibrant colors and fragrant blossoms create a mesmerizing atmosphere that captivates the senses.
Bok Tower Gardens has something to fascinate everyone making it an ideal day trip for all ages.
Visit Love and Traveling for more about Bok Tower Gardens and to start planning a day trip from Orlando where you can immerse yourself in the serenity and charm of Bok Tower Gardens, a true gem in Central Florida.
Suggested by Gary and Michelle of Love and Traveling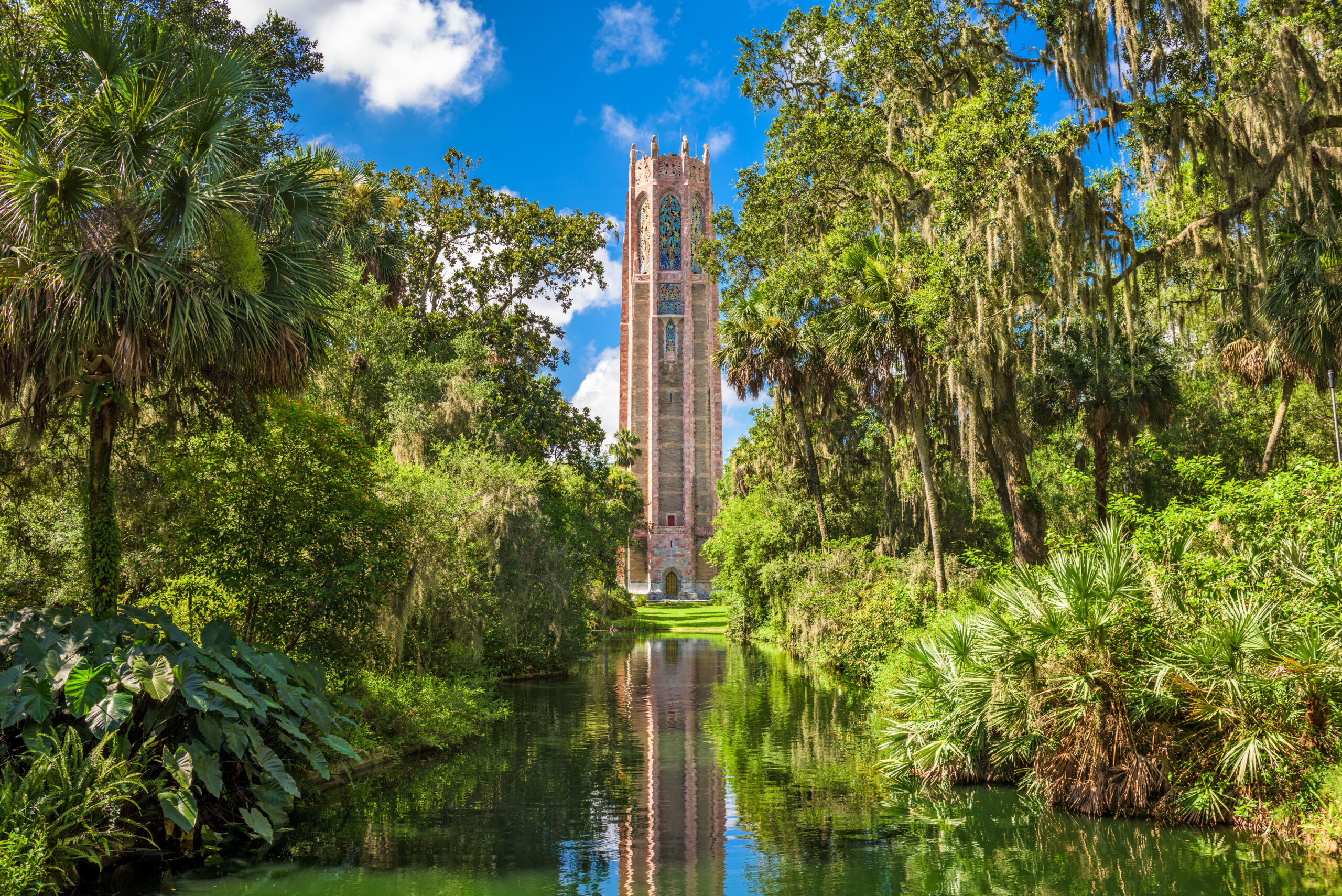 8. Devil's Millhopper
You've got to experience Devil's Millhopper Geological State Park in Gainesville, located 2-hours away from Orlando! This destination is an ideal day trip for paleontology enthusiasts and curious explorers of all ages.
The park's main attraction is the massive sinkhole that plunges down 120 feet, showcasing stunning layers of limestone, unique vegetation not found in other parts of the state, and small waterfalls cascading down its walls and pooling below. You'll access the sinkhole by walking along a well-maintained wooden boardwalk and then descending a series of staircases deep into the hole.
At the park entrance is an information center where you can learn about the significance of the sinkhole, as it relates to understanding the Florida aquifer and North Florida stratigraphy.
The best time to visit Devil's Millhopper is during the spring or fall when the weather is mild and the natural surroundings are at their most vibrant. This geological site is suitable for families, couples, and solo travelers, as it caters to a wide range of interests and activity levels.
It's important to note that the descent and ascent involve about 10 minutes of stairs, which may not be suitable for everyone. For those who can manage the stairs, Devil's Millhopper promises an unforgettable adventure into the heart of nature's awe-inspiring beauty.
Suggested by Ingrid of Destinations Unknown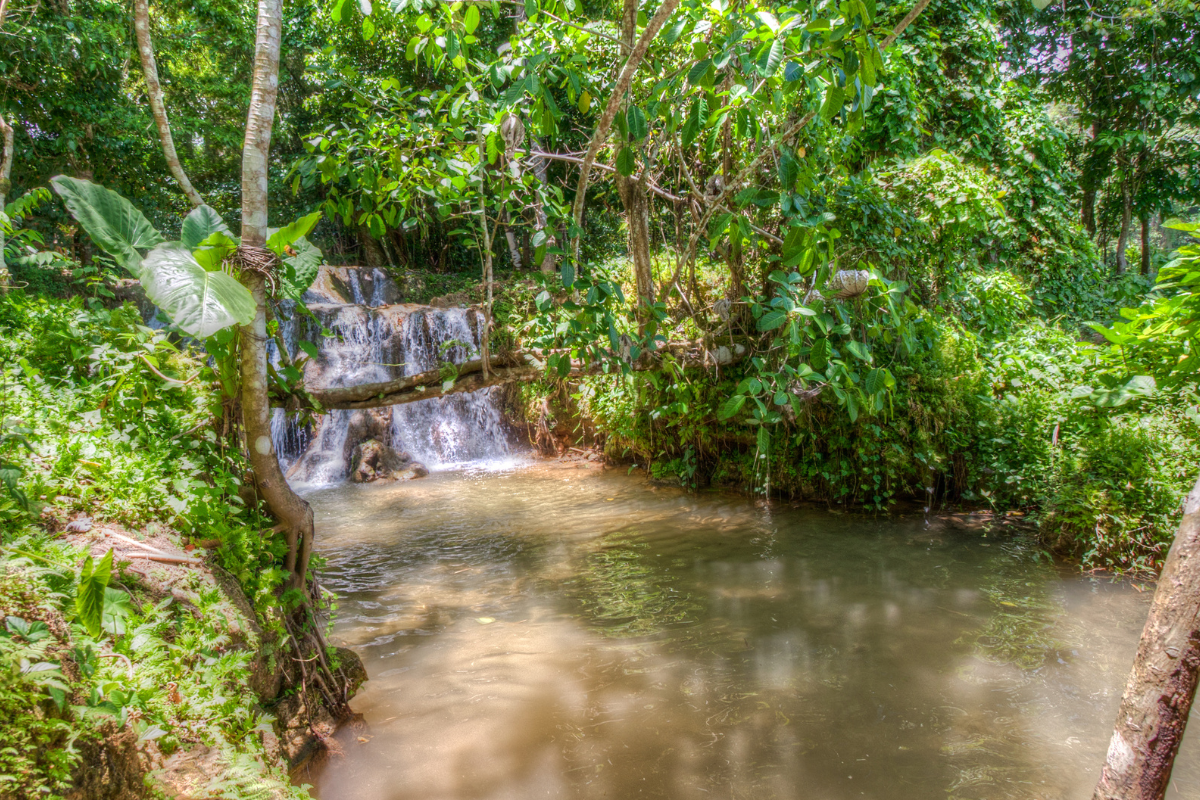 9. Alexander Springs
Many travelers don't realize that there are several natural water springs near Orlando. If you get sick of the theme parks, consider taking a 59-mile, 1-hour drive outside of Orlando to Alexander Springs. It's one of the best day trips from Orlando for all types of travelers, whether you're riding solo, enjoying a couples weekend, or exploring with the whole family. It's one of Florida's best natural wonders to explore.
Alexander Springs is open year-round, so you can plan to stop by no matter what month you visit, but keep in mind that spring is the most optimal time to visit. It's one of the best springs around for kids, as the area features picnic tables and convenient restrooms. And best of all, it's an amazing setting for snorkeling!
There's nothing quite like visiting a natural spring in Florida, a trip out to see Alexander Springs isn't an outing you will regret. Enjoy your day trip outside Orlando!
Suggested by Candice of CS Ginger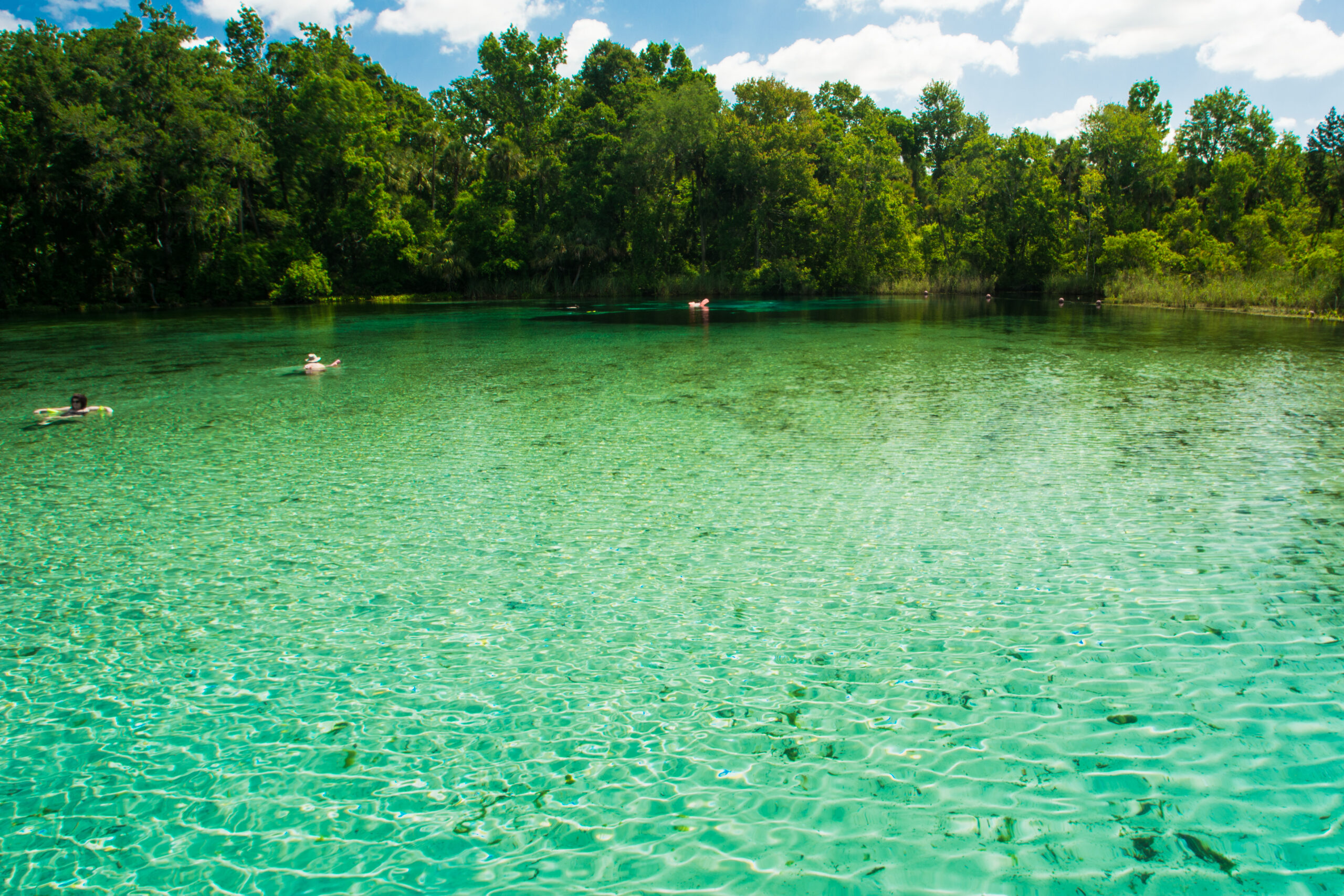 10. Clearwater Beach
Slightly less than a 2-hour drive southwest of Orlando is one of the top-rated beaches in the world. Clearwater Beach has soft white sand, calm water, and plenty of shops, restaurants, and things to do in addition to relaxing on the beach.
For those who want to sit and relax on the beach, chairs and umbrellas are available to rent, or you can set up your own towel directly on the sand.
If you would rather view the beach from the water, head to Clearwater Marina to sign up for one of the many boat tours that take place throughout the day. Tours include dolphin spotting, fishing, and meal cruises, as well as, a family-friendly pirate cruise.
Visitors can rent bikes and ride along the path, hop on board the Jolley Trolley, or walk along the beach.
Clearwater Beach is perfect for all kinds of groups including families, couples, friends, and solo travelers.
During certain times of the year, the water gets a little bit chilly, but the beach is still beautiful to relax on. It rains in the summer months, though usually not all day. It is easy to escape to a shop or restaurant until the rain stops.
Suggested by Lanie of Make More Adventures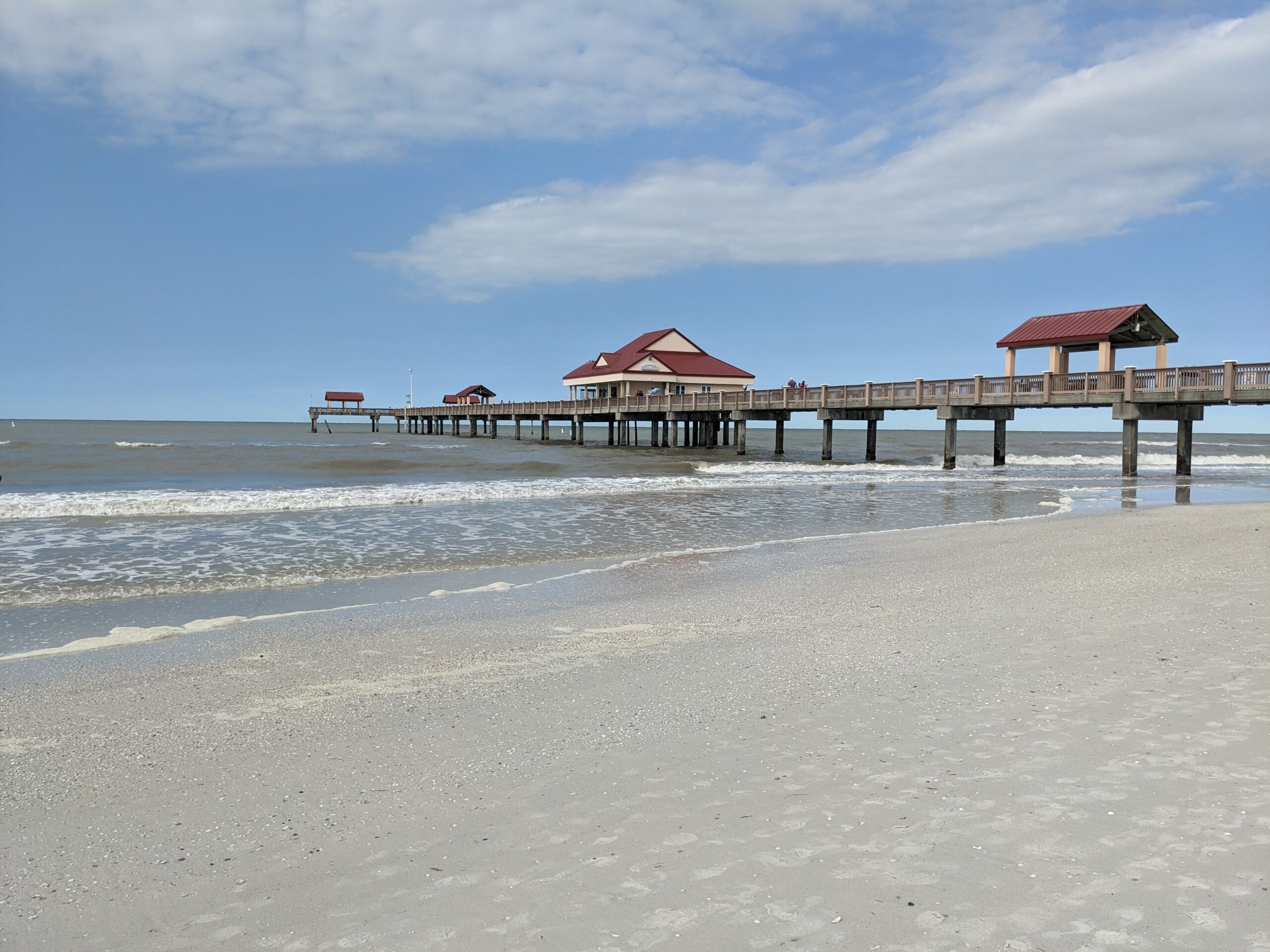 11. Tampa
Located about 1 hour and 20 minutes from Orlando is Tampa Florida. This Florida city offers a diverse range of attractions and activities that make it a fantastic day trip destination. Tampa has something to offer for everyone which makes it a great place to visit for families, couples and solo travelers.
One of the highlights is the Tampa Riverwalk, a scenic pathway along the Hillsborough River that connects various parks, museums, and entertainment venues. While in Tampa you can explore attractions like Tampa Bay Grand Prix, the Children's Museum, and Ybor City Museum all of which are awesome experiences for both adults and children.
Tampa's historic Ybor City neighborhood is another highlight, known for its rich history as the center of the cigar industry. Here, visitors can explore the vibrant streets lined with colorful buildings, sample delicious Cuban cuisine, and experience the lively nightlife.
If you are wanting to have a beach day, Tampa offers sandy beaches along the Gulf Coast, such as Clearwater Beach and St. Pete Beach. If Florida wildlife and nature is your thing a stop at Tampa Electric Power Station Manatee viewing center is a must.
With so many things to do in Tampa Florida, it is a fantastic day trip option for those looking to explore beyond Orlando.
Suggested by Lauren of Roaming with Kids
12. Hillsborough River
If you are looking for natural outdoor adventure near Orlando, then a day trip to the Hillsborough River to canoe through the wilds is exceptional. The canoe trip is a chance to see the "real Florida" as you paddle past wild alligators and majestic Spanish moss draped trees. You'll also see huge birds perched in trees, deer and wild hogs venturing through the swamp, and turtles sunning on logs.
Your destination for this day trip from Orlando is Hillsborough State Park. The park is about one hour and a half from Orlando. Canoe rentals, shuttle service, and trip planning advice are available from local outfitters in Thonotosassa. Paddling trips range from an hour to a full day of paddling.
The park also has 7 miles of hiking trails and a dedicated biking path if canoeing with alligators is not your thing. Hillsborough River State Park is the outdoor lover's paradise for those looking for an alternative to Orlando attractions.
Suggested by Karen of Outdoor Adventure Sampler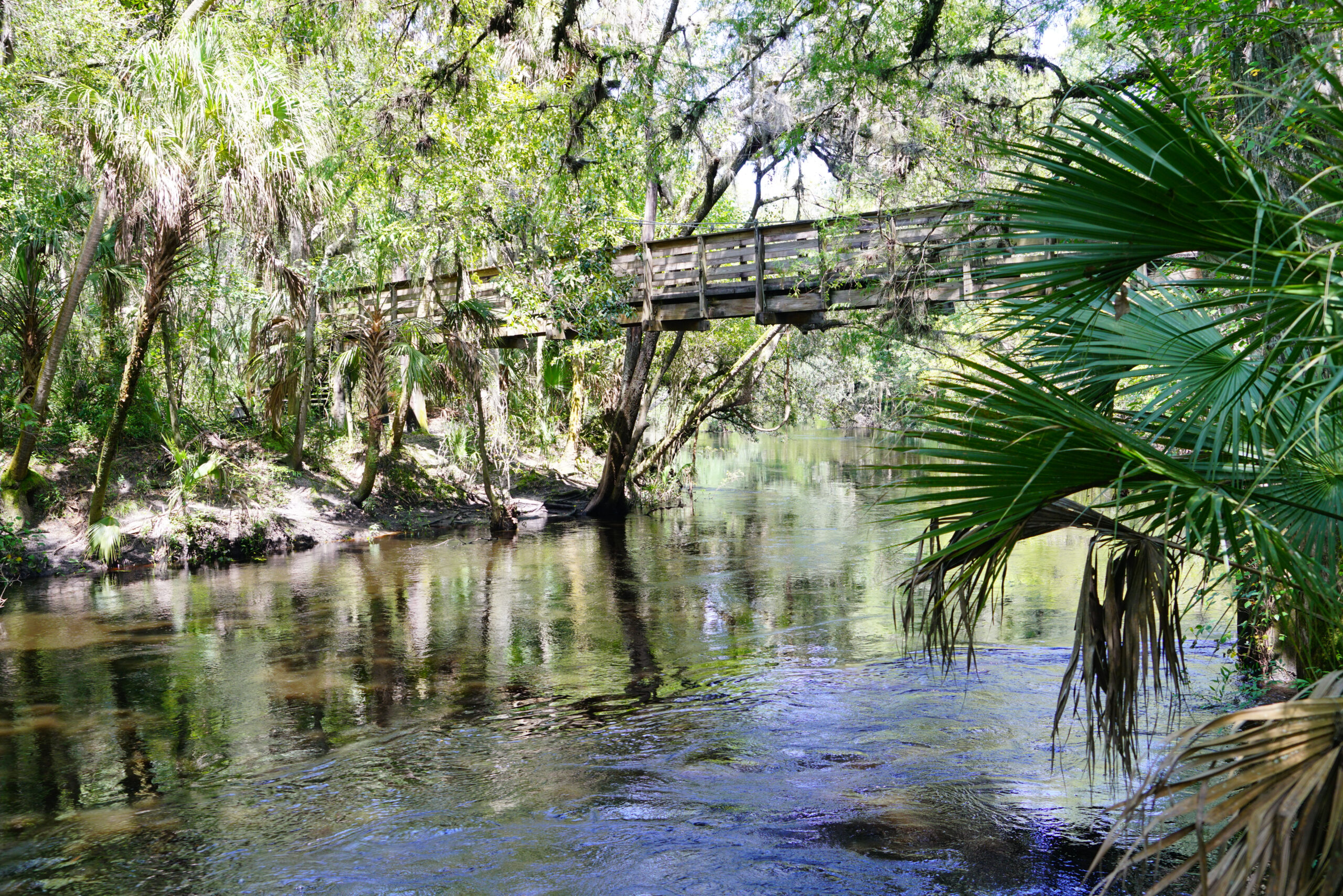 13. Tarpon Springs
Looking to experience a taste of Greece? This hidden gem has a rich history and a vibrant Greek community! Tarpon Springs, aka the Sponge Captial of the World, is also commonly known as Florida's Greek Town.
This picturesque coastal town is located north of Saint Petersburg and is just a 2 hr and 30-min drive from the Orlando area. This is definitely a destination you want to explore, especially around the summertime.
It was back in the 1800s when the first Greek sponge divers arrived in this area due to its natural abundance of sea sponges. Sponge divers began harvesting sponges from the sea floor and it was the beginning of a thriving sponge industry that still carries on today. Over the years, their Greek families began settling in Tarpon Springs, which now holds the largest Greek population in Florida.
The unique Greek culture has made this picturesque town very special in its own way. Additionally, there are plenty of things to do to fill your day trip itinerary. There are sponge diving cruise tours throughout the day with no prior reservation required. You can also go sponge shopping and visit wineries and breweries. Then, finish your day by having the best Greek food you'll ever eat and watch the most beautiful Gulf Coast sunset! And even if you just want to enjoy an afternoon stroll along the Sponge Docks, there is something for everyone in Tarpon Springs.
Whether you're looking for a day trip with your family and friends or even for a couple's getaway, Tarpon Springs is definitely a must-visit, making it one of the best day trips from Orlando, Florida.
Suggested by Yanitza of Next Stop Adventures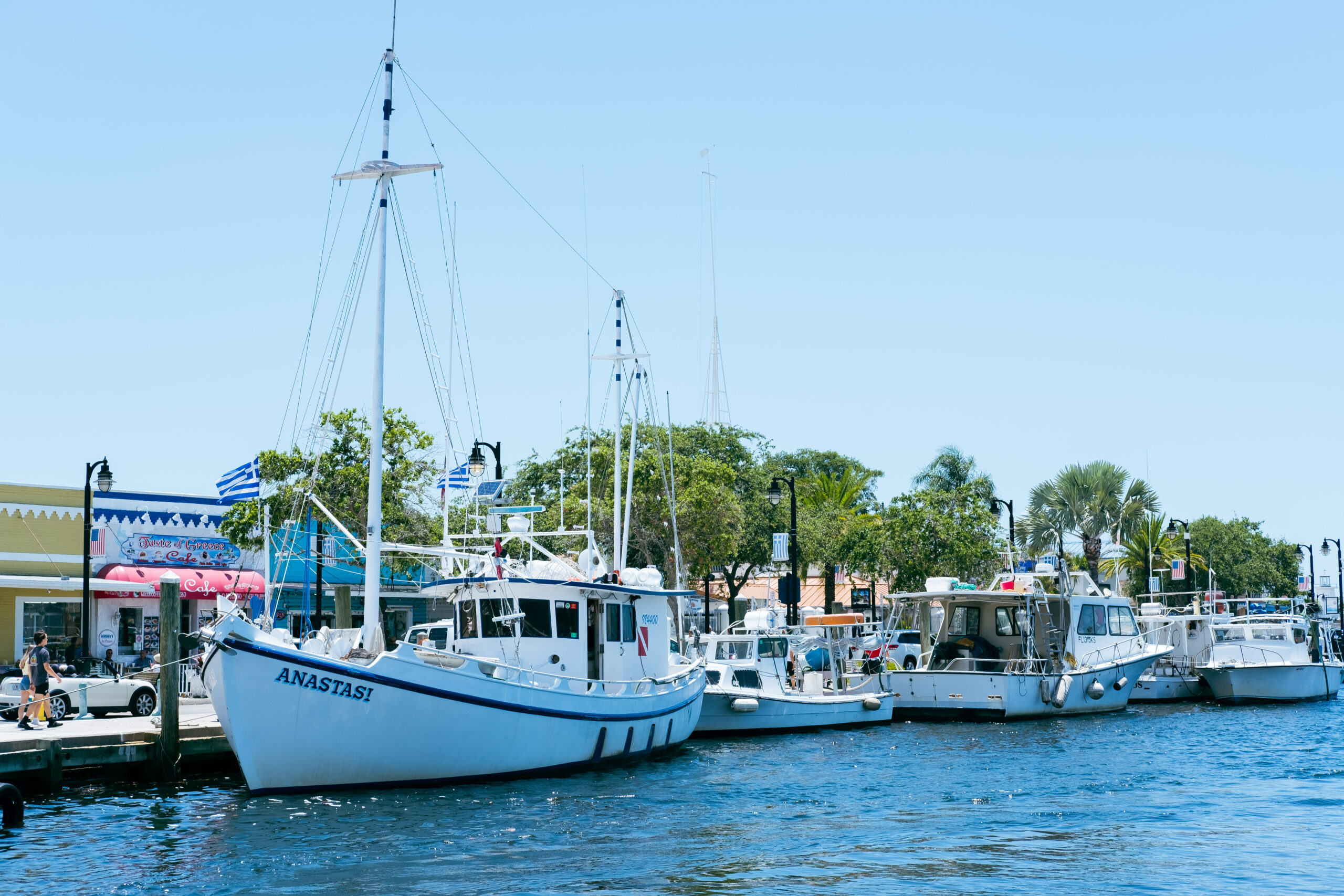 14. Saint Petersburg
St. Pete is one of the best Florida cities to visit on a day trip from Orlando. About 90 minutes outside of Orlando, St. Pete is a beautiful spot on the Gulf Coast. Most travelers to Florida long to enjoy the beach, and because Orlando is inland, St. Pete is a great destination to enjoy the sun, sand, and waves. Food is another pull to this town. Come hungry, as there are some stellar St. Pete restaurants, like Teak, that you shouldn't miss!
The beautiful scenery and beach activities make St. Pete an excellent day trip from Orlando for people traveling on their own, larger family vacation groups, or even couples on a romantic getaway. St. Pete is beautiful year-round, but a visit in the spring will offer travelers optimal weather and not as many crowds.
Fort De Soto Park, St. Pete Pier, Shell Key Preserve, and so many more gorgeous places encapsulate the beauty and wonder of this special place. Enjoy St. Pete!
Suggested by Candice of Exploring the Gulf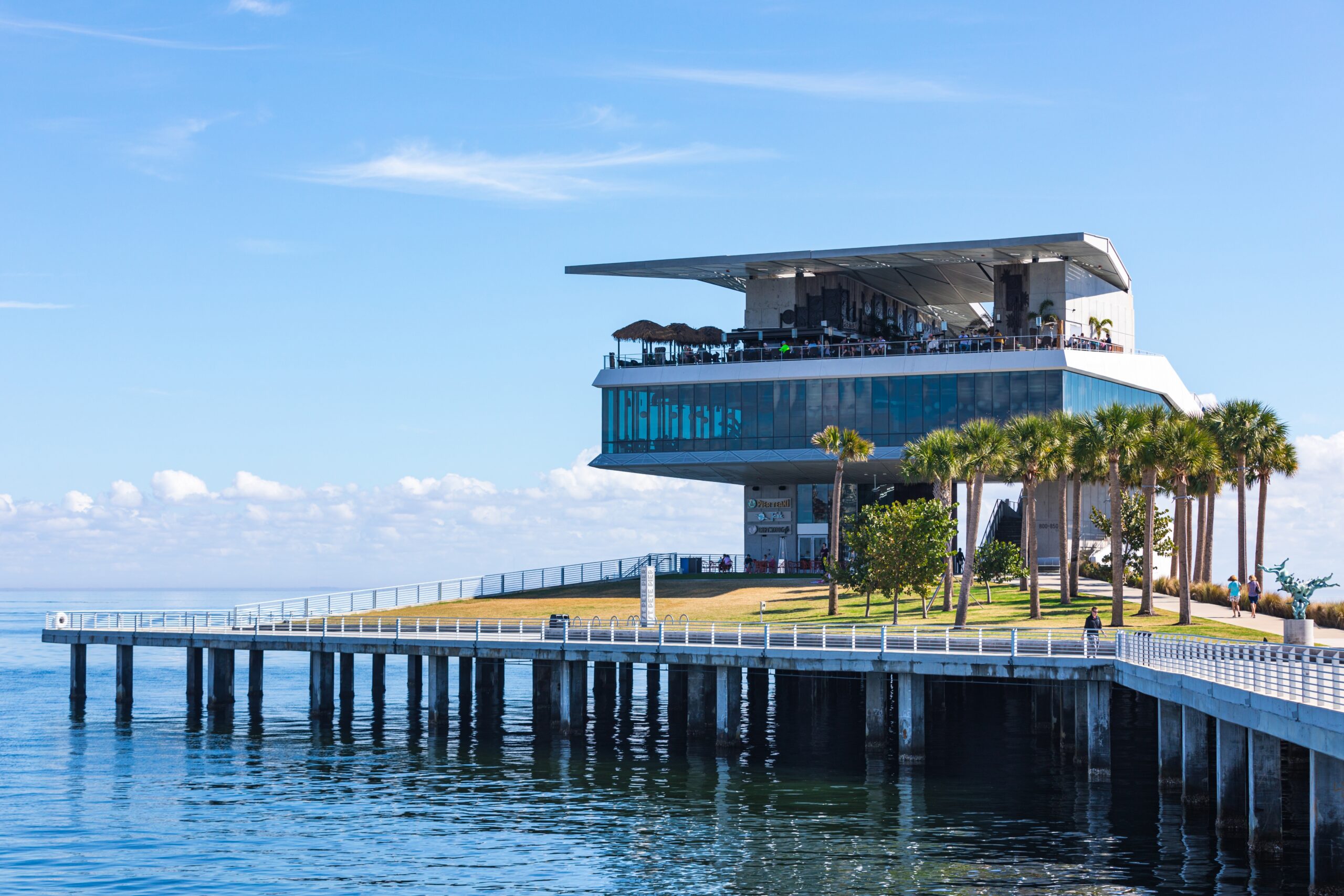 15. Anna Maria Island
Anna Maria Island is a quaint little beach town located about 130 miles or just over two hours southwest of Orlando. While this beach is reason enough to visit for a day, there's so much more to do in Anna Maria Island.
Families can enjoy bicycling through town or on one of the many bike trails. Due to the calm waters, you can also enjoy kayaking, paddle boarding, and other water sports.
Search and collect sea shells along one of the many pearly sandy beaches in Anna Maria Island or fish off the city pier.
The food in Anna Maria Island is equally worth the day trip. Enjoy lunch and dinner at The Ugly Grouper, Waterfront Restaurant, or Rod and Reel Pier. Then grab dessert at Two Scoops.
Overall, Anna Maria Island's small town charm and variety of things to do make it the perfect day trip from Orlando. Escape the busyness of the city and enjoy a tropical paradise just a few hours away.
Suggested by Brittney of A Mom Well Traveled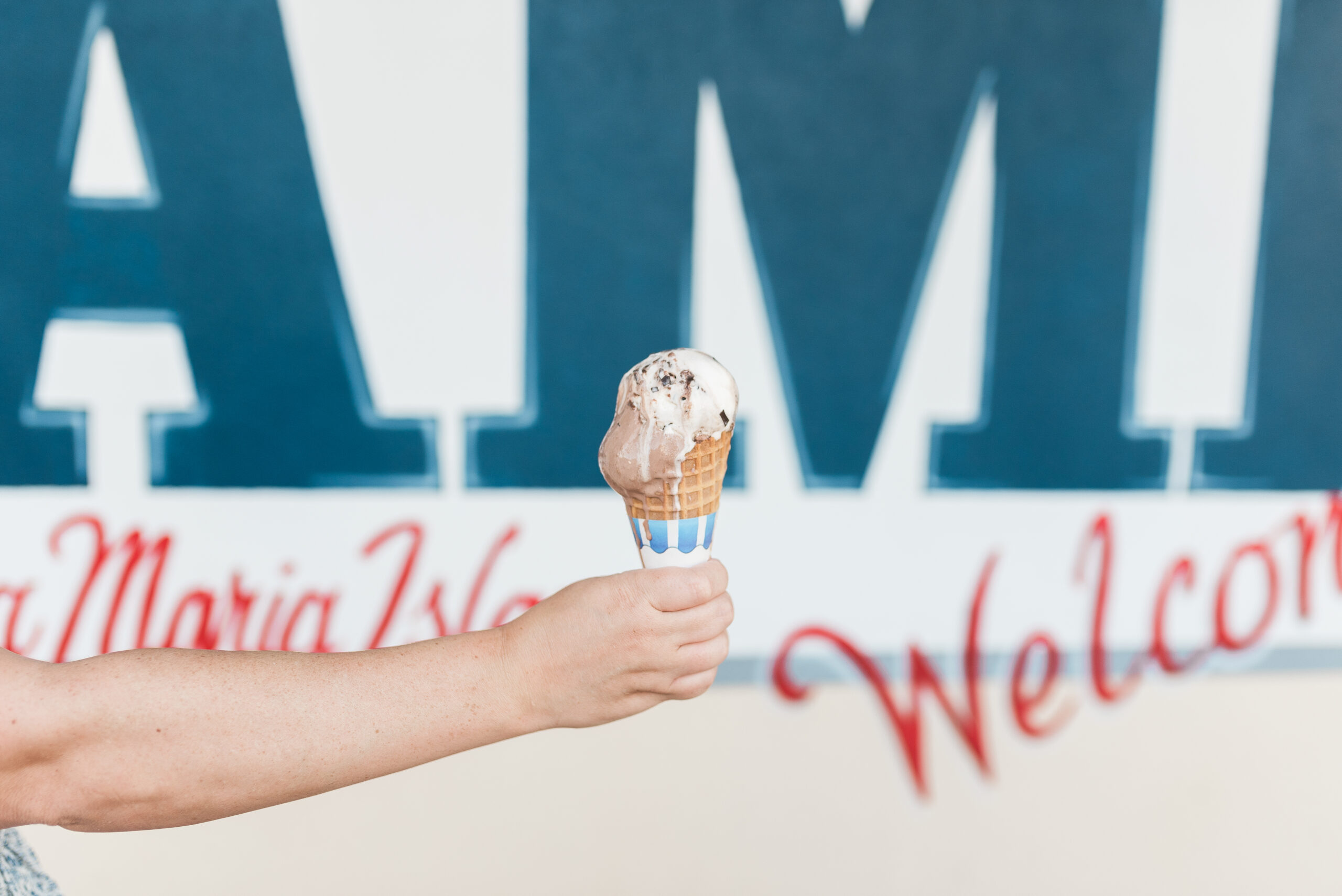 Plan One of These Day Trips from Orlando on Your Next Day Off
Whether you're looking to spend a day at one of Florida's many beaches, explore one of the many natural springs, or just looking to escape the busyness of Orlando, you're sure to find the perfect day trip right for you and your family. Which of these day trips from Orlando are you most excited to take?
Save These Best Day Trips from Orlando on Pinterest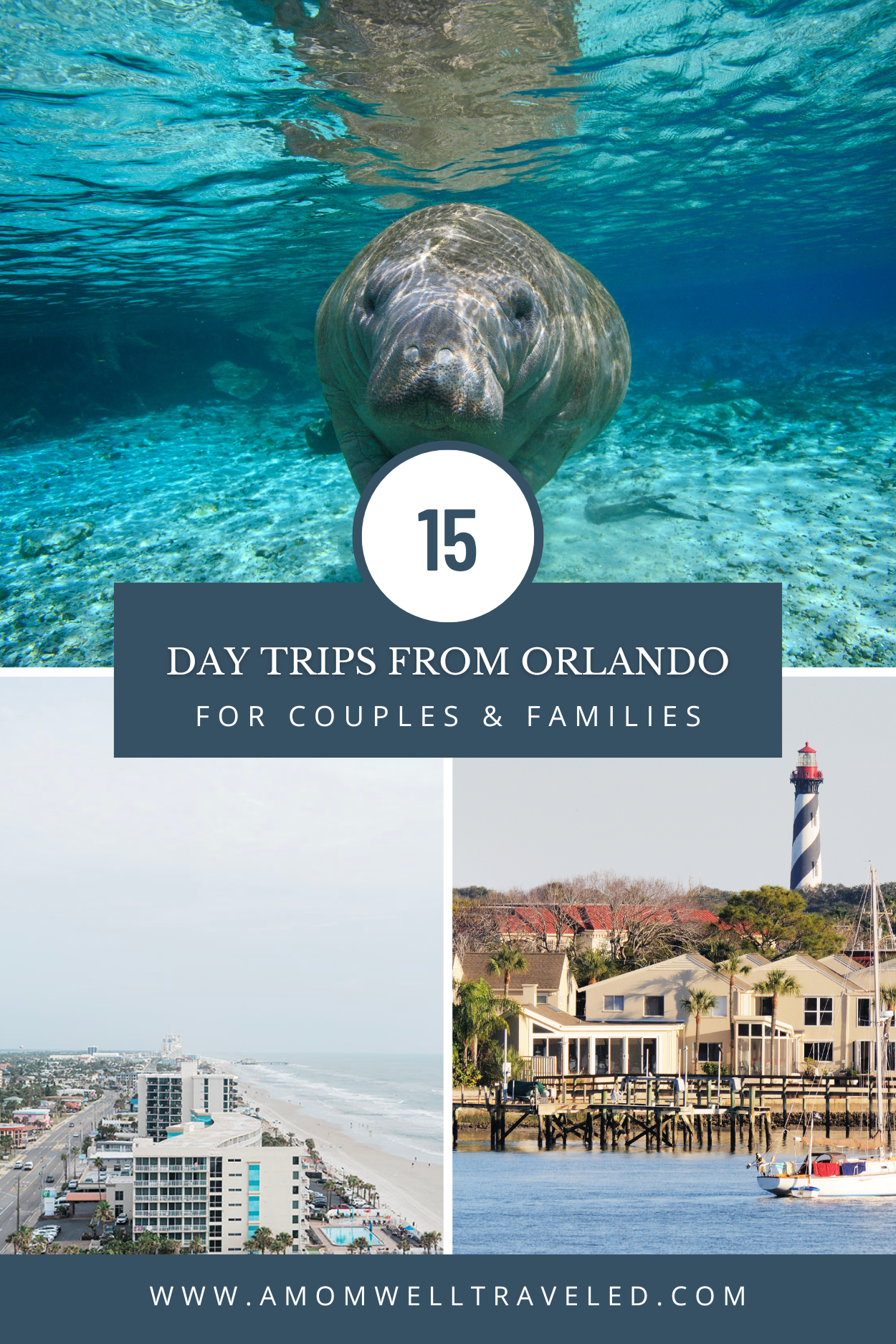 *This post contains affiliate links meaning at no additional cost to you, I earn a commission if you click through and make a purchase.*